Post Uvalde, HISD to invest in guns on campus
This school year, Carnegie Vanguard High School and other HISD schools implemented new safety policies following the Uvalde, Texas shooting on May 24 at Robb Elementary. HISD approved a $2.3 million budget to fund two-way radios and tactical defense items, including rifles. 
Changes to campus security and student attitudes have not gone unnoticed following the events at Robb Elementary. At Uvalde, 19 students and two teachers were killed by an active shooter. The shooting has forced many school administrators to reevaluate their own campuses' security.
At the August 11 HISD school board meeting, HISD Superintendent Dr. Millard House II stated that the HISD Police Department was not prepared to take down an active shooter. On August 5, House tweeted about the steps the district was taking to reinforce security.
"Over the summer, several HISD schools received upgrades to fencing, cameras, and video storage capacity," House's thread reads.
The HISD Board of Trustees approved the $2.3 million budget for police security systems, supplies, uniforms and accessories in a 6 to 3 vote on August 11.
Here's what the district has been doing to increase safety across our system. Over the summer, several HISD schools received upgrades to fencing, cameras, and video storage capacity.

— Millard House II (@HISDSupe) August 5, 2022
More than half the $2.3 million budget will be spent on two-way radios. Other items included in the budget include rifles, gun safes, ballistic shields and ammunition. To Principal Moss's understanding, part of this budget approval initiative is to have one rifle and a safe for storing it on middle and high school HISD campuses. Officers would not carry the firearm on them.
"I completely understand multiple events have happened elsewhere for it to be necessary…and I do believe that [it] is [a] measure to keep students safe… I also know [the safe] would keep it locked [away] so that it doesn't get in the wrong hands until the officer needs it," Moss said.
But some students disagree.
"I do see why it could be considered, but at the end of the day, it should not… There should not be a gun [in a school] because it feels like at any moment, any[thing] can happen and a kid can just die," senior Madeline Ward said.
HISD sent home a new form for students' parents to sign at the beginning of the year. The district's "Safe Gun Storage Acknowledgement Form" was given to students of all grade levels. The document features statistics about gun-related injuries and incidents in 2021.
"To further our efforts to protect students from firearms, and as a courtesy to our families, HISD is informing parents and guardians of the legal obligations to protect minors from negligent gun storage," the document reads. 
The form asks guardians to sign acknowledging Texas State Law 46.13 "Making a Firearm Accessible to a Child," which has been in effect since April 14, 2021.
Moss is one of many school administrators to reflect on what the recent gun violence incidents mean for his campus.
"As catastrophic as some of the events have been, they also serve as learning [about] how we can make improvements," Moss said. 
One of the security measures Carnegie has put in place is changes to its doors. One-way screen stickers were added to all innermost exterior doors, and all outermost exterior doors were given numbers.
"[If] law enforcement needed to get into the building…we could identify where there is a priority for them to actually come into the building," Moss said. 
Additionally, a gate was added to the first floor of Carnegie's parking garage this year. The gate requires an ID badge or punch code to open.
All Carnegie employees have an access card which opens the garage gate and walk-through gate leading into the garage.
Some of these building changes were paid for by HISD and/or with ESSER (Elementary and Secondary School Emergency Relief) funds.
Security measures have also been taken inside the building. Moss cited the "well over 100" security cameras throughout the building, which allow for comprehensive monitoring of the building in live time. Additionally, administrators and certain staff members have two-way radios, which were given to personnel besides administrators so that each area of the building has someone with a radio. Completely new this year, though, is the addition of lunch duty to teachers' schedules.
During lunch, teachers are positioned at certain locations to monitor campus. Each teacher works two 20-minute shifts per week. At the beginning of each six-week grading cycle, teachers will be able to either sign up for the same shifts or change their schedule.
A prominent change to the school is the new presence of Officer Jimmy Mapp. Moss expressed his satisfaction towards Mapp taking the initiative when it came to Carnegie's safety.
"[Officer Mapp] is extremely visible throughout campus—and without any kind of prompting, he initiated conversation about being very active on campus and getting to know the students, which [was] music to my ears," Moss said.
Another widely noticed change to school protocol amongst the student body is the requirement of students to wear their ID lanyards around their neck to pass through the building's lobby. In past years, ID wearing has been enforced, though not as strictly. 
"We are enforcing student use of ID badges and lanyards at all times—and we're going to try to keep this up throughout the entire school year. There are exponentially more students than there are adults on campus… We want to be able to identify them," Moss said.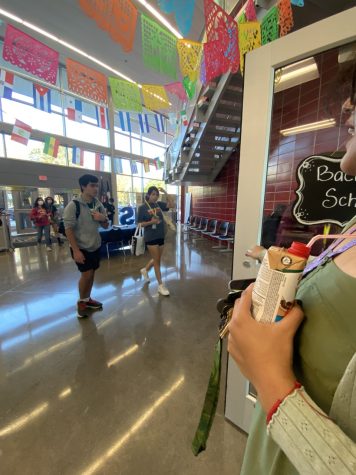 Social studies teacher Dr. Charlotte Haney has consistently checked for students' IDs before they enter her classroom ever since her first year teaching at Carnegie in 2019. Her reasoning, in prior years, was not solely out of concerns for security.
"I'm really bad at names and I have a little bit of facial blindness. So [having students wear their IDs] works great for me, because I have the kids come in and show me their ID on the way into class and that way I get to practice their names," Haney said.
Haney is still worried about school security, however. One of Carnegie's security measures is requiring teachers to lock their classroom doors, which Haney voiced mixed feelings about.
"Oh, yeah. I hate locking the doors… [But] being the first classroom door, I'm on board with locking it because I want my kids to feel safe. But I hate that it reminds me of what's going on in the world."
Having to acknowledge the possible reality of gun violence on campus, Haney has made preparations in the event that her students would have to shelter in place.
"I arranged my furniture so that there's a little area that I can shove all the kids in…[so] nobody would be able to see that anybody was in the classroom," Haney said.
Moss expressed that he believed Carnegie's new safety measures have been diligently enforced by administrators. When asked if he believed the campus was prepared for an emergency, he replied optimistically.
"I definitely think so. I'm very wishful—and hopeful—about that."
View Comments (8)