The Slice of Justice- Pink's Pizza
Pink's  Pizza is  a pizzeria  that was founded  in the early 2000's  by Ken Bridge. Pink's received  its name in memory of "Grandpa Pink". Pink's  prefers to take a more old-school approach when  it comes to their pizza. They like to use fresh and  delicious daily made ingredients to get the best possible  results. They only use the freshest of ingredients and always  stand behind everything to ensure that it is 100%.
Pink's  Pizza is  the near perfect  example of tasty and  mouth-watering pizza, where  everything is so good it will  make your mouth explode from a pure  flavor blast. They have an assortment of  many different toppings one can add, and  many different kinds of pizzas to fulfill the  needs of those hungry souls. For this we decided  to eat their delicious pepperoni pizza. While only having  3 pieces of pepperoni, that doesn't decrease its tastefulness.  It truly shows off how fantastic the food here is in our city  of Houston.
For  this article  we chose to eat  something more simple  while popular, the pepperoni  pizza. It looks absolutely stunning,  as the cheese coats the pepperoni, thereby  adding to the already lovely taste. It's also  large for a single slice. After it has been made  you can finally dig into the fresh hot pizza, where  you can taste just how exquisite it is where the cheese,  tomato sauce and crust all collide together to make just an  astonishingly flavor.
The  pepperoni  itself is a  little charred  around the edges,  but otherwise it's something  most people would dream off. Beneath the layered blanket of cheese lies an  amazingly scrumptious bubble wrap like texture.  The actual bread of the pizza is flat and slightly  burnt near the edges, while the cheese easily seeps through  it, creating even more flavor. The tomato sauce of this extremely  appetizing pizza is scarce, mostly gathered at the crust, which is  crunchy and hard, but when pushed becomes as soft as a pancake. Overall  the pizza was flavorsome and greasy and I give it a total of 4 stars.
While  Pink's may  not be all that  large when it comes  to size and space, they  make up for it with interior  design. The inside is very aesthetically  pleasing to the eyes, while the outside can  only be described as plain and normal. Returning  to the inside, there are few tables, which add to  the beautiful sight. They present a large view of their  kitchen, where you can watch the magic as it happens.
You  can check  out Pink's at  pinkspizza.com. Regular  pizza slice costs $3.50 plus  50 cents per topping and a regular  pie is an additional $2. They're located at  710 West Gray Houston, TX 77019. You call them  at the number (713) 521-7465.
Leave a Comment
About the Contributor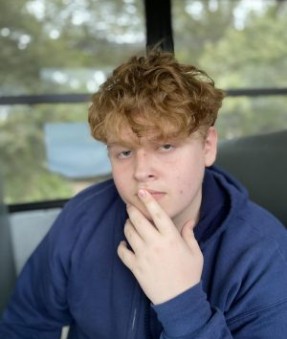 Cameron Hart, Staff Writer
I'm a sophomore who's really into anime and just helping people out. Stay hydrated, eat fresh.

Insta: @brownie_plugg