Caoilin Krathaus is your local hippie Greta Thunberg
Apparently, we're not the first reporters to write an article on Caoilin Krathaus. She's accumulated several stories about her since the early age of 8 years old.
But to us and everyone else at CVHS, she's always just been that girl who wore big, thrifted coats, Tumblr Doc Martens and flashy flared pants. Everything about her, from her metallic and leather accents, down to bold shirts displaying blocky letters that scream at you, perfectly reflect who she is. Tough, creative and passionate. 
Krathaus has always been expressive in her projects and presence at school. From a young age, most described her as "extra" or "over the top." Like the time she built five bridges completely out of popsicle sticks, or the time in elementary school when she created a model of Yellowstone Park out of plexiglass and acrylic, surrounded by LED lights. Or even when she pranked her entire neighborhood by dressing up as a surprisingly realistic, life-sized bush—yes, a BUSH—and scaring people when it moved. She was always quietly passionate about her work, so we never knew the extent of her projects outside of school nor about her track record in environmentalism. 
We soon discovered that she was actually a mini-Greta Thunberg on the side. She's actually been casually developing a non-profit organization, speaking at press conferences about environmental issues in Houston and lobbying for government action for a plastic bag ban. No biggie. 
"Right now, I'm continuing my Bag-Free Bayous business," Krathaus explained, "where we take upcycled materials around downtown Houston and the zoo and bring them to an Afghan refugee, who sews them together, and then we sell them as these upcycled bags, and they act as an alternative to plastic bags."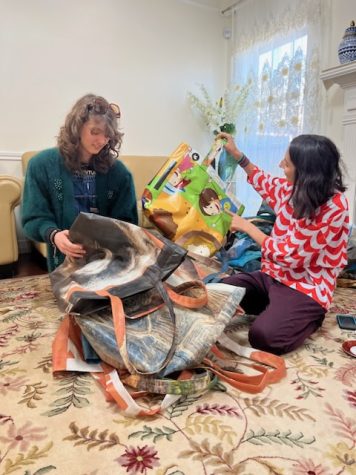 Her environmentalist journey began way back in fourth grade at Woodland Park, the home to many of her childhood memories of play and laughter. The park was important to her, as it was for any child. However, one day, she went to the park, but noticed the sound of crunching under her feet was different this time. It usually belonged to dried-up autumn leaves, but now it was coming from layers of plastic and Styrofoam. The ground was an unnatural mattress, and the trees were strewn with plastic bags, so much so that no green was visible through the translucent white layers. It broke her heart that her childhood sanctuary had been vandalized like this.
"All we [Krathaus and her best friend] knew was that this was not how nature was supposed to look like, and we were empowered to start this environmental campaign, because we didn't want to see our neighborhood park in such disarray," Krathaus said. 
And so, the dominos fell in a line, and Krathaus has been relentless with her efforts to make a small change in her community. She and her friend, Lila Mankad, were sought out by Texas Campaign for the Environment to help rally against the rise of a new bill in the Texas Legislature that would ban bag bans. Even after Krathaus participated in press conferences and testified at a hearing, the bill was unfortunately still passed. However, this didn't hold her back.
"After [the passing of the bill, I] continued to do protests," Krathaus said. "We spoke at a lot of schools, like Kincaid, about our project and what we've done. After that, we started our bag business."
Learning about all of the activism she's been a part of in the past few years, we were still wondering how the image of environmental activism added up with the rugged, artistic teenager-y look she embodies. Art has always been her brand, so how did it fit in the picture?
"Climate change is affecting us right now," Krathaus said, "so we need to act on it right now in order to make change. And I think that using art as a catalyst is really important, because art speaks to a wide audience, and everyone can be influenced by art and interpret it in their own way."
Krathaus has been integrating art not only into her environmentalism, but also in her daily life, with one major part being her academics.
"I think that when you have a base of strong academics and you understand science and art and engineering and politics and the history of humans, I think that really influences your art. And that's how you can make deeper and more complex art, by using your background of academics," Krathaus said.
Many of Krathaus's pieces are 3D sculptures or large pieces that fill up the room, appearing raw and rough around the edges. Her artwork is unafraid to be bold and loud, showing how Krathaus wants to make an impact and wants to make a mark. 
"I think using your hands a lot to make art is a lot different than putting it on a piece of paper. And I think I've moved out of the 2D art into more 3D art, because I feel like there is more freedom in it, and you don't have to think about the details as much. And there's less rules, I guess. That's what I really like," Krathaus said.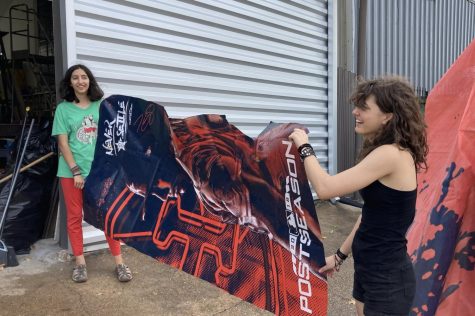 Her view on art can be best described as endless possibilities. She thrives on art's freedom and will use anything she can get her hands on. Krathaus is the type of person to solve advanced calculus equations on her bright purple bedroom door in permanent marker simply because… why not? 
Krathaus's room is a glaring contrast between bold dark tapestries and iridescent neon lights strung across them, leaving an ultraviolet glow in the room. The wall is covered in stripes, checkered patterns and squiggles of murals, her ceiling lined with canopies of cloths and twinkling lights. Vintage framed art pieces can be found on the floor, as well as hung up on walls. It's the most organized mess you've ever seen. It's easy to just visualize Krathaus's mind barfing up to fill up every hippie nook and cranny in that room.
"I view every room like a blank canvas," Krathaus says. "It makes me happy when I can create something that isn't 'normal' or 'conventional.' Like calculus integrals scribbled on a door."
This free rein on art has been facilitated by her parents, who she claims to have been an enormous influence on her, not just because they provided a warehouse for her to build her art. While they are both designers and artists, their styles tend to differ and affect Krathaus in different ways.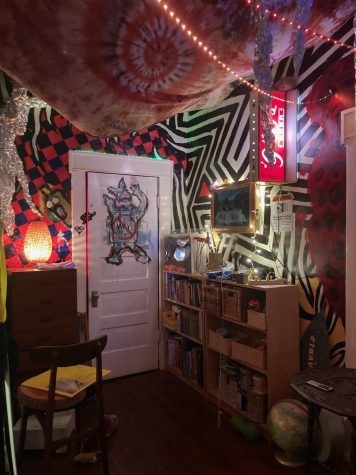 "A lot of people say I'm a mini version of my dad. My dad is like me, an adult male form. My dad's kind of like the chiller version of the two [her parents]; he's very loose and childlike. My mom is more serious and pushes us to do well. I think it makes a really good balance. And I hope that I continue to have that balance in myself," Krathaus said.
Krathaus knows the impact her parents had on her art, but as she steps further and further into her adolescence, she is beginning to discover her own personal style.
"I have gone through a couple of phases, actually. Early on, I had my mom's graphic design style, where it was very clean cut and solid colors," Krathaus said. "And then now, I'm transitioning into this rugged teenager phase, where it's black and rugged, I guess. I'm being influenced by welding and metal. I think my art style has transitioned from very simplistic to more artsy and abstract."
Even as her art style evolves, she keeps the same drive that she's had since she was 8 years old. The drive to create. The desire to make a difference. 
View Comments (5)
About the Contributors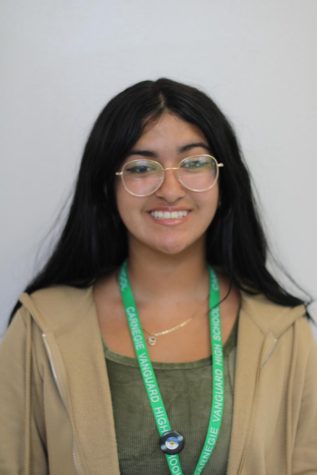 Katheryn Consuegra, Staff Writer
Katheryn has a naturally inviting personality and is a really bright person. In her spare time she loves to read and create Spotify playlists.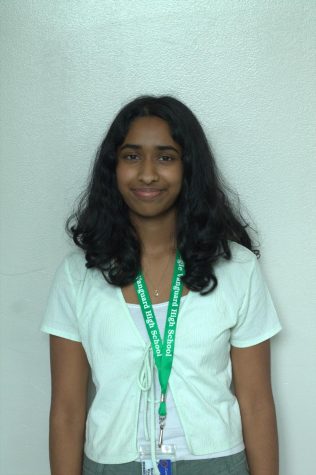 Neela Ravi, Feature Editor
It wouldn't be a surprise if the first words Neela Ravi ever uttered were "Swiftie 4 life," or "stream Taylor's version on Spotify." Constantly equipped...