HISD inclement weather cancellations: who makes the call, and how?
On January 24, HISD announced that they were "monitoring weather conditions" in regards to the heavy rain predicted for the Houston area the next day. The statement was released at 8:34 PM January 23, and there were no updates letting students and parents know what the district had decided by the morning of the 24th. 
Without any more word from the district, students went to school the next day, with many of them upset over the district's lack of communication.
"I would have liked [HISD] to make a concrete decision that day instead of [making students] wonder if we have school or not," senior Frederick Richardson said.
Some students disagreed with the district's decision not to cancel school. Heavy rains and tornado warnings in parts of the greater Houston area made the commute to and from home difficult for some.
Richardson, who lives near the Katy area, said the weather that day "definitely lengthened [his commute] and the rain made it very hard to see."
In general, students report dissatisfaction with HISD's decisions about closing campuses and offices in the event of inclement weather. Upstream conducted a survey with HISD students.
"It seems like HISD only cancels school when there is some sort of panic about the weather," a survey respondent says, "but then it turns out to be fine. However, whenever there is a real or present weather threat, they never cancel. Some students' houses flooded during the last storm, and yet they couldn't cancel school."
Because CVHS students come from all over the school district, opinions on HISD's decisions when it comes to inclement weather tend to vary on a case-to-case basis. 
According to the survey, approximately a third of students believe HISD makes the right call for school closures (35.9%), a third believe that they sometimes make the right call (33.3%), and a third believe that they rarely make the right call (30.8%).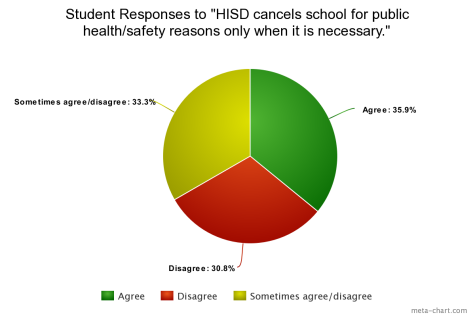 A similar pattern is present regarding students' understanding of the reasoning behind school cancellation decisions. About a third understand why school is canceled, a third sometimes understand why school is canceled, and a third rarely understand why school is canceled.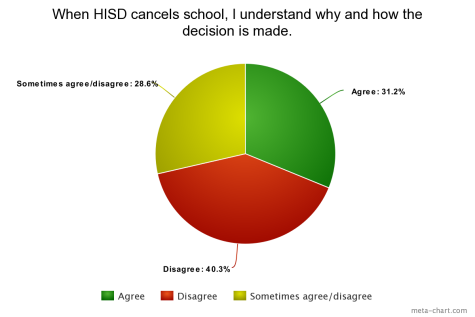 HISD's website claims the superintendent and "emergency management officials" make the call. However, when reached out to for information on the officials nowhere to be found online, most HISD calls either went straight to voicemail or operators said they didn't know who the officials were.
After several redirects to different departments, Melissa Lopez, manager of Safety and Emergency Management at HISD, stated that City of Houston emergency management officials discussed with Superintendent House to decide whether schools should be canceled. The National Weather Service is also monitored to make these decisions. However, the final decision is made by Superintendent House. This was the only information disclosed. 
Lopez stated that many of these situations vary on a case-by-case basis, so there are few specific protocols or measures for these situations. This also applies to the timeliness of cancellation notifications, implying that there is no "appropriate timeline" for releasing notifications, as it depends on the situation. 
Students also reported majority dissatisfaction with the timeliness that HISD notifies its students of cancellations. Students' responses to the survey reflect a lack of timeliness on HISD's end. Over 75.6 percent of students disagreed that HISD sent out notifications of school cancellations on time.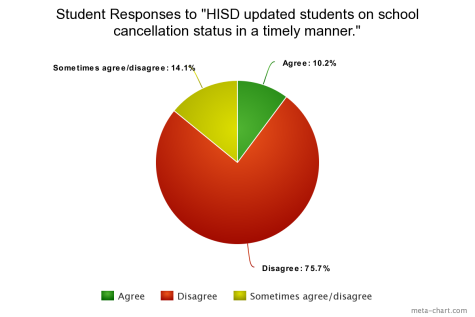 "Buses and other early school functions start [as early as] 5 in the morning, so it would be better that we know of school cancellation before 6 AM," one respondent says. "However, every time, HISD either cancels school a day later or doesn't cancel school to the detriment of students."
According to the survey, 44 percent of the responses spoke towards HISD's frequent tardiness regarding communication that school is canceled. 
"HISD updates are often early in the morning when I am asleep," one student said, "therefore I wake up on the normal assumption of school happening to later find out [that school is canceled] and [am] inconvenienced."
When a decision is finally made, HISD publishes it on media outlets immediately. News stations that HISD sends potential cancellation updates to, like KPRC Channel 2, say they receive a press release. "It's usually an email early in the morning or late at night," a phone representative said.
View Comments (4)
About the Contributors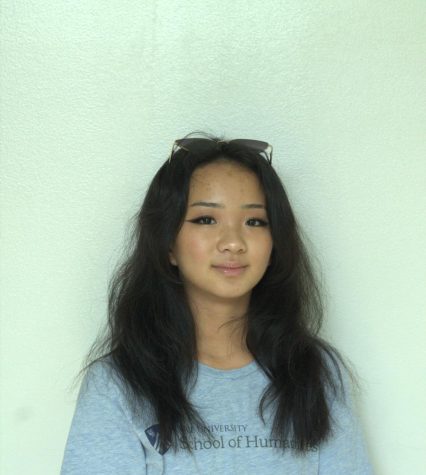 Ava Lim, Co-Editor in Chief
Ava Lim is a senior at CVHS. She's a lover of all things neat and pretty, and has a variety of hobbies, ranging from calligraphy to crochet. They love...
Neela Ravi, Feature Editor
It wouldn't be a surprise if the first words Neela Ravi ever uttered were "Swiftie 4 life," or "stream Taylor's version on Spotify." Constantly equipped...