Preparing for a Pact with the Devil
A Behind the scenes look at Carnegie Theatre Co's upcoming play Faust
Carnegie Theater Company has produced many great performances, like Let The Right One In, but what will they do next? Their next show is titled Faust, written by Johann Wolfgang von Goethe, the story of a scholar who sells his soul to the devil in return for obtaining unlimited knowledge. 
The character Wagner is a student of Faust who begs for his tutelage. 
"Faust is literally the thing he's been looking for" said Daiji Bertrand, playing Wagner in the play. Bertrand is a sophomore at Carnegie who just got into acting for the theater company this year with the encouragement of theater director and teacher Steward Savage. 
"He's been very helpful to me with developing character in a way that actually helps by giving you the right questions to ask, but he's also very open to helping out and and pushing you out of your comfort zone to get you to work your best. As for how I got into theater,  I actually got into the theater last year by doing sound for last year's fall show, Let The Right One In. This year, Mr. Savage pushed me to join the summer show, The Flick as Avery, and so of course, I said yes. And now here we are" Bertrand said.  
Even though students have a hefty workload here at CVHS, the theater company spends 2-4 hours after school every week to prepare for productions.
"Well, once school ends everyone comes to the theater to sign in, and once all the actors are there, we all go out to the courtyard to stretch and do some vocal warm ups. Then we all go to the theater and we get told what scenes we're running. If you're not in the scene being performed, then you should be memorizing lines, running a scene, or working on movement" said Bertrand.
Without the production team, the vision for this play would never be realized. Elena Rabin, a junior at Carnegie, has been working in tech theater since freshman year at CVHS. 
When asked about her job, she replied "I am the co-technical director of the show, meaning I have helped to create and build the set of the show" Rabin said.  
She has helped to turn the show into what it is today, and it is turning out just how she expected.
"Many of the conversations we've had about this show are all about showcasing the duality of people, the contrast between hell and the real world. I would love for the set to really capture the darkness of both settings, emphasizing their differences and the ways in which they're most similar" Rabin said.
In the play Geothe writes: "A man sees in the world what he carries in his heart."
Perhaps, audience members will see a truth about themselves in this next production. 
Faust will be playing Friday, November 8 and Saturday November 9 and the following Friday and Saturday at 7 PM, at 1501 Taft St.
Leave a Comment
About the Writer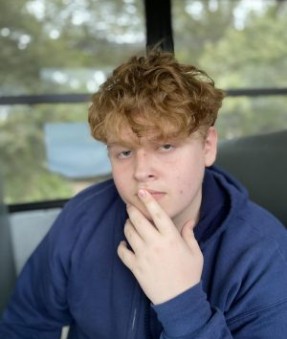 Cameron Hart, Staff Writer
I'm a sophomore who's really into anime and just helping people out. Stay hydrated, eat fresh.

Insta: @brownie_plugg