Monica Balakrishnan- Junior Olympic Fencer
Sophomore Monica Balakrishnan rose early in the morning on February 15, 2019 to get ready for her fencing competition. When she found out that she met the requirements to get into this competition, she was delighted. However this was not just any normal fencing competition, this was the Junior Olympics.
Balakrishnan didn't always fence. Eight years ago, when she was only six, she stumbled upon a fencing club after her taekwondo class. The large convention center was loud with epees, a dueling sword used when fencing, clashing against each other. The beeping sounds of the scoring system rang in the background along with coaches yelling at students as they were fencing. When she saw this, she was in awe, she knew this was what she wanted to do. 
"It was like the fact that I'm, as a brown belt, I want to do weapons, but because I was too young, I couldn't, you know, and so the closest thing to a weapon I could have was fencing, so I decided to try it," Balakrishnan said.
Little did she know that this accidental stumbling upon the class would make her into something big six years later. Becoming big in the fencing community does not just happen instantly, Monica has put in a humongous amount of effort during her commanding practices. She goes to practice four to six times a week, which are three to four hours each. On top of this, Balakrishnan has to handle hours of school work, which sometimes only enables her to go to practice four times a week, which is the minimum. According to her, her practices are more mentally difficult than physically.
"It's more about like my mental stability like, technique and strategy, that kind of thing," Balakrishnan said. 
After years of demanding practice, Balakrishnan finally found that her hard work paid off. She got into the Junior Olympics. To get into this tournament, one must be at a stunning ranking of top 64 in the whole nation. However, it felt no different from her usual tournaments.  
"I've been to many national tournaments. So it's not really any different from a national tournament. It's just the fact that there is a greater number of competitors, some of which have a larger amount of experience than me. That kind of just makes it a little more nerve-wracking, but at the same time makes it more fun."
These big competitions also came with big achievements for Balakrishnan. Throughout her fencing career, she has gotten second in summer nationals, ranked both top 16 and top 8 within different competitions, and has competed in the July Challenge, which is the biggest national fencing tournament in America. Balakrishnan has also competed with other Olympians such as the Hurley sisters, Francesca Bassa, and Anna Van Brummen. 
"They are great role models and give me a lot of advice on technique and strategy that they have gained through their experience" 
In addition to these achievements, Balakrishnan was ranked in the top 64 in the nation against college students. When she started fencing, Balakrishnan would have never expected to compete in the Junior Olympics.
"When I was younger, I did not really know about it. So it wasn't really something I had planned to do," Balakrishnan stated. 
She started to compete in the Junior Olympics due to her qualification, they inspired her to go and compete to improve her skills. One of her focuses during competitions is to set a goal for herself.
"One of the most important things to do during tournaments is to set a goal for yourself, so you have something to work towards" Balakrishnan said. 
Another important factor during her big competitions is the support she receives from her peers.
"The support comes mostly from my teammates, my parents, as well as my coaches. They've all been like a very big support and just helping me like, grow and learn and supply me with all the equipment and stuff I need. " 
How far does Balakrishnan plan to take her fencing career?
"I would like to go as far as I can, with an equal balance of my studies and fencing. By achieving this right balance, I have Olympic aspirations."
Leave a Comment
About the Contributor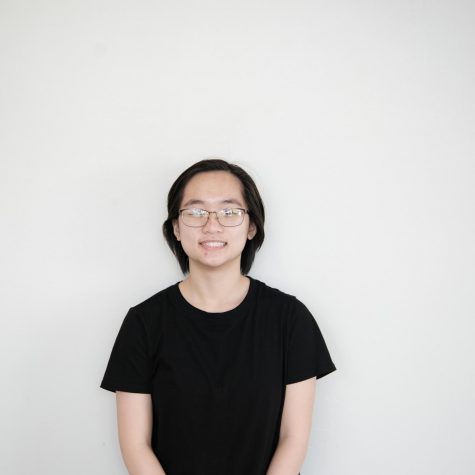 Vivian Huynh, Editor-in-Chief, News Editor
Hi! I'm a senior and like martial arts and drawing.