Art Review: An Impressionist Autumn at the MFAH
A revolution in organization. Progressive politics. Immigration. The international stage. Postwar. Consumer culture. The transition to the modern era from the late 19th century to the early 20th century was an  era of controversy, pain, and progression. These times created the artists we continue to know and love today, long after their passing. The ones who "changed the game," and were ages ahead of their time. These were the artists who ignited the major art movements of the modern era. 
The Museum of Fine Arts is the current home to the exhibit "An Impressionist Autumn: A Very Private Collection." The exhibit opened on October 20, 2019. "An Impressionist Autumn" is running up until January 12, 2020.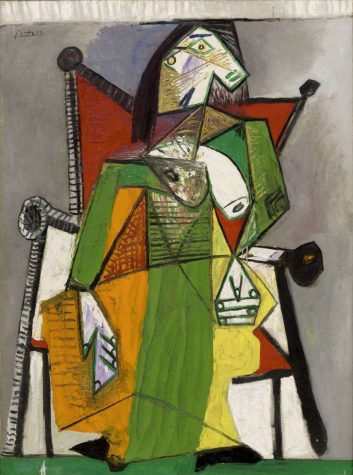 Woman Seated in an Armchair 1941
According to the MFAH "An Impressionist Autumn celebrates French Avant-garde of paintings with two exhibitions that capture a "Who's Who" of the Impressionist, Post-Impressionist, and Early Modern movements."  The exhibit features artists, such as Mary Cassatt, Paul Cézanne, Vincent van Gogh, Henri Matisse, Claude Monet, and Pablo Picasso, all well known for their unique ambiguity.
However, one artist stirred more questions for me- Picasso. 
Picasso spent most of his adult life in France. France was his muse, as most of his paintings were inspired by his environment. Picasso was a Spanish born expatriate painter, sculptor, printmaker, ceramicist, and stage designer, one of the most influential artists of the 20th century and the creator of the well-known art form, cubism.
Works from his private collection are now on display. In "A Very Private Collection" Woman Seated in an Armchair, is one of two art pieces by Pablo Picasso on display. It is instantly recognizable as a portrait of Picasso, with its thick strokes, the angular and uneven geometric shapes, the bold color palette. It was not only the artistry that interested me, but his obsession with a singular subject, the source of his awe- Marie-Thérèse Walter. The painting depicts his golden, hidden muse. The composition is one of the most geometrically complex renderings of his mistress. It was never presented to the media. But now with the showcase of his private collection, it is now on display for the world to see. 
Woman Seated in an Armchair's color palette is very dim compared to his more known artworks. It consists of depressing shades of warmth and few cool tones such as green. Not uncommon to Picasso's "trademark", as there is always a prevalence of the irregular in almost all of his paintings. His artwork from his private collection tends to stray from the rest from his "usuals." They all are bold and abstract, but they tend to represent more of an enigma as they are harder to decipher the meaning.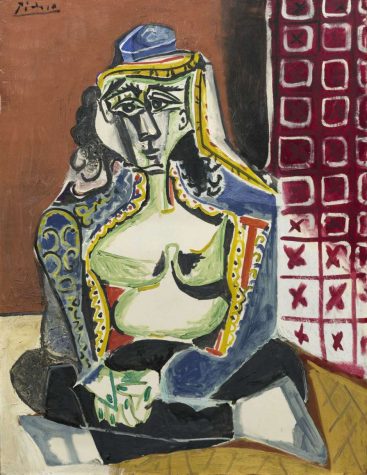 Woman Sitting in a Turkish Costume (Jacqueline), 1955.
Woman Sitting in a Turkish Costume depicts Picasso's longtime lover and eventual wife Jacqueline Roque. In fact, much of his art can be catalogued as a series of intense relationships with his lovers: his affair with the married Fernande Olivier, the ballerina Olga Khokhlova, the voluptuous Marie-Thérèse Walter, photographer, painter, poet and left-wing activist Dora Maar, the bourgeois Françoise Gilot, and finally working class Jacqueline Roque who Picasso remained with until his death. 
In this painting of Jacqueline Roque, noticeable again are the dullness of colors and expression. In the exhibition  Monet to Picasso: A Very Private Collection, most paintings are unsaturated, but it is the norm for these particular artists. Picasso, however, utilizes dim colors once again. In this painting, he lives up to his reputation of geometric blending. Unlike the sharp edges and angular shapes in his other paintings in the exhibition, this one features more curves.
Overall Picasso lived up to his reputation of striking the unfamiliar with the familiar in his artwork at the exhibit. It was not his usual manifest. He displayed his art form cubism, however, it did not strike as bold with a pop of color as is what he is known for partly. Picasso did not fail to impress.
View Comments (1)
About the Contributor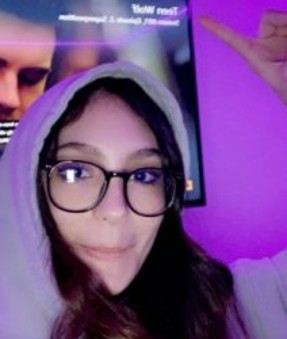 Alexandra Silva, Staff Writer
My name is Alexandra Silva and I am a junior. I love to eat almonds and pretzels. In my leisure time, I like to play with my dog or watch teen wolf because...