Its a Runderful Season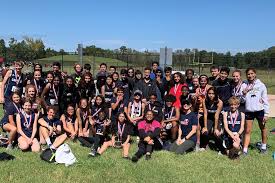 This season, as usual, the CVHS girls' cross country team advanced to Regional's and then later beat the champions. This season saw the most participants in the team's history with a total of 56 runners finishing the season.
"I feel like it is one of our best seasons yet as far as the guys and the girls' [teams]" said cross country coach Jamie Ford. 
Coach Ford expressed her gratitude to co-coach Rachel Bohenick when she reached out to her to help with the cross country program. For was on the cross country team when she was in high school, and she really enjoyed it.
For Coach Ford, her main goals for cross country this season was to build a family with the team, especially for the incoming freshmen, and to finally get to state.
"I think on some level, our students are competitive no matter what they do. They want to be the best at it" said Ford of the team's strengths. 
Next year Ford is hoping that the team will  "be a little more focused next year and really aim for state and  not just aim for regionals."
Ford would like to give a special mention to Isaac on the boys' team and Ritika on the girls for there hard work and dedication.
Leave a Comment