Carnegie's First Annual Talent Show
It's Friday, and students are streaming into the school gym. Yes, it's the start of the weekend, and yes, it's voluntary, despite inclined belief. However, the gym has lost its identity. Instead, a crisp red carpet trails one's eyes to a wooden stage that beams beneath the glow of the spotlight. All around, performers are wired. Singers voice their final notes, musicians tune their instruments to perfection, dancers settle down, and even the comedian shoves his jokes down his sleeves. The MCs step out, effervescent as ever, and as a hush falls over the crowd, Carnegie's Got Talent begins.
Friday, January 31, Carnegie Vanguard held its first talent show in history. Hosted by the school's Thirst Project club, the show starred the school's students. Students were given the opportunity to try out during the 2019 Fall semester, and almost 20 acts landed slots in the show.
CVHS principal Ramon Moss was excited for the talent show, especially because it gave students an opportunity to showcase something they're good at that isn't exposed in the classroom.
"I always look forward to seeing students display something that we may not be aware of, in terms of different types of talents that they possess, but don't actually normally get a chance to exhibit," said Moss.
All of the show's ticket proceeds went to the school's chapter of the Thirst Project Organization, run by students Litzy Martinez(junior), Sandhya Madali(junior), Jiya Ghorpade(sophomore), and Gabi Rodriguez(sophomore).
The Thirst Project Club works to raise funds for the organization, which works to diminish the global water crisis through building wells in communities that have an almost unlivable access to fresh, drinkable water.
The range of vocals featured in the show was impressively high. Singers included Nushana Haq, singing "Sorry" by Halsey, followed by Isabella Carrascal, singing Bishop Brigg's "River." Next came Sterling Adams and Javier Moreno, who alternated in rapping verses of their original song "Rich and Poor." The duo kept the energy rampant, and Javier eventually flung his baseball cap, which read "Mexico" across the stage in a passionate verse of tribute to the country.
"I told y'all they'd be the next H-Town!" said MC/CVHS junior Rakesh Oberoi.
After came Charan Jagwani, singing "Everything" by Michael Bublé, Naomi Canny, singing Adele's "Skyfall" Dylan Kipp, with "Say Something" by A Great Big World & Christina Aguilera, and Hannah Pham, singing "Two Ghosts," by Harry Styles.
The last two singers added a twist to their talent. The audience was delighted to discover celebrity impersonations of two of the music industry's most legendary stars.
First came Ammer Qaddumi, who posed as lead singer Freddie Mercury of the iconic rock n' roll band Queen, singing their revolutionary 80's single "Bohemian Rhapsody" on the piano. Qaddumi won the audience over with his piano-playing, his voice, and his dance moves in an accurate rendition of the rockstar; mustache included. At one point, Qaddumi/Mercury leapt from his piano bench onto the stage, where he proceeded to belt the "Galileo" verse of the song while exalted in the perfect rockstar poise.
Oliver Mendez, posed as Michael Jackson, came next, complete with choreographed backup dancers. Mendez was quick to dazzle the audience. As he sang "Billie Jean," a fan favorite, he glided across the stage in a natural popstar ease. Dancers Sara Stjepanovic, Josie Majowka, Alexa Guzman, Carlie Coerver, Shelby Colvin, and Anne-Marie Saldana never missed a beat, and complemented Jackson/Mendez's smoldering aura, and never failing to fall out of sync.
One could hardly tell the difference between the two stars and their counter impersonators.
The next came with instruments other than their voice. Bill Chen enchanted the audience on the piano, followed by Shelby Yang and Daniel Lee on the violin. Pavle Bajic came next on his electric guitar, and lastly came Yuechan Lee, who encaptured onlookers with her melodic piano piece.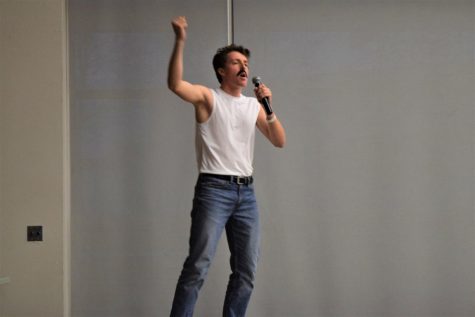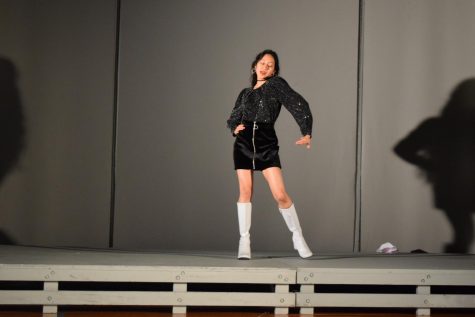 The next act arrived with what seemed to be a piano piece. Vincent Marchese slid onto the piano bench- fingers splayed, hands hovering over the keys- and began to shout to the audience in a triumphant declaration, "This is stand-up, you've been duped!" Marchese then enthusiastically flipped over the bench, strolled up to the stage, and proceeded to enlighten the mildly confused audience with jokes from his stand-up routine "My Life is a Piece." Many would agree that it was the strangest piano concert they'd ever heard, but altogether quite entertaining.
With song, came dance. Nishanth Kadiyala, Aashi Sharma, and Tanya Sharma took their Bollywood dance to the floor. The trio never took a rest, as they jumped, twisted, and glided in a series of colors. The number was a showcase of both their skill as dancers and their cultural roots.
Lora Armstrong followed, and electrified the stage with her baton-twirling routine choreographed to "Please Don't Stop the Music" by Rihanna. Armstrong had the crowd singing and clapping along as she awed them with a series of upbeat baton maneuvers.
Finally, came soloist and internet sensation Yzette Torres, who danced to "Psycho" by Red Velvet. Torres has accumulated over 69,000 followers on her Instagram platform, which is mainly centered around her dance videos. From her glittering outfit to her seemingly effortless rhythm, she ruled the stage from start to finish.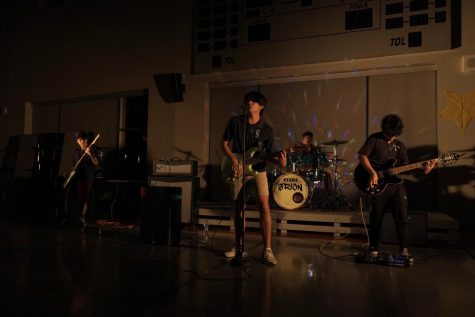 The show ended with a thunderous performance thanks to student rock band Ørion, including Carnegie's own Jason Torres(guitarist), and Lamar HS students Victor Perez(guitarist), Gavin Gonzalez(drummer), and Christian Gonzalez(lead singer). The mini-concert began with lead singer Gonzalez guided the audience in counting them off. When they reached one, the band brought a fiery intensity, and within seconds, Ørion had the audience out of their seats. Ørion performed their unreleased single
"Growing Pains," "Mr. Brightside" by The Killers, and their original single "Voices," which can now be streamed through Spotify.
With the spirited finale of Ørion, the fate of the show now rested within the judging panel, composed of CVHS teachers Robert Houghton and Colleen Schmidt, and CVHS junior/Thirst Project President Litzy Martinez.
"It was a hard decision, even though it came down to numbers. There was this big tie within the top," said Houghton.
The final verdict was announced as all performers gathered in front of the stage. The top 5 acts, from 5th to 1st place, were Yzette Torres with her dance performance to "Psycho" by Red Velvet, Yuechan Lee on the piano, Naomi Canny, singing "Skyfall" by Adele, Ørion, and Dylan Kipp, with her heartfelt cover of "Say Something" by.
With the show being a huge success, the Thirst Project club is already planning future shows.
"I always dream big," said Martinez.
Leave a Comment
About the Contributor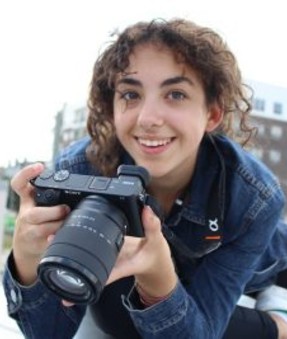 Gabi Rodriguez, Editor In-Chief
Hi! I'm a junior, and I'm really passionate about listening to people's stories.