Fifteen Years and Counting
Spanish Honor Society continues commemorates its proud traditions
"Como miembro del capítulo [name] prometo dedicarme al estudio de la lengua española con el fin de dominarla algún día, recordando que una lengua puede ser un lazo fuerte entre personas de distintos orígenes de raza o religión. Como ciudadano de mi patria prometo promover la amistad y el entendimiento entre ella y los otros países del mundo. Esta es mi promesa y mi juramento." This means "As a member of the chapter, I promise to dedicate myself to the study of the Spanish language with the goal of mastering it everyday and remembering that a language can be a large force between persons of different origins of race and religion. As a citizen of my country, I promise to promote the friendship and the understanding between it and other countries of the world. This is my promise and my oath."
Those were the words recited by 30 students on Thursday evening during the annual Spanish Honor Society induction. This year's induction marks the 15th year of the honor society since the start in 2005.
The induction started off with the inductees being handed their unlit candles. One by one, they were called up to the front of the cafeteria to sign their name in a book with every member's name dating back to 2005. While upfront, inductees were also given their induction certificate. After receiving their certificates, Ms. Jiménez, who currently teaches the AP Spanish courses and Pre-AP Spanish 3, proceeded to light their candles one by one with the "mother candle". Once everyone's candles were lit, they recited an oath. At the very end, the newly inducted members blew out their candles, marking a new chapter for the Spanish Honor Society.
While the Spanish Honor Society is just one of the many honor societies Carnegie has on campus, its members believe that it holds a special value in the community. To senior Macy Huang, who has been a member for two years, the Spanish Honor Society plays a role in unifying our community.
"I want to learn more about Hispanic culture because there are a lot of Hispanics in America. It's really important that if we want to be a united country that we are appreciative of other people's cultures. Carnegie's Spanish Honor Society has helped me achieve my goal," Huang said.
For students like senior Michelle Nguyen, who was recently inducted, the Spanish Honor Society is an open space where learning about Hispanic culture is taken beyond the classroom. To her, joining the Spanish Honor Society means joining a group of fellow classmates that share a common language and bonding over their love for it and Hispanic culture.
"I get to be in a community of fellow scholars at school where we share a bond in sharing the same language and [are] able to communicate with each other. I get to learn more about the Spanish culture outside of the classroom setting and be involved in the community directly with other students, and we get to have a lot of fun," said Nguyen.
According to Ms. Jiménez, that was the goal when the Spanish Honor Society was brought to Carnegie. Ms. Jiménez is the current sponsor of the honor society and works with the current cabinet members to coordinate different volunteering opportunities.
"Spanish Honor Society is a space for students to get more in touch with Spanish culture but not in an academic setting. This allows them to express themselves more, and seeing my students from different classes coming together as a whole to bond over the Spanish language and Hispanic culture is my favorite part of all of this," Jiménez said.
Volunteering within the community is another major part of the Spanish Honor Society. Ms. Jiménez and the cabinet members put together many volunteering opportunities for members. Of the various volunteering opportunities members are given, some are mandatory, like the Chevron Houston Marathon.
"We allow many different opportunities for [members] to do community service. [The] Houston Marathon is something we have done for the last 10 years. We also volunteer at MECA-Houston's Dia De Los Muertos Festival," Ms. Jiménez.
For senior Isabella Hsu, volunteering with the Spanish Honor Society gives her an opportunity to help out in the community and practice her Spanish-speaking skills.
"When I volunteer normally, I get to help out in the community. However, volunteering with the Spanish Honor Society allows me to do that and build on my Spanish-speaking skills, like when my friends and I volunteered at a local festival for Dia De Los Muertos," Hsu said.
Updates on various volunteering opportunities are only one of the many [blank] that happen during meetings. During meetings, members have discussions and presentations on Hispanic traditions and play games like Lotería, which is similar to the game bingo. Michelle Nguyen has found this to be an effective way of developing her speaking skills.
"I am able to practice my Spanish more because I'm currently in Spanish literature and so there's not as much speaking involved [compared to] Spanish language. Being able to be surrounded by other people who are native speakers was really great in terms of building my language skills," Nguyen said.
When asked why she applied to be a part of the Spanish Honor Society, Michelle Nguyen said it was due to Ms. Jiménez's personality, helping out with the Latino community, and further developing her skills.
"I applied because I really like Ms. Jiménez a lot. I've been in her class since I was a sophomore. Her energy and the way she carries her class and her clubs with so much enthusiasm made me want to get involved with the Spanish speaking community and the Latino community. But not only that, there are a lot of Spanish-speaking people and being able to practice my Spanish in the real world and also being able to help out a community that people sometimes don't focus on as much," Nguyen said.
"If you're curious and want to learn about another culture or language, [the Spanish Honor Society] is a great [place] to do exactly that," Ms. Jiménez said.
Leave a Comment
About the Contributor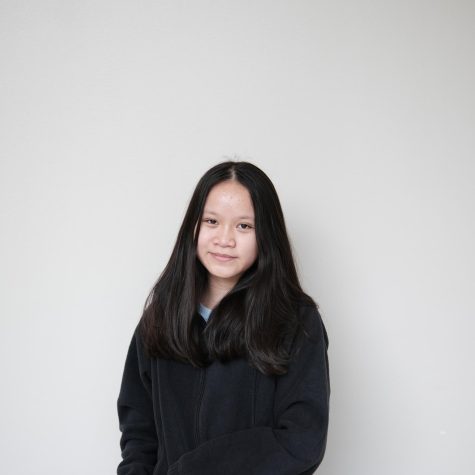 Hilary Nguyen, Opinion Editor
I'm a senior who loves reading, taking naps, and the Oxford comma.