Should STAAR strike students once again?
The odds that there are more CVHS students who experienced surviving a lightning strike than there are those who find the STAAR tests worth their while are slim, but never zero. With TEA's(Texas Education Agency's) December announcement on the comeback of this year's STAAR testing in the 2021 spring semester, the only storm that seems to churn among school communities comes from the thundering of questions and charged indignations of pressing its continuation.
The STAAR test is mandatory for all students from grades 3-12 who are taking the corresponding STAAR subjects. Despite covid-19 circumstances, STAAR will continue to be administered in the Spring semester. This means that the students of Carnegie Vanguard will have to attend another standardized test alongside Advanced Placement, midterms/finals, and college entrance exams. While the continuation of in-person school remains in question and schools continue to navigate their way across virtual learning, STAAR testing administration becomes an added undertaking in a school year dictated by pathogens. At large, the debate as to whether the STAAR test should continue this year has given rise to questions on whether it should be continued in the years to come.
TEA further relayed that they decided not to penalize schools and students based on scores on the STAAR test this year. But then this begs the question- why take it then?
With covid-19 turning learning in a different direction and making students learn online, students are still required to take the STAAR test. STAAR should be canceled with all the barriers and difficulties of learning in times like these, with some students already taking other mandatory tests, and it is an added stress to both students and teachers. With the A-F grading system taken away this year, the STAAR test and funding won't be the same as before. Canceling the STAAR has both positive and negative feedback, but mostly positive in the past, as received last year where the state did cancel the STAAR test.
There are about 1781 cumulative confirmed COVID-19  cases, 784 being students and 997 being staff, 669 total active cases, 311 being students, and 358 staff members across all HISD schools. Schools reopening and making students go in person just for a test isn't helping the fact that cases are rising each day, and getting a bunch of people in a building doesn't seem very safe. Even having few students in classrooms or having the 6 ft social distance rule and many more protocols, why go through all that effort just for a test or in-person learning. 
As of 2017, the Texas legislation began issuing grades ranging from A-F to classify the general performance of each one of their school districts, which further split into individual school grades. Scoring criteria evaluates average STAAR performance, student improvement on the STAAR, the ability of schools to blend academic performance gaps between students of varying income backgrounds, and community engagement. From this state rubric, STAAR scores correspond to over half of final district grade outcomes at an estimated 55% weigh-in and are further used to analyze the efficiency of teachers and schools within each school and district.
Rating schools and school districts with STAAR performance as the highest score contribution places an exaggerated emphasis on standardized testing, skewing the pillars of leadership, facilities, staffing, and resource management that upholds a well-operated school district by squeezing their evaluation into a margin of less than 45%. Notably, if a school's score falls below D grade or receives more than 4 years of consistent failing marks, then the district area is automatically placed under consideration for an administrative upheaval involving takeover by the Texas Education Agency.  
From November 2019 to April 2020, HISD fought against its own district takeover proceedings after Texas Education Commissioner Mike Morath cited Wheatley High School's perpetually failing academic performances and school board alleged misconduct as key qualifications for takeover. CVHS teachers and administrators immediately expressed the potential drawbacks that the school could face if TEA takes over, including loss of funding under a charter school system, power vacuums, and community distress. If STAAR scores contribute to more than half of Wheatley's annual state grade, and if the TEA flagged their longstanding poor performance as a takeover indicator, then the takeover threats CVHS faces as an HISD school are an extension of STAAR scores, regardless of their own school and students performances. 
Therefore, evaluation in areas such as school-to-district communication transparency and budget management under quality leadership should be more prioritized by the state board of education when grading schools and their overarching districts.
"
Restrain the state from slamming the "self-destruct" button on its public education system.
The pressure alongside other standardized tests is impactful adding the STAAR test this year. With students already taking multiple tests like midterms/finals, AP tests, and individual curriculum tests it would be pressuring students to do well in all those tests plus the STAAR, even if they are not doing the A-F grading system this year. The STAAR tests are not the biggest necessity when it comes to being able to do good in school, and the fact that it takes a big toll if a student passes a grade level, except for this year, is not so simple. 
In Spring 2012, the STAAR made its first debut across classrooms in replacement of the former TAKS (Texas Assessment of Knowledge and Skills) predecessor. Lawmakers reasoned that the TAKS replacement with the reportedly more rigorous STAAR could yield more accurate benchmarks to determine a student's readiness to advance to their next level of education, and for some, the workforce. Despite the state of Texas's history of multi-million-dollar contracts with companies to administer the STAAR ($280 from 2016-2020 and $388 from 2021-2024), TEA provides little to assist educators with improving test scores and preparing for future tests. 
TEA has never clarified whether teachers and students should be preparing for a test that covers content from beyond their reading level. While TEA states under its "STAAR FAQs" that "students in grades 3–8 must be tested at their enrolled grade level as required in Texas Education Code (TEC) §39.023(a)," The absence of transparency blindsides students, teachers, and administration from covering the material to rightfully prepare test-takers, which is reflected upon score averages. Students who fare well in their classes by maintaining their designated reading level are failing STAAR at an abnormal rate. 
In 2019, the Texas Public Policy foundation reported that 54% of Texas test-takers demonstrated to read below grade level on the STAAR's statewide reports. Yet, teacher assessments have routinely found that students are performing at/above grading level. The Texas State Alliance further synthesized research from Texas A&M and the University of Mary Hardin-Baylor with known STAAR data and the national reading level framework known as the Lexile scale. They found that thousands of students were caught in a gray area where they met grade-level education standards (TEKS), but were considered below grading level by STAAR.
This year the state should cancel the STAAR, but if the STAAR started a program in the future of just helping schools with funding without having kids have most of their last few months preparing for the test and actually help them learn and prepare for their upcoming year. Even if the funding does come from the results, they could make it as an optional test or for a UIL club, and until the year ends they have to take it and the club helps fund the school. This is beneficial to the school, but also the students get to learn and practice more for multiple classes and the STAAR test. Since lower-income schools don't have many resources and that could affect the test scores, they could help them and make a change instead of just repeating the cycle of every year them not getting the best scores and not getting much funding. 
The state has been focusing more on funding standardized testing, rather than funding schools districts and schools alone. The budget spent on standardized tests and district services from the state has changed over the years, with the state spending at least $90 million a year on STAAR testing alone. In the last year 2019-2020, the budget on thirty-one counseling, guidance, and evaluation services was $65,946,068, compared to this year, 2020-2021, which is $64,146,508. With covid-19 affecting many workers across the world, the social work services' budget this year was more than last year's with $17,783,562 this year and $10,379,352 last year. Health services' budgets had a slight increase of $1,017,466, with $20,835,004 last year and $21,852,470 this year.
TEA Commissioner Morath states that this year's STAAR administration will serve to measure the learning path deviation among Texas school kids after shifts to learning alongside a public health crisis, and that the state will hold back from STAAR-based district grading for the school year. Virtual learning is a monumental shift as is, and now there are thousands of students who are not showing up to virtual school, daily whims of web complications and technology shutdowns, and fluctuating COVID-19 daily reported cases in the state. With some school districts calling for full immersion to remote learning, one would think that TEA would wisely take advantage of the hiatus from classroom learning and address the pressing controversies and concerns of the STAAR's past, present, and future administration. 
Perhaps they could have taken time to assemble education councils to re-determine the readability and alignment of the test with its designated grade-level expectations, and further re-calibrate its value in the A-F district grading system. But they are not. Rather, by adding more standardized numbers in the push for another year of testing, they are multiplying the duration of these problems.
Aside from its unappeasable student performance expectations and its overweight district grading dependency, pushing the STAAR on is a huge inconvenience for schools, students, and the state this year, regardless of its delivery platform. It is now up to students, teachers, and school communities to talk to upper-level administration and local representatives, refer their stance to the district in jointly collaborative calls and/or emails, and restrain the state from slamming the "self-destruct" button on its public education system.
View Comments (10)
About the Contributor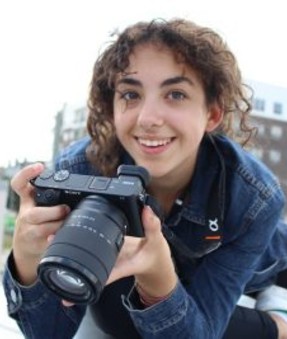 Gabi Rodriguez, Editor In-Chief
Hi! I'm a junior, and I'm really passionate about listening to people's stories.