CVHS Debate sweeps qualifying rounds, advances into HUDL City Championships
On May 8, Carnegie Vanguard Highschool's debate team placed in over 15 events.
On May 8, CVHS' debate team placed in over 15 UIL events, winning Squad of the Year and qualifying for the Houston Urban Debate League (HUDL) City Championships. :
Lincoln-Douglas Varsity Octa Finalists: Nishanth Kadiyala, Siddhartha Rana, Cindy Cui, Jeffrey Qi, Ishan Arora

Lincoln-Douglas Varsity Quarter Finalists: Ashton Brown

Lincoln-Douglas Varsity Finals: Second place: Tanish Madan

Public Forum Varsity Semifinalists: Elvia Mora-Blanco and Sarah Ajao, Pablo Pena and Neel Maddali

Public Forum Varsity Finals: Second place: Pranav Kumar and Ruofan Liu

World Schools Debate Quarterfinalists: Tomas Borja, Hope Nguyen, and Leon Sakata

Congressional Varsity Debate Winners: First Place: Varshitha Krishnan

Second place: Raahim Siddiqui
The Houston Urban Debate League is a debate initiative in HISD that allows students, especially low income students, to access debate when they otherwise could not have due to the prohibitive costs inherent to debate. Students receive a resolution or prompt, and they must write a case supporting both the affirmative and negative side of that topic. At the time of the debate round, a judge flips a coin to determine which team gets which case. 
This year we had over 15 CVHS students win an award.  Many of these students had years of experience which helped them advance in the debate rounds. 
View this post on Instagram
Many students got their start in 8th grade which is when debate is introduced to students. 
"I got into debate in Middle School at Hua Xia Chinese school. I wanted to get better at public speaking and I had always enjoyed arguing, so I thought it would be a good fit," said Liu. 
Some students also got their start in high school debate. 
"I went to Bellaire in 9th grade, and it has a strong debate culture, so I thought I would give it a shot," said Kumar.
Debating isn't just improvisation. It requires a lot of research into topics and even researching into what may happen during the debate. Being prepared is crucial to debate rounds.
"Prepping for Public Forum takes me hours since I have to research the issue and go over questions I may have for cross-examination. Plus gathering evidence and rehearsing it takes a lot of time, i estimate one case would take over 10 hours," said Krishnan.
Many debaters also have to consider school work into their schedules along with their debate cases. 
"I think it would take about 2 hours for a case but since I need to spread it out with my schedule it can take as long as a whole week," said Cui.
Covid-19 has also made a toll on every debater. Usually debaters would debate in a classroom for a tournament. But due to Covid-19, debaters had to debate through a screen, which can be a problem such as technological issues. 
"Personally online debate has been harder. I have run into several tech issues, such as my microphone or my wifi not working. It has also been clear that at times, my opponents can easily cheat since they can easily do research at the time of the debate, which is not allowed," says Madan.
Virtual debates can also affect how debaters perform. 
"It really messed up the flow of debate because it's harder to concentrate when you're just talking to a screen. It's better in person when you have a presence and you can stand and people can see you and hear you," said Liu.
Despite the challenges, these debaters have memorable moments from their debating career thus far.
"Once I was breaking at middle school nationals. That was my first big achievement in debate, other than a few medals from local tournaments," said Madan.
Debate has made an impact on many students who experienced it, and it even changed their view on the world. 
"It really thought me empathy since I have to constantly have to think about the viewpoints on both sides. You have to consider both the affirmative and negative side of every topic. It makes you cooperate with other people, and you can really start to understand both sides," says Krishnan.
https://www.instagram.com/p/COmRBzXn-Qs/
View Comments (5)
About the Contributor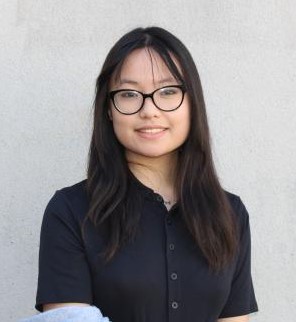 My-Tran Vo, Staff Writer
When My-Tran Vo isn't testing out a new knife by cutting a salami stick for a midday snack, she's out taking care of the stray cats she feeds. She...