Vaccines Open for Teens 12-15; Some Remain Concerned of Side Effects
Many Carnegie Vanguard Highschool students are debating which vaccine to receive since Texas opened the vaccine to be available for citizens 12 years old and above on May 18. 
There are currently 3 main Covid-19 vaccines; The Pfizer Vaccine, Moderna Vaccine, and Johnson&Johnson Vaccine. The Pfizer Vaccine is a 2 shot vaccine with a 21 day gap in between. The Moderna Vaccine is also a 2 shot vaccine but with a 28 day gap in between.  The Johnson & Johnson Vaccine however, is a one shot vaccine.
Many students at Carnegie Vanguard Highschool have received the vaccine, as they are coming of age. One of the students is Brooke Ferrell who recently received her second dose.
I got one over spring break, so I think that the 17th of March. And then I got the second dose on April 4," said Ferrel.
Some students such as CVHS freshman Laila Myers,who is currently 15, is now eligible for the vaccine. The vaccine can ensure them safety when they go out to crowded areas such as school. They plan to sign up the vaccine on their 16th birthday when the vaccine isn't so hard to obtain. 
"Hopefully I'll be able to sign up on March 31 of next year (2022) for the vaccine," says Myers. 
Some students such as sophomore Erik Santana, are against taking the vaccine due to reasons such as the recent news of harmful side effects of the vaccine. Some side effects can be flu like symptoms or in rare cases, blood clots.
"The only thing that concerns me about the vaccine would be that I am still not entirely sure of how the vaccine can or will affect me after receiving the dose," says Santana. 
On April 13, the Johnson & Johnson cited an "abundance of caution," after there were 6 reported cases of rare blood clots in people who received the Johnson & Johnson vaccine. This means that a warning to the public was given and for people to rethink their choices in choosing the vaccine. 
Even though the odds of getting these blood clots from the vaccine are about 1 in a million, it's still a worrisome thought to know. 
"I think the most concerning thing for me about the vaccine is the blood clot incident. I know it's not all the vaccines but it's the possibility of it, but I'm still willing to take it when i can," says Myers.
Its still recommended by the CDC and by many doctors to receive the vaccine due to rising Covid-19 cases. 
"Doctors are and influence for me since they are really encouraging it for everyone's safety. Its like adults encouraging new voters to go out and vote since it would help the community," says Myers.
Other adults such as parents or teachers are also big influences to new eligible teens.
"My parents were really encouraging me to just get it so that I would be at least mildly protected because my doctors are relatively sure if I got COVID It would not be ideal. Also my grandparents, I really wanted to be able to spend time with them safely and not expose them to something that could be dangerous," says Ferrell.
"More than 70% of Americans aged 65 and older are fully vaccinated, according to Centers for Disease Control and Prevention," said CNBC News.
With vaccines rolling out everyday, we can all just hope that the United States can go back to regular life without fear.
" I dont want to stay cooped up in the house all day. I want to get my regular life back again and go to school normally and see my friends," says Myers.
Leave a Comment
About the Writer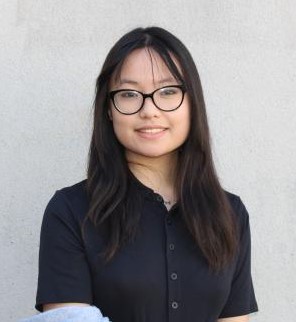 My-Tran Vo, Staff Writer
When My-Tran Vo isn't testing out a new knife by cutting a salami stick for a midday snack, she's out taking care of the stray cats she feeds. She...