Lankford Grocery: A Quiet Neighborhood Restaurant Near Carnegie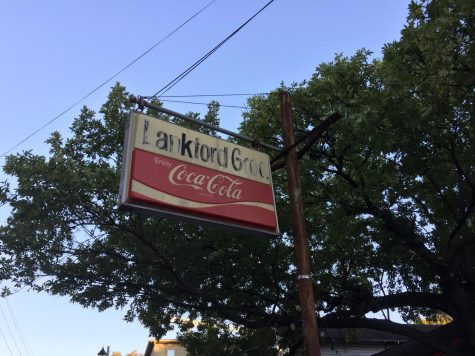 A couple of blocks away from Carnegie, on Genesee street, sits a small, red-lined, white building known as the Lankford Grocery and Market. It has been part of the Houston landscape for almost a hundred years. It was founded at first as a fruit stand, then a brick-and-mortar grocery called the "Mom & Pop Grocery Store," and then finally converted to a restaurant after introducing lunch plates and burgers in the 70s and 80s. It is now no longer known as a grocery. Instead, it is famous, perhaps notorious as one of the best burger places in Texas, and it has made it onto everything from Texas Monthly to Guy Fieri's Diners, Drive-Ins, and Dives.
I had wanted to visit this restaurant ever since I saw it on a list of "16 Classic Restaurants Every Houstonian Should Visit at Least Once" on  Eater Houston.
After I learned that it was just a couple of blocks from school, it seemed even more approachable, but I ate there for the first time only last weekend. 
As the Houston sun was setting, my dad and I parked near the restaurant and entered. It was a quiet establishment. A little dining room with a low ceiling greeted us. There was a small crowd inside, mostly made up of regular customers. The inside was what one would expect to see from a mom-and-pop joint run by the same family for three generations, if a bit more festive. There were tables with oilcloths and walls covered with memorabilia. There were photos of the second-generation owner, Eydie Prior, with Guy Fieri and what appeared to be a thank you note signed by Guy Fieri himself. 
When it came time to order, we ordered two Old Fashion Hamburgers, a basket of fried green tomatoes, and an Oreo milkshake. We then sat outside on a red picnic bench. The weather was perfectly cool and cloudy, making for a great outdoor dining experience. In the era of the COVID-19 pandemic, outside seating had become more desirable, yet the experience had never been enjoyable in the miserably hot Houston summers. Now, though, the temperature was just right. 
As we waited, I took a sip from my milkshake, which was very good. It was what you would expect from an old-fashioned diner, and fortunately, that's what I had come for. The milkshake had the slight crunch of the Oreo cookies and the very present "cookies and cream" flavor.  I took a few more sips, and watched as a DMC DeLorean parked right in front of us. The thin, shiny car did not look like it had aged much since the 1980s, and a sense of anticipation formed as the doors swung upward. A man wearing an Astros baseball cap emerged. We complimented him on his choice of car as he went inside.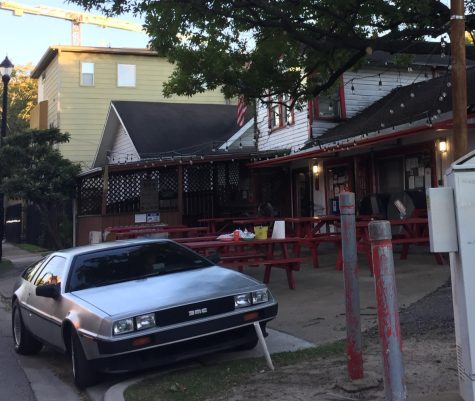 Soon after, a waiter came out of the restaurant, bringing the Southern delicacy known as fried green tomatoes. I tried one immediately. It was as lethal as it was tasty. The whole experience was comparable to biting into an active volcano, as liquid-hot tomato goo burned my mouth and the crispy golden disk began to crumble. The tomato exploded with tangy and slightly acidic flavor, and the heart was only somewhat quelled by dipping in the sauce it came with. It was delicious and scary at the same time, and I would like to try it again.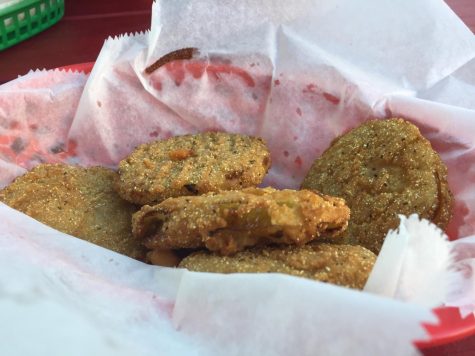 Finally, our burgers arrived. They were massive (roughly the size of a child's head), and I imagine they had enough meat in them to feed a small state. The burger patty had nice caramelization at the edges, making it crispy. I was not sure if I could take a bite out of this burger, but I was glad I did. A small taste immediately released mustard, onion, and pickle flavors, while the meat flavor came a second later. The only disappointment of this experience was that the cheese had not melted. The huge burger was also incredibly sloppy, quickly collapsing into a delicious mess only seconds after I held it. The burger's taste and texture was comparable to that of The Burger Joint on Montrose, but the restaurant sure was not. While The Burger Joint is modern,  "hip" experience with giant TVs and a raised patio, Lankford is a quiet neighborhood hangout surrounded by nostalgia. Either of the establishments are fine choices, but for a place with ambiance, Lankford may be the better pick.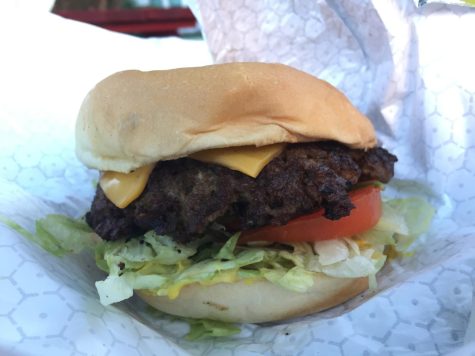 While the burger did not blow me entirely out of the water, the charming spot and its aura had won me over. The quiet neighborhood café may draw in people for the burgers, but the fried goods are what to order.
Leave a Comment
About the Contributor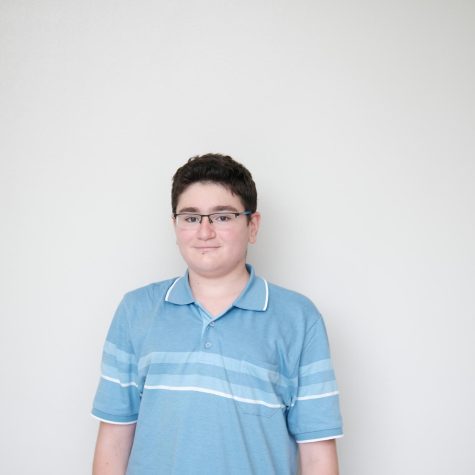 Atahan Koksoy, Staff Writer
I love reading, learning, drawing cartoons, watching films, and discussing art, history, politics, and  business. I also collect historical artifacts,...