The Best Donut Shops Around Houston
Growing up, my family never had a lot of money. My father was the only working adult in the household. Making ends meet was always a difficult task. Even so, my mom and dad always tried to give us the best. One Saturday morning when I was 7, my parents bought me and my siblings donuts because I had gotten honor roll in school so it was an award for me. Although they were bought early in the morning, the freshly baked shipley donuts were already cold. even so, [describe taste]. They beat the beans and rice my mother would always cook for breakfast.
In my donut shop expedition, I wanted to find a donut that tasted better than the cold donuts I got when I was 7. I wanted to be brought back to my carefree days, the days where a simple donut could make me feel happy. I wanted a donut that was fluffy and soft. A donut that melted in your mouth upon the first bite. It needs to also look appealing, glaze should cover the donut entirely. Lastly, it needed to be picture-perfect.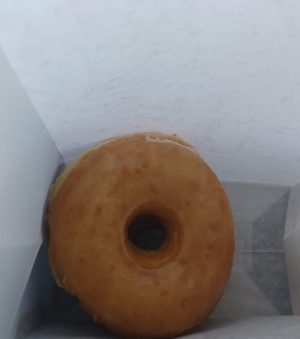 The first donut shop I explored was Hugs and Donuts. Hugs and Donuts is the number one donut shop in Yelp with a 4-star rating. The reviews all rave about the variety of flavors. My expectations were set high. As expected, the place was packed, but ironically only the soft murmurs between cashier and customer could be heard. Even with a long line, they attend every person with a sweet genuine smile.
The inside was donut-themed with paintings of donuts on the walls, donut-shaped tables, and donut floors. It was like a small donut paradise that fit any kid's dreams. Even with the large variety, I decided to go for a classic, a glazed donut.
From the outside, the glaze covered the entire donut making a glossy layer and if you looked closely you could see your blurred reflection. The donut cost $1.50 which is a little more to the pricey side for a regular glazed donut, but it was worth the price. The donut was so fluffy like a cloud and as big as my hand. The donut had a perfect golden yellow outer crust and oddly enough it was a perfect circle. When I took a bite into it, it was so easy to chew that it almost felt like it melted in my mouth.
This wasn't like a Shipley donut shop or any of the other shops I went to. The bright pink donut themed shop reminded me of my childhood dreams. If you asked my 7 year old self where they wanted to live she would probably draw you this very same shop.
This place radiated unhealthy levels of happiness. I give the donut shop a 4.5 out of 5. Don't get me wrong, the donuts were out of this world and the experience the donut shop gave was everything, but I wouldn't pay $1.50 for a donut is expensive. I would visit here if I wanted to treat myself or my friends for a sweet treat. I would highly recommend people to go here. I believe that even those who despise donuts would enjoy it here.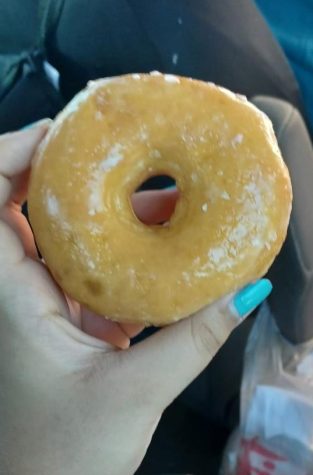 Le donut is the number three donut shop in Houston and it has a 4.5-star rating on yelp. I didn't actually want to pick this place because the photos of their donuts didn't look that appetizing and the shop was located really far from my house.
The store was like a little bakery, filled with a variety of flavors, from strawberry fruity pebbles to glazed. It didn't look as decorated as Voodoo Donuts and Hugs and Donuts. It looked like a normal corner store located in an empty and deserted neighborhood. To give them some credit, I went there 30 minutes before they closed so that could be the reason it was alone.
The donut cost $0.99 so that already was a good sign to me. I ordered a glazed donut and they gave me another free donut. The donut was a mini donut that was the size of a toddler's hand. The donut looked like a Walmart version of Krispy Kreme. It was a paler brown color which surprised me because multiple pictures of the donuts looked like they were overcooked. The glaze didn't completely cover the entire donut, but it was a decent amount. The dough was soft and chewy. The glaze balanced the flavorless dough. The glaze melted in my mouth and even though I came 30 minutes before closing, it was still warm.
I give this donut shop a 4.9 out of 5. The donuts were a decent size and they were cheap. I would definitely go back to buy from here if I was around the area. This is by far one of my favorite donut shops and will definitely be bringing my friends here.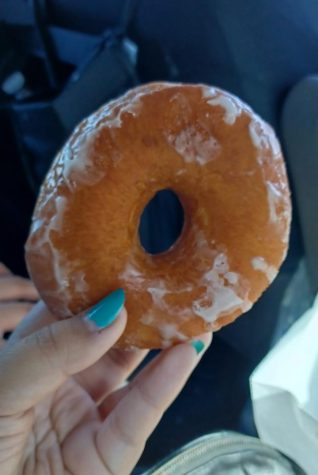 Voodoo Doughnuts is the number two donut shop in Houston and has a 4-star rating on yelp. Not only that, ever since they had announced that they would be building one in Houston, I'd been wanting to go to Voodoo Donuts for the longest time. Every time I tried to go, the lines of people would follow from the inside of the store to the sidewalk and the drive-thru's line would circle around the block. Then, Covid hit, and I wasn't able to go.
The moment you enter the store a sweet sugary scent hits your nose. There is a mix of loud hype music that makes the atmosphere so energetic and the whisper yells of the people having conversations. It reminded me of the evil voodoo man from princess and the frog. There was a long line of people and just like hugs and donuts it was packed to the brim.
The moment I entered the shop I was about to leave. It was too crowded and it made me very anxious, but I had my sister with me who stood by my side. It took a long time to order my donuts. Some of the fancy donuts with crazy topping cost $5 dollars which is expensive for a donut, but a regular glazed donut costs $1.25.
I bought a glazed donut and it was bigger than my hand. The donut wasn't as fresh or soft as the Hugs and Donut one. The donut had a darker golden brown color that looked almost burnt. In the dough you could taste the sugar and plus the sugary glaze made everything be overwhelmingly sweet. The glaze didn't cover the entire donut but only a single section. It wasn't necessarily bad, but the donuts were cold and dry. My expectations for this place were really big, but instead, I received disappointment.
I rate this donut shop 3 stars out of 5. The donuts were cold and dry. All the hype surrounding this shop just made everything more disappointing. I wouldn't go again, but it was a very interesting experience.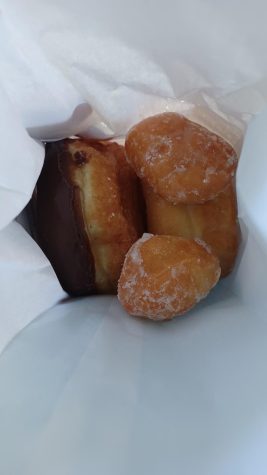 Christy's donuts are number 15 in best donut shops in Houston and it has a 4-star rating on yelp. This place is very close to Carnegie and I have heard good things about it.
When I entered, there was a long line but the service was so quick that the line quickly moved. The shop smelled like Shipley donuts. You could smell the sugar and the donuts being made. They also served me a free donut. It was an old-school style. I came around 11 am and the shop closes at 2 so it still was kind of early.
I didn't see how much the donut cost, but it was around 1 dollar. The texture was the same as Shipley donuts, hard and artificial. These are a carbon copy of Shipley donuts. They had a weird rectangular shape and the gaze looked flaky around the crust. When you took a bite into it the glaze would make a mess around the car. The donut was sweet that I got a headache after eating it. It felt like they added a pound of sugar into the dough. I was very disappointed by it. I think I had tried their donuts before so I thought they were going to be good.
I give them 3 stars out of 5. They were disappointing. Everything was heading in a good direction. I expected them to be like the perfect definition of local donuts. I think a lot of people would enjoy these if they had a sweet tooth. Maybe I came at the wrong time. I would be willing to try these again, but for now, I don't want them.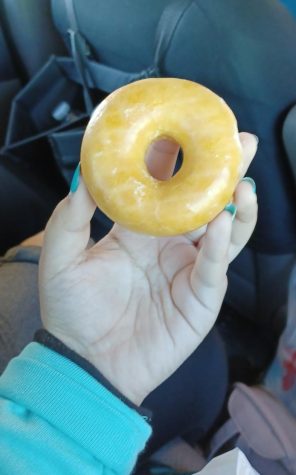 Donut Delight 2 is number 59 in the best donut shops in Houston and it is rated 4 stars on yelp. The photos on yelp had colorful donuts that looked like they were from an international shop. All of the donuts in the photos looked like they could be on the cover of a food magazine. I genuinely thought the place was going to serve perfect donuts
When I first entered, a sour smell hit my nose like a cup of milk had been left to spoil in the back. The place was empty, not a single soul wandered in that shop. I was terrified of going there because it was located in a shady area. I quickly bought my food and left. I bought a glazed donut and for my sister, I bought a kolache.
The donut cost $0.75, but it had a yellow color to it. The rest of the donuts had light golden brown color but this one was yellow. The donut was so hard and dry that it was barely edible. They had an oil aftertaste that made eating it a displeasure. It tasted like it was a store-bought donut that had been thrown into a pot of oil. My sister said the kolache tasted good, but I wouldn't take her word for it.
The people who took my order were these old nice people, and as much as it hurts me. I give this shop 1 star out of 5. I would not wish these donuts upon my worst enemy.
Leave a Comment
About the Contributor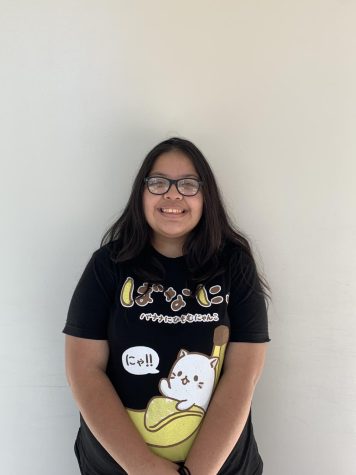 Judith Carrizales, News Editor
Judith Carrizales is a junior at CVHS. She participated as a member of the Film, Riot, and WISE clubs. Her favorite subjects are Journalism (of course!)...