Personal Column: Don't give up on therapy, find the right therapist
October 19th, 2017
Dear diary, 
I went to my first therapy session today. My therapist, C,  is very nice. She has quite a deep voice, and I caught a hint of cigarette smoke as I was leaving her office. She has a basket of stuffed animals that she says "are used for comfort." They seem a little stupid if you ask me. After all, I'm twelve, not five. 
Her office was dark and the only light stemmed from the window adjacent to the couch. The overly large lamp stood out like a sore thumb. There was a persistent ringing noise, which must have been the air conditioner. It was soon drowned out by our sixty minute conversation that seemed to drag on. 
There was also a fan that seemed to raise the hairs on my arm, or maybe they were goosebumps from being nervous, but either way, I was shivering by the middle of our session. The blanket on the corner of the couch looked appealing, but C's harsh interrogation scared me away from proposing the idea of using it. 
I am glad that I now have someone to talk to, but C's ever questioning remarks and borderline judgmental stares make me want to shrink away instead of opening up to her, like my parents are paying for me to do.
-Love, Izzie 
—————————————————————————————————————————————-
November 1st, 2019
Dear Diary,
My first couple months of high school have been stressful and panic inducing. I quickly understood that my anxiety was reaching a high when I looked at my chipped away nails . I just got home from another session. This time therapist K seemed to think that I would be magically healed by kind words and vague exercises. 
Her office seems to match her personality to a tee. I found myself an hour prior looking out her humongous window that overlooked downtown. The walls surrounding me seemed almost too far apart to be considered an office, but more of a spaceship high up in the sky. 
I feel like an alien as I sit across from K, telling her about miniscule detail. I watch her carefully jot down notes on a bright orange notebook that reads on the front "be kind." She reassures me with kind words and thoughts, but her hallmark quotes just seem to be the cherry on top of an uneventful session. 
-Love, Izzie 
————————————————————————————————————————————-
February 11th, 2021
Dear Diary,
I had my first in person session today with therapist A since the pandemic. I've seen her full face online for almost a year now, but today I only gaze into her eyes. Our masks act as a shield to prevent the spread of the disease and the emotional discussion shared.
Her office is a glass box that seems to feel like you are in a rainforest, surrounded by an abundance of trees, but when in reality you can still hear the ambulances go past Main Street. The lights in her office were never on. Just the glow of the lamp shone from the corner. Overly scented candles lay haphazardly on her coffee table. 
Therapist A reminded me of my mother. The warmness of the room along with the cushioned couch seemed to lull my panicked thoughts at bay as we had our hour long conversation. We started the session like we always do, with silent meditation and ended with laughter and jokes. 
Insulated from the chaos of the outside world, Therapist A's office gave me a safe space today. I know it will allow me to feel grounded and comfortable and I cannot wait till our next session. 
-Love, Izzie 
————————————————————————————————————————————-
November 20th, 2021
Dear Diary, 
I have been in therapy for around four years now, and I've learned a lot. Communication is key, and who you are communicating with can shift your entire perspective. All of my therapists played a role teaching me how to communicate and trust others, but I have never felt more comfortable in a safe space as I do with therapist A.
Finding the right person to talk with makes a huge impact on the productivity of the session. I am very grateful and thankful that I have found the right therapist. It is ok to grow and change, and sometimes those closest around you have to change as well.
"
For me, growing as a person through my therapists helped me to build trust and love for myself, which I only hope others can experience as well. "
— -Love, Izzie
---
*If you are searching for help, please reach out to a trusted adult such as your parents, a teacher, or a school counselor. All of these people want to help. Below are some trusted resources:
HISD Stay Connected Hotline : 713-556-1340
National Alliance on Mental Illness (NAMI)
View Comments (2)
About the Contributor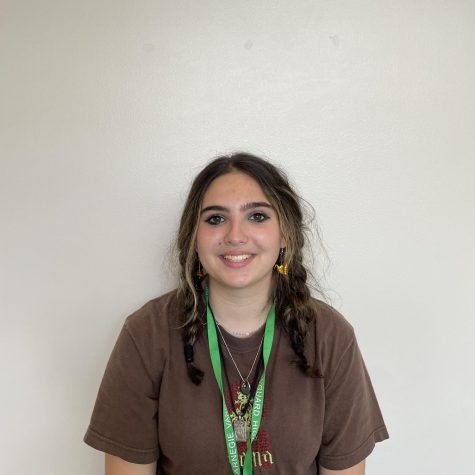 Isabel Hoffman, Staff Writer
Most people call me Izzie! I am a junior and love to listen to podcasts. ;)