Op-Ed: From stigmatized to glamorized: mental illness in the media
Warning: The following article covers subjects of mental illness, suicide, and self-harm. 
There was an uproar. Parents were worried for children, and psychiatrists were concerned for viewers possibly struggling with suicidal thoughts. 
In 2019, streaming giant Netflix was forced to delete fictional character Hannah Baker's graphic suicide scene from the 2017 show 13 Reasons Why. The scene showed Baker committing suicide in her bathroom,  cutting her wrist, and then being discovered by her distraught mother. Although the scene was intended to capture the severity of suicide, the show was heavily criticized both by viewers and mental health experts.
This is due to how it portrayed the cause of Hannah's suicide, who leaves tapes that reveal the actions of those who pushed her to suicide. That is the problem. According to Dr. Victor Scwartz, the show warps the idea of suicide into a "revenge fantasy." Additionally, it makes suicide seem to be carried out in a methodical and premeditated way, which is rarely the case in real suicides. This idolizes Hannah Baker as a martyr. As someone whose "sacrifice of life" can give characters catharsis by either realizing their actions' cruelty or appreciating their lives.
Before her suicide, Hannah Baker confides in her school counselor, Mr. Porter, telling him she is "depressed." This would be a word I would hear incessantly throughout my high school career, along with the phrases "I have OCD" or "I'm not in a good place." Everyone seemed to have a mental health issue, and this wasn't something I was hearing to this extent before the glamorization of mental health illnesses in the media. Then, it appeared on my Instagram feed, and my explore page. The posts were about mental health, but they weren't serious. At times, they had entire profiles dedicated to them. Various posts aimed to be educational, but they had no evident credentials; therefore, they could spread misinformation. In addition to these posts not being grounded in facts, some aimed at being comical. Others were even glamorous, beautiful, and poetic.
Although society has called for the "normalization" of mental illness, the subject has gone from stigmatized to glamourized, with it portrayed as something to be sought after. This was explored by Karim Medlej and Rola Jadaye from the University of Balamand. The study concluded that social media's sensationalized depiction of mental illness worsened teens' and young adults' mental health to the extent that some convinced themselves they had a mental illness. Moreover, the connection social media gives teens further exacerbates the effects of its glamorization of mental illness, with teens interacting and sharing posts that create an "echo chamber."
Based on an article from the Columbia Science Review, a participant from the study stated, "depression was appealing to me. I exaggerated it on Tumblr, saved many pictures, and started sketching depressing drawings. It took a few months before I sought help and got diagnosed and treated for depression." 
Additionally, an anonymous participant reiterated the same idea, saying, "I thought anorexia was nice. I wanted to be anorexic." It can be concluded that the sensationalism of mental illness, depicting it as something that makes someone a "beautiful tragedy" to be revered, has been leading to youth convincing themselves they have a mental illness. Medlej and Jadaye's research has recorded this to sometimes lead to an official diagnosis. The Journal of Pediatrics' May 2018 study reported that hospitalizations for suicidal thoughts and attempts saw a 200% increase from 2008 to 2015. This was especially prevalent in children's hospitals throughout the United States. According to data from the Center for Disease Control (CDC), children's (6-17 years old) mental health diagnoses have been seeing a steady increase since the early 2000s, with "ever having been diagnosed with either anxiety or depression" rising from 2003's 5.4% to 8.4% in 2011-2012.
View this post on Instagram
View this post on Instagram
The Social Learning Theory, first presented by Albert Bandura, explains this process. The main idea behind the theory is that people learn behaviors from what they observe in others. They emulate this behavior based on if it results in positive "feedback." People are encouraged to mimic this behavior because it receives positive reinforcement in various forms of media. It lurks in the vast sea of posts on social media and in our homes on televisions. 
Euphoria, a 2019 drama TV series starring actresses Zendaya and Hunter Schafer, addresses several issues, including mental health, sex, and drug use. Contrary to the show's depictions, an Insider article reports data from a 2017 Child Development Study and the National Institution on Drug Abuse that modern teens are engaging less in sex and drugs, respectively. Despite this, mental health experts believe that the show could still impact youth. This is because the show glamorizes harmful coping mechanisms, ranging from drug abuse and promiscuity to lashing out with physical violence. This is evident in the stylistic scenes of characters adorned with glittery makeup, walking through drug-infested parties as an out for their trauma. 
Chief Clinical Officer of Newport Academy, a teen rehabilitation and mental health treatment center, shares this opinion, stating, "[With teens] just being such an impressionable age, that graphic content, particularly the violence, is most concerning." This warning did not reach the show's target audience of teens and young adults, which is established by its characters' ages.
The HBO series' lead actress, Zendaya, won the 2020 Primetime Emmy Award four Outstanding Lead Actress in a Drama Series, the 2020 Satellite Award for Best Actress in a Series, Drama/Genre, and the 2019 People's Choice Award for the Drama TV Star of the Year. While this recognition may be deserved, it also supports the idea of the show's popularity. With teens being able to access entertainment at their whim, glamourized mental health portrayals find an avenue on shows like Euphoria that teens may not be able to process correctly. 
Moreover, the effects of sensationalizing mental illness can be dangerous for teens without mental illness and those who have been diagnosed. Several people with mental illness use social media to find acceptance, relatability, and comfort. They look to cinema and shows to have roles that accurately display mental illness. A Columbia Science Review article referenced a case study that reported the adverse effects of the "artistic way" social media depicted depression and self-harm. A 19-year-old contributor to the study, who had been diagnosed with Major Depressive Disorder at the age of 15, stated that "he resorted to the internet for support because he felt lonely, and there he encountered images glamorizing depression and self-harm." This worsened his mental health by prompting him to partake in "harmful behaviors and thoughts," such as cutting. As a result, social media does not refrain from harming those diagnosed with mental illness, with "beautified" posts' effects as significant as encouraging self-harm.
View this post on Instagram
View this post on Instagram
This scares me. It scares me because I see the glamorization everywhere. On my Instagram feed. On my Netflix account. As my little sister grows up with the increasing access to these platforms, more so than when I was her age, I worry about how she may be affected by what is intended to be entertainment or a relatable post. While they appear benign, they are malignant underneath the "tragically beautiful" and "aesthetic" surface.
Although the idea of a solution seems implausible, psychologists and mental health experts offer a variety. Dr. Nosal persistently encourages that parents communicate with teens on these issues. If the parent decides the teen should not watch the show, it is recommended they elaborate on the reasoning as to why, instead of blatantly forbidding it. According to The Atlantic, an adolescent psychiatry expert and the Sun Life Financial Chair in Adolescent Mental Health, Dr. Stan Kutcher, calls for more education regarding the subject. He believes that teens must be taught to differentiate between "commonplace negative emotions" and the more severe emotions of clinical conditions. He believes this education can be accomplished through the work of mental health professionals where children and teens spend the majority of their time, at school. 
If you or anyone you know is struggling with mental health, 24/7 support is available:
Call the National Suicide Prevention Lifeline number, 1-800-273-8255
View Comments (5)
About the Contributor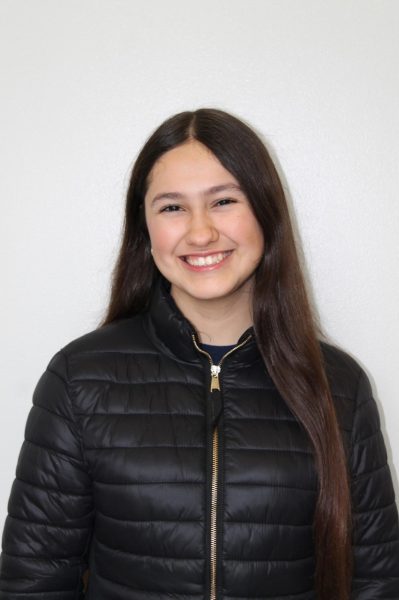 Sasha Cabral, Editor-in-Chief
Sasha Cabral is a senior at CVHS. A musician and an artist, she imbues everything she does with creativity. She loves rock music, the colors red, black...