Little Free Library encourages Carnegie readers
Colorful paintings of popular books decorate the outside of a house-like box standing atop a pole in the middle of the courtyard. 1984. The Tell-Tale Heart. Pride and Prejudice. The house's door opens up to even more literary wonders: two shelves of lovingly worn books. This "Little Free Library" debuted on Carnegie's campus this past November.
Little Free Library (LFL) is an organization that aims to provide "greater, more equitable book access in neighborhoods worldwide." Mini libraries are built in public places, and individuals are free to take and/or donate books on their own time. The one in Carnegie is part of a larger network of LFLs, with 125,000+ globally. Student Council representatives senior Sarah Fernandez and sophomore Sasha Cabral led the school's LFLs implementation.
"I'm going to be an English major, and I really wanted a free resource for literature because I love to read. I know other people do, but not everyone is able to access a book for free," said Fernandez.
Once Fernandez came up with the idea of an LFL, she wanted to get feedback from teachers. She asked her English teacher, Robert Houghton, who thought it was a good plan.
"That was my biggest support because once I had someone who worked here tell me 'oh, we don't have anything like this' then that was a moment where I knew that I had the approval to go ahead," said Fernandez.
Fernandez then proposed the Student Council to the end of the 2020-2021 school year. There was slight pushback from the Student Council because of Carnegie's existing library, but Fernandez was able to highlight the benefits of the Little Free Library, and it was approved.
"This Little Free Library differs from Carnegie's library in the sense of ownership. You get to take a book, and if you really liked it, you can keep it," said Fernandez. "You can write in it; you can fold the pages."
After receiving approval from the administration, the Student Council began planning. They held a book drive to collect the preliminary batch of books for the LFL.
"I also brought a couple of my own favorites because I just really felt like some people would appreciate them, and then I had a few teachers donate some books as well," said Fernandez.
After that, it was time to construct the actual library. Fernandez enlisted the help of her woodworking father, and it only took a day for him to build it. They had planned for an outside painter would initially be hired for the decorating, but Cabral volunteered her skills instead.
"I think it happened mainly because of the ease of it. Also, I was an experienced painter that we had on hand," said Cabral.
Fernandez delivered the constructed library to Cabral over the summer, and the latter spent two months decorating it with references to her favorite literature.
"To me, art can either be about the emotions or whatever the artist wants to convey, so I wanted to pick some books that were personal to me," said Cabral.
Cabral attributes her talent to her father, who is an artist. Although she regularly sketches and paints in her free time, this was her first large painting.
"I've been involved with artistic projects in the past, but nothing like where it's a community-based project like this, where it was like a public display of something that would benefit the campus at large," said Cabral.
Virtual school and other Student Council projects meant that the LFL had to wait until this year to be implemented, despite the plan originating from last year's Student Council.
"Luckily, both Sasha and I were elected again. It definitely took some time, but it was really smooth from last year to this year," said Fernandez.
On November 17, 2021, Fernandez worked with her father to install the decorated LFL on Carnegie's campus. They started out by placing around 25 books within it.
"It was a great bonding experience, but it was really hard to actually dig the hole and install the post," said Fernandez.
They also covered the LFL with many layers of sealant to ensure it was waterproof and long-lasting.
"I hope this is a project that the student council is able to maintain and keep, especially as a volunteer opportunity. I would love it if one day this could be a way for kids to get hours, they donate books, and just be a project that is really unique to Carnegie because I haven't seen it in a lot of campuses," said Fernandez.
Students can interact with the library as they please. After taking a book, they choose between returning the book when they are finished or just keeping it. Students can also donate books that they no longer need.
"It reflects the interests of the students because students take what they want from it. And they can also leave books that not only themselves but the entire campus enjoys," said Cabral.
Both Fernandez and Cabral have noticed their peers interacting with the library, as well as a rotating selection of books.
"I see people using it and they'll stop look through a book. It's really nice to see that people that I don't even know are benefiting from it and enjoying it," said Cabral.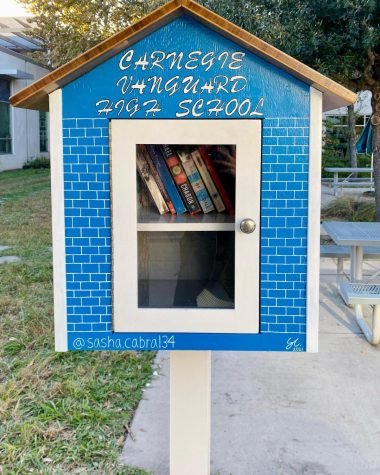 While students are frequently assigned books in their English classes, the LFL encourages individualized explorations.
"Students are definitely encouraged to read, and I do feel like as a campus, we can push to read even a little bit more because I think it just helps us develop even bigger ideas," said Fernandez.
Fernandez herself is a fan of poetry, especially Pablo Neruda's love sonnets. Cabral enjoys authors like Edgar Allan Poe, Aldous Huxley, and John Steinbeck. This variety of genres matches the collections found in the LFL.
"My goal would just be for that to continue. For people to keep exposing themselves to new books, new genres, and discovering all those pieces," said Cabral.
Worldwide, there has been an approximated 33% increase in LFLs since the pandemic. With one at Carnegie, this means that more people can reap the rewards of reading.
"I think that students benefit from reading because it helps them build connections. I've had conversations where I can bring up a book or an idea or a plot from a story that I've read, and it just helps me connect to what people are going through," said Fernandez. "I feel like reading helps us understand different types of people in different scenarios and different classes in social structures when we don't actually live there."
View Comments (7)
About the Contributor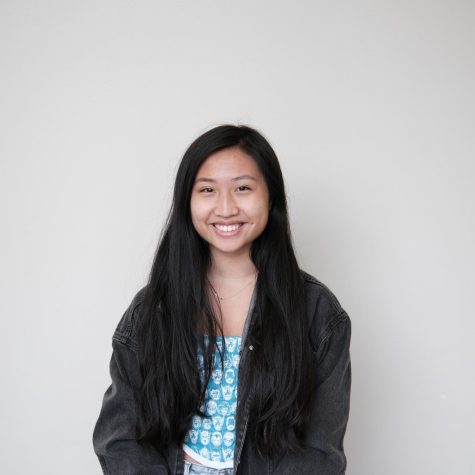 Jessica Lin, Feature Editor
Hi, I'm Jessica! I am a senior and one of the Feature Editors for Upstream News. I love dance, Marvel, and cats.