Why Kamila Valieva Stopped Fighting
Kamila Valieva was failed by the adults in her life who let her become the victim of another doping scandal. 
Kamila Valieva, a Russian figure skater who became the first woman to surpass the 170 points barrier in a free skate, holds the current Rostelecom Cup world record, and became the first woman to break the 270 points barrier for the total Rostelecom Cup score, approached her Beijing Olympic free skate with caution and fear – a stark contrast to the way she approached the ice during her short program just two days prior.
As her free skate program music started, one of the most notable performances during the Beijing Olympics began to unfurl.
The familiar clink of her pristine, white skates sending her into the air echoed throughout the virtually empty stadium. Her body thrashed for a split second before she stumbled back to the ice – her quadruple salchow and subsequent triple axel was underrotated, a significant mistake.
"Why did you let it go?"
Breathless, the audience watched on in silence as the reigning champion fell from grace before them.
She stumbled on her quadruple toe loop, subsequently crashing into the ice after pressing on in the same combination. She fell again, having attempted another quadruple toe loop, then spinning out of her triple toe loop.
"Why did you stop fighting?"
After leaving the Olympic rink in tears on February 17th, 2022, Valieva was hounded by her coach's criticism. None of her accomplishments at her first Olympics mattered – all that mattered was that she hadn't placed gold. To Eteri Tutberidze, her coach of several years, she had given up.
She had, in her coach's eyes, failed.
Just two days prior to her free skate, Kamila Valieva had placed gold in her short program with a score of 82.16. While her performance was regarded by most to be one of the most stunning and complex out of all the female competitors, it shook the ground Valieva walked on, for she skated on the thin ice of a doping scandal from the prior December.
On December 25th of 2021, during the Russian Figure Skating Championships in Saint Petersburg, Russia, a sample was collected from Valieva by the Russian Anti-Doping Agency, or RUSADA. This championship was the determinant for representatives for the Beijing Olympics, which was scheduled for February of 2022. 
On February 8th, a day after Valieva placed gold in a team event at the Olympics, an Adverse Analytical Finding (AAF) for a non-specified and prohibited substance was found in the sample. The substance was trimetazidine, classified as an S4 Hormone and Metabolic Modulator, according to the Prohibited List of the World Anti-Doping Code.
The orally administered antianginal agent trimetazidine increases cell tolerance to ischaemia by maintaining cellular homeostasis – while it is used as a heart medication, it has also been found to have the additional effect of improving exercise capacity in patients.
Valieva was immediately suspended by RUSADA.
As the sample was taken prior to the Olympics' start, the jurisdiction of what to do with the skater was completely in the air. Aside from the time the sample was taken, there was also the issue of her age – 
Kamila Valieva is 15 years old.
Under the World Anti-Doping Code, Kamila Valieva is a protected person, therefore, she is not required to disclose her name or any cases she may be involved in, and public coverage of her must be in tandem with the facts and circumstances of the case. However, this protection was not granted to her by the media.
Looking for Kamila's past performances is near impossible – instead, when you search for the skater's name, you're greeted with thousands of articles bashing her for using drugs or using her case in a more political sense – all written by people completely ignorant to who she is, what drugs she was on, and especially the background of the case – because no one truly knows what happened.
Regardless of the circumstances, the IOC acted quickly and proposed a punishment; if Valieva went on the podium after her free skate, none of the skaters would be awarded a medal. This would punish Valieva and whoever else she placed with.
However, on February 17th, the top three skaters were given their medals –
Bronze, for Kaori Sakamoto (21), skating for Japan under the Sysmex.
Silver, for Alexandra Trusova (17), skating for the ROC under the Sambo 70 (Khrustalnyi) club.
And gold, for Anna Shcherbakova (17), also skating for the ROC under the Sambo 70 club.
The record-breaking prodigy, Kamila Valieva, placed fourth.
These three performers, each giving unique and stunning performances of their own, were overshadowed by Kamila Valieva – a shadow so large that even the 15 year old skater couldn't keep herself afloat. Valieva was not remembered for her performance in the Olympics, she was remembered for her doping scandal. For her failure.
Doping scandals are, unfortunately, common at the Olympics. 46 Olympians at the 2014 Olympic winter games tested positive for various substances. 11 of those athletes represented Russia, and as a result, in 2019, "Russia" was not allowed to compete due to a two-year ban from the World Anti-Doping Agency for its state-sponsored doping program, brought attention to by the McLaren Report and the Schmid Report. Instead, it was the "ROC", or the Russian Olympic Committee. It was a minor slap on the wrist.
Valieva, being a minor, was failed by all of the adults in her life who let her become the victim of another one of these doping scandals. 
Her coach, the person who should have been there to console her as she left the ice in tears, failed in her job to encourage Valieva. Tutberidze is known for her difficult programs, her challenges, her treatment of her disciples – so much so that she's coined the term "the Eteri Expiration Date". It's used to describe students of hers that all retire from figure skating at the same time – age 17 – due to the harsh training methods she puts them through. 
"Just work, work a lot, the more the better. If you truly work, you'll show in the competition what you've done," Valieva stated in response to what her personal philosophy was.
The Sambo-70 club, of which Valieva, Shcherbakova, Trusova, and Tutberidze are a part of, encourages dehydration, starvation, and a harsh practice regime despite injuries on its students. In his 2015 – 2016 career, Adian Pitkeev competed on painkillers despite a major back injury. From his 2019 career and beyond, Daniil Samsonov suffered through Osgood-Schlatter disease all the while competing under his coach's approval. Both of these young figure skaters were coached by Eteri Tutberidze.
In order to prevent future doping scandals as well as Olympic Committees taking advantage of younger skaters, regulations on skaters' age and checks for AAFs need to be more intense. 
Both Adian Pitkeev and Daniil Samsonov were minors when they were injured or were pushed to compete despite injury. The gold medalist for the female's free skate, Anna Shcherbakova, is 17 years old. Evgenia Medvedeva, who placed silver at Pyeongchang, was 21 when she retired due to a chronic back injury, however she had beforehand attempted to do performance skates despite this injury.
Tutberidze's coaching is success at the cost of a young retirement and childrens' health.

"I said then, and I'm ready to repeat: it is wrong to force the training of figure skaters. If they know that they can earn money after 18 years old, then at 12 they will not chase the number of difficult jumps and will try to save their body," stated Rafael Arutyunyan, a figure skating coach who has coached names such as Nathan Chen (2022 Beijing gold medalist), Mariah Bell, Adam Rippon, and Ashley Wagner.
Even aside from the moral dilemma behind forcing literal children to compete in public competitions, the idea of sportsmanship also comes into play. 
Physically, children and women are built differently. It's significantly easier for children who haven't developed as much as adults to perform the complicated and difficult jumps and maneuvers that figure skating entails.
"When adult girls, who have formed and prepared their body, compete with the growing and adrenaline-rich young girls, one cannot speak of equal chances," stated Arutyunyan.
The oldest skater for the female's free skate this year was Eliška Březinová, representing the Czech Republic at age 26. The youngest skater was Valieva, age 15.
The solution?
"Only to raise the age of eligibility. Then, both the skaters and the coaches will understand that by the time of girls' debut, the athlete will have a trained and healthy body," answered Arutyunyan. "I don't really like drinking coffee from disposable cups. When it is poured into a porcelain cup, the taste is completely different. Similarly, I don't like one-time champions."

Do not blame a 15 year old girl who found a passion in skating at age 3 for a doping scandal. Punish the abusive puppeteers pulling her strings and taking advantage of her childhood. Prevent future generations of skaters from being abused at young ages for medals or honor for their countries.
Kamila Valieva did not stop fighting – and she never will. Her 2022 doping scandal will be the title to haunt her until her career as a figure skater meets an early end. She will not stop fighting the trauma this event has left her, nor will she ever be able to leave behind this tarnished reputation. 
Unlike the people who have already begun to forget her name and her battle in place of overdramatized news headings, Valieva will never be able to let this go.
View Comments(1)
About the Contributor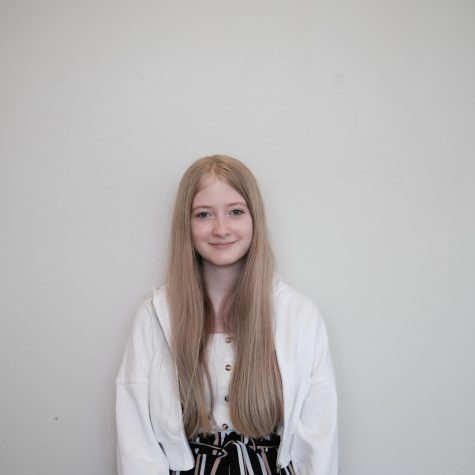 Nadia Talanker, Contributing Writer
Nadia is a senior at CVHS in her 4th year of writing for the Upstream. She has been writing as a hobby and competitively for nearly a decade and her favorite...