Carnegie Theatre Company advances to UIL One Act Play's 6A Regionals
On Friday, April 1st, Carnegie Theatre Company advanced to UIL One-Act Play's 6A Regionals following their most recent performance of Sally Abbott's I Think We Are Alone, originally performed by Frantic Assembly. With this latest breakthrough on the path to state competition, Carnegie Theatre's award-winning company is one step closer to continuing their trophy-filled legacy.
Carnegie Theatre has won state before–twice–in 2014 with When the Rain Stops Falling and in 2016 with Holy Day, both written by Andrew Bovell. They've performed at state many more times than that, most recently in 2019 with Things I Know to Be True. Now, Carnegie Theatre is attempting to do it again. This time, it's a department ravaged by COVID and studded with breakout actors and technicians who have never competed before this season.
"We've gotten a lot of people that actually have not done theater before, but they just came in for the show, and it's been really fun getting to know them because I actually ended up really liking them," said Daiji Bertrand, one of the most welcoming seniors in the department. 
UIL OAP is a place where bonds are formed between the old and the new, demonstrated best by board operator and sophomore Pluto Chavez, who runs the overhead lights during the show. 
"I carry a wrench around with me everywhere now," said Chavez. "[The fall show board operator] bought it for me…and it is a symbol of our friendship: matching wrenches."
That wrench comes in handy during the competition. When something goes wrong during their forty-minute show, competitors are on their own to fix it while the show continues. Without access to outside help during competitions, even rehearsals are structured around solving issues with no way to 'phone a friend.'
"It's trial and error. It's trying out different things and trying to find what works and sometimes things don't work and you just got to problem-solve and make it work and find what suits our show," said Chavez.
Nothing creates a greater need for problem-solving than the structure of UIL OAP itself, which breeds stress. Competitors have seven minutes to set up their entire set, forty minutes to perform, and seven minutes to remove every trace of their existence from the hosting stage. Carnegie Theatre is known state-wide for their ambitious technical aspects, and this year's set is no exception.
"We have eighteen lights across the back," said senior Selina Huang, Carnegie's Best Technician at Area. "We need to plug them all in within seven minutes and then test if they're working or not. So that's mostly the most stressful part."
But some actors would disagree, as once the seven minute set-up is complete, the pressure is on them to pull painful emotions from personal places.
"[My character] has very dark past experiences as a child that really haunt her in her day to day life…she's very anxious, she has a lot of fear, and she sort of tries to escape her own reality through drinking," said senior Molly Keenan about her character Clare, who is an alcoholic. "I do relate on that part, just that sort of fear in the back of her head all the time."
Keenan has participated in Carnegie shows before, but never UIL. She won Honorable Mention All-Star Cast at Area. In fact, Carnegie Theatre won an impressive three acting awards: Keenan in the Honorable Mention All-Star cast, senior and assistant director Jacovia Young who was part of the All-Star Cast, and Bertrand, who was one of sixteen 6A actors across Texas to win Best Performer at Area.
Bertrand is one of the most experienced actors currently in the department. Even before he won Best Performer for his portrayal of Manny, a "jerk" with a "one-sided mind" and an "immature way of thinking", Bertrand performed in five Carnegie shows. Still, he's never won anything as significant as this award.
"When I won Best Performer, I was literally so shocked," said Bertrand. "I did not expect it at all, but I just felt so happy, because my friend always wanted me to get my moment on stage, and I felt like I finally gave it to him."
Bertrand is talking about Trey Pokorny, a beloved Carnegie Theatre actor who passed away last fall. His memory and his legacy are ever-present in this year's UIL show, which (like the rest of their season) is dedicated to him.
For several department members, the dedication is deeply personal. When asked about his greatest inspiration, Bertrand immediately jumped to Pokorny.
"Trey was just–he was the guy that everyone knew, even if you didn't do theater, and he was just so good at it," said Bertrand. "I feel like every time I get on that stage, I have to do it for him, you know, and it just- It helps a lot because it makes me forget about all the bad stuff that's gone through the process. It just helps me like zero in, and I'm like, 'Okay, I just got to do this for him.'"
Advancing to Region brought a wave of relief for all of the department members. All expressed excitement to put on the show at least one more time. That isn't the only emotion associated with advancing, though. 
"[Advancing] was a bunch of mixed emotions. It was shock. It was excitement. A kind of that daunting fear of 'you gotta keep doing the show.'" said Keenan. 
Carnegie's UIL team is one step away from state. While the possibility of losing is terrifying, they are up for the task.
"I have a feeling when we get there, we'll have it. I just have hope. Hopeful is a good word." said Keenan.
If you are interested in watching Carnegie Theatre Company's production of I Think We Are Alone, their performance at Region will be at San Jacinto College Central on April 23rd at 3:00. Tickets can be purchased at the door.
View Comments (2)
About the Contributors
Alex Samano, Staff Writer
Hi! My name is Alex and I am currently a junior. I really enjoy playing video games and listening to music.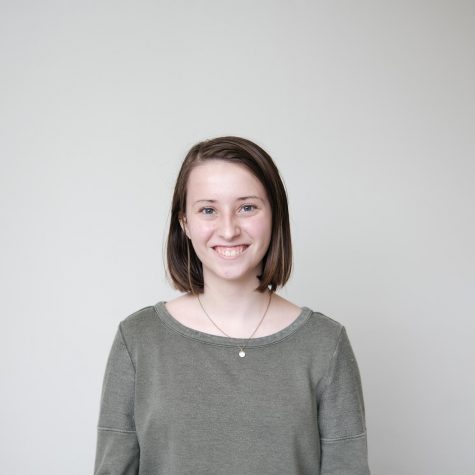 Brooke J Ferrell, Entertainment Editor
Hi! My name is Brooke J Ferrell. I'm a senior who, if not writing, is usually rock climbing :)