Transgender rights under attack across the country- here's what Carnegie students have to say
On May 13, the Texas Supreme Court cleared the way for families who allow gender-affirming care for their transgender children to be investigated for child abuse. This decision backed Texas Governor Greg Abbott's Febuary order for "licensed professionals" and "members of the general public" to report the parents and doctors of transgender minors for child abuse if those minors are receiving gender-affirming treatment.
In the past year, thirty-five states have proposed anti-transgender bills attacking everything from the ever-debated hormone treatments for young adults to the ubiquitous social transition–including Florida, Missouri, and Texas.
LGBT rights are suffering from an "unprecedented war", according to the Human Rights Watch, which says that 18 anti-LGBT state bills were signed last year. With fewer protections for transgender youth, particularly allowances for the treatment of gender dysphoria, 2021 was the deadliest year on record for transgender and nonbinary people. Now, it appears that lawmakers are looking to break that record in 2022, and that possibility is scaring transgender youth who are looking towards the next legislative session and the upcoming midterms.
"Where can you go where you're gonna be completely safe? There's not a place anymore," said sophomore Elliot Choi when asked about the effects of Abbott's letter on them personally.
Sophomore David Senu-Oke characterized Abbott's letter as the most recent attack in "the back to back anti-trans stuff, just one after the other."
That characterization is rooted in the multitude of proposals that have popped up across the country. Missouri has fifteen bills on the floor, including one that would eliminate access to hormone treatment for adults up to the age of 25. Florida's "Don't Say Gay" bill attracted national attention and outrage. Louisiana, Alabama, Arkansas, Texas… the list goes on. 
"At some point you have to wonder what they think they'll get out of this," said Senu-Oke.
The remaining recourses for transgender youth seem to be slipping away as more states jump on the anti-transgender bandwagon. In late April, Florida's Department of Health released a letter condemning all current treatments for gender dysphoria, including social transition. This is an unprecedented move–social transition is generally considered the easiest and most acceptable treatment for transgender youth.
Although social transition can take many forms, sophomore Noah Fry explains it simply.
"To me, [social transition] was asking people to call me Noah and asking people to use the pronouns that weren't she/her–they change day to day, but mostly just he/they. It was asking people to use those pronouns and asking them to address me as not-a-girl," said Fry.
Now, Florida is saying that even those simple steps might go too far.
Other restrictions found in these new bills have stirred controversy for their extremity. Although puberty blockers are the subject of major debate right now, their use is nothing new. Puberty blockers have been approved by the FDA for prescription to cisgender teenagers for decades in order to regulate puberty's development.
"A lot of [the laws] are just very hypocritical," said Senu-Oke. "If you're protecting the youth and you're saying puberty blockers or any other hormone treatment that could help [gender dysphoria] is bad in general, but it's only bad if you're trans–it doesn't add up."
Most activists believe that logic has nothing to do with this new influx of increasingly constricting bills. In fact, even transgender issues barely play into the political strategy at hand. They believe these bills are mainly intended to put pressure on right-wing voters in the form of a "wedge issue." Because most conservatives strongly agree on transgender treatment being harmful to children, pushing that issue to the forefront encourages formerly reluctant conservative voters to vote, which in turn could lead to a stronger showing from the GOP in the upcoming midterms.
Choi is more pessimistic, however, believing that the recent influx of legislation warns of a social regression that had been temporarily suppressed.
"People feel like they can say [that they are anti-trans] out loud now. We had this little period where we were trying to be safe, and now we're bringing it all back where no one wants to have trans people 'out' anymore," said Choi.
Other Carnegie students agree: anti-transgender bills don't exactly inspire overwhelming confidence, including in places that were formerly havens for transgender people. 
"Even [at Carnegie], there still are a lot of issues, a lot of transphobic students I know of. There's been a lot of incidents with that," said Senu-Oke. "I feel like people are a little more quiet about it here because there's not very much tolerance for it."
That lack of tolerance has suffered from the backlash of government anti-transgender sentiments. All interviewees mentioned a dangerous transphobic incident in mid-April of this year, on the heels of Governor Abbot releasing his letter decrying medical transitions for minors as 'child abuse'
"A student had joined a school server. When he talked about how he was trans, they immediately kicked him out and then started saying a whole bunch of slurs and insults about him," said Senu-Oke.
Students thought Carnegie's reaction left something to be desired.
"The school was told, and the only thing that they really did was give them ISS [in-school suspension], and I feel like there should have been more done about that," said sophomore Noah Fry. "It's important to be very clear that Carnegie is an open school and it's not open to anti LGBT sentiments."
Students do understand that Carnegie's ability to respond to transgender-related bullying is limited by the lack of support from the government. Government actions are at the bottom of all of these issues, so Fry has a message for the lawmakers who continue proposing anti-transgender legislation.
"What the government is doing is hurting trans kids and LGBT kids in general and their families and the people who want to support them. It's making it a danger to not only to be a trans kid, but also to help a trans kid and that's just unacceptable. It's not good health care. It's not good care of a state. It's just not acceptable."
View Comments (1)
About the Contributor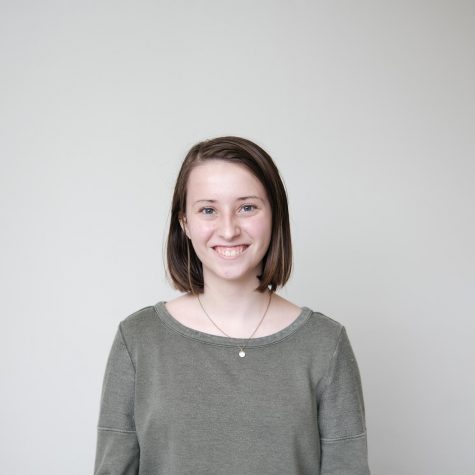 Brooke J Ferrell, Entertainment Editor
Hi! My name is Brooke J Ferrell. I'm a senior who, if not writing, is usually rock climbing :)