Agora: A place for gathering and coffee in Montrose
When I first opened the door to Agora, the strong whiff of roasted coffee and the slight buzzing of chatter hit and transported me back to being a young kid, waking up on weekends to the noise of an early morning soccer game and the smell of my dad grinding coffee beans. 
Agora is a Greek-themed coffee house located in the heart of Montrose, near the intersection of Westheimer and Dunlavy. They offer a variety of drinks, including smoothies, coffee and tea, as well as a smaller selection of baked goods and pastries, such as baklava and individually packaged pound cake and cookies.
The interior consists of wooden furniture, tables and counters. The walls are also wooden, continuing the Greek emphasis inside. Agora is usually fairly busy with most seats inside taken, but sitting inside, it certainly does not feel that way.
View this post on Instagram
Agora means a place of gathering in Greek, which accurately describes the environment there. The majority of people here are college students that are studying by themselves or in small groups, while the rest of the customers include high school students or adults chatting with their friends or reading the newspaper. The ambience and lighting of the coffee shop perfectly reflect the customers and staff there. Everyone is warm yet in their own little world. Some tap their feet, creating a rhythm between their music and keyboard taps, while others sip their coffee while reading a textbook. 
Throughout the many times I have been to Agora, I have gotten different drinks each time. My favorite, though, is the iced mocha. It consisted of the perfect ratio of espresso to coffee and had a smooth, creamy texture that felt like melting chocolate on my tongue.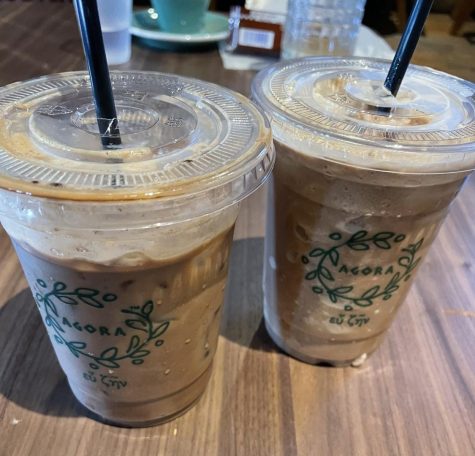 The drink that disappointed me, however, was the iced chai. I was expecting a creamy, thick drink infused with spiced cardamom and cinnamon, just like chai. But when I tasted it, I practically inhaled a big clump of powder. I'm assuming that it was the chai powder. After that, I continued sipping it, but the taste was more so sour than spice-y, which was off-putting. Eventually, I finished the drink but was left with an unpleasant aftertaste, like an annoying fly that wouldn't stop bothering me. 
The next time, I tried the pumpkin pie dirty chai. It had a strong pumpkin taste, but I could definitely taste the pungent cinnamon and spiced essence. This was extremely smooth and reminiscent of what I wished the weather was like: cold and crisp. This did cost around $9, presumably because of all the add-ins. Pricewise, Agora can be a little expensive based on what drink you may order and how complex the drink is.
All of these drinks were served in disposable plastic cups, but you can request a glass for sustainability or personal preference. Agora also offers a variety of fruit smoothies, such as mango, for those who would prefer something lighter and cooling.
Agora has some pleasant and satisfying drinks that can fill almost any type of coffee craving you could possibly have. The interior is reminiscent of cool weather, the ambience and people all sharing the same thing: their love for coffee.
View Comments (1)
About the Contributor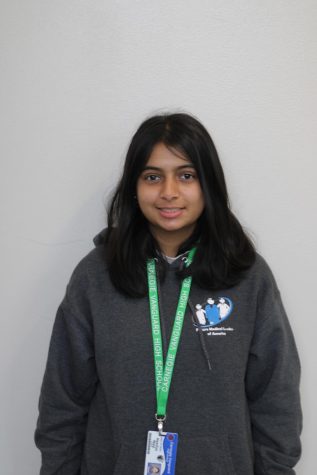 Naadiya Walji, Staff Writer
Naadiya is a junior at Carnegie. she loves cats, reading, and the color green. Naadiya's favorite book duology is Six of Crows and she also enjoys watching...