"Chicken Shop Date" Review: Love and chicken (featuring your favorite celebrities)
Go on a date with your favorite celebrity thanks to Amelia Dimoldenberg's Chicken Shop!
First dates serve a critical role in establishing how a potential relationship will develop. They usually involve a face-to-face encounter where each person gets a chance to know the other better and decide whether there is enough chemistry to give more time to this person. As an avid consumer of media, I constantly fantasize about going on dates with celebrities, which I know for sure we've all been guilty of at least once. Despite my wildest dreams, I had never truly gotten the opportunity to get a glance at what those dates might look like. That is, until Amelia Dimoldenberg began her show, "Chicken Shop Date."
The concept of the show is simple but entertaining. Dimoldenberg sets up interviews (or "dates") with her interviewees in selected chicken shops around England and starts up conversations with them. The conversation is composed of questions that could honestly all be pulled from the first website you find when you look up "best questions to ask on a first date."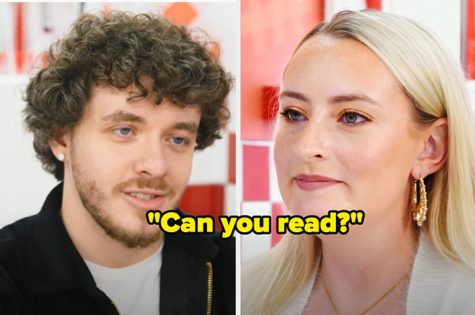 Even though it's clear that she does her research and selects questions that best fit her date, I noticed she has constants that seem to always somehow get different and perceptive responses. One of these consistent questions is the classic "Do you have a type?" which has led to some of my favorite responses like "Just hot girls," "Brunettes" and "Anyone who's not insane."

There was also the time when Oscar-winner Daniel Kaluuya described his type as "funny and smart," prompting Dimoldenberg to say that hers was "Actors. Good ones. From Camden."

Kaluuya smirked.

"It's not you," Dimoldenberg deadpanned.

DANIEL KALUUYA | CHICKEN SHOP DATE

The best part of the interactions is Dimoldenberg's palpable awkwardness. In a British Vogue Visionaries video with Lauren Laverne, Dimoldenberg admitted that the awkwardness is all a character so that no matter what, she will always be the weirdest one in the room. I personally think it's just brilliant! If her interviewees know they're not going to be the oddest person in the room, they feel more resilient to act like their complete self.

Awkward celebrity interviews are compulsively watchable, especially flirty ones such as "Chicken Shop Date." Seeing these charming, normally unflappable people get caught off guard feels like a delicious insight. It offers a glimpse into the real people behind the carefully cultivated PR personalities that celebrities have developed through years of practice. In her show, I was able to get a better idea of multiple celebrities, including but not limited to: Phoebe Bridgers, Jack Harlow, Finneas, Rosalía, Charli XCX, Ed Sheeran and Keke Palmer.

My favorite date is the one with the only person that seemed to match her energy the best, Ratty Healy… I mean, the front man of music group "The 1975″, Matty Healy! Throughout many of the dates, there is always at least one moment where the interviewee is taken aback by Dimoldenberg's actions and breaks the fourth wall to laugh — except for this particular one. Instead of laughing at her, Healy played along and at times would glare at her up and down like a high school mean girl. No matter what happened he always managed to keep up and give us hilarious bits.

"I like to take a risk with my art," Healy rambled.

"Yeah like black and white music videos," Dimoldenberg responded.

"No lots of people do that," he glared at her.

"Oh really? I thought you invented it," she panned.

"I actually did, and neon," replied Healy.

To this Dimoldenberg grinned widely, "Yes I heard you invented neon!"

He continued with a nonchalant tone, "Tumblr was my idea, and Dr. Martens. And beach balls. And sandwiches."

They stared at each other a little while longer when she finally states, "I love sandwiches."

Healy also attempted the one thing that not a single one of her dozens of dates ever tried, going in for a kiss. Frankly, I don't think it would be a Matty Healy bit without him trying to smash lips with someone.

MATTY HEALY (The 1975) | CHICKEN SHOP DATE

"Chicken Shop Date" operates in the social register of Zach Galifianakis's "Between Two Ferns", Eric Andre's "The Eric Andre Show" and Ziwe Fumudoh's "Ziwe" — all comedy talk shows that gained cult followings because of their hosts' willingness to make their guests uncomfortable. For guests, successfully navigating the hosts' antics became evidence of latent cool.

But Dimoldenberg's persona isn't stoned, frenetic or faux-sympathetic, like those of Galifianakis, Andre and Fumudoh, respectively. She's awkwardly flirtatious, which takes no less steely resolve. I felt like I was seeing my funniest friend flirt with someone who was way out of my league, knowing she might be the only one who has a chance.

Though sometimes I can't help but feel a tad bit of jealousy towards her, she's pretty much living my dream! Imagine having this many celebrities obsessed with you. None of us can forget the iconic Golden Globes interview where she had Andrew Garfield giggling like a 13-year-old girl and telling her about their astrological compatibility. And even Drake has slid into her DMs to set up a date. But honestly, it's incredible to witness her unwavering commitment to the bit.

Her work on "Chicken Shop Date" taps into multiple proven comedy niches at once. As the New York Times noted in its profile of her last year, gimmicks are the perfect way to smooth over any awkwardness on talk shows. James Corden's "Carpool Karaoke" and Jimmy Fallon's "Egg Roulette" invite celebrities to let their guard down by partaking in ridiculous activities that almost nobody can look cool doing. Dimoldenberg is certainly operating in this vein; the dressed-down aesthetic of the series lets celebrities just chat, rather than worry about looking pretty. But it's also very hard to look larger-than-life when laughing through a mouthful of fries, especially when your host then turns away to say, "Sorry, that's actually disgusting."

Dimoldenberg has carved out a space to revel in the delightful uncertainties of flirting. It can be goofy; it can be sarcastic; it can even be a little mean. But the deliberateness with which she's set the tone of her series allows it to flourish. Getting everyone on the same page — it's going to be awkward; it's going to keep you on your toes; "I'm probably going to flirt with you, but you can flirt right back," — allows guests to truly play in the social landscape she's created.
Leave a Comment
About the Contributor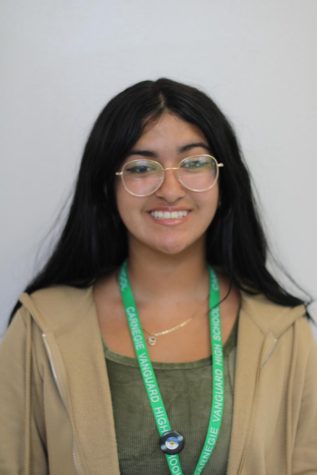 Katheryn Consuegra, Arts and Entertainment Editor
Katheryn is a senior at CVHS and one of Upstream News' talented Arts and Entertainment! It is no surprise that Katheryn is a reviews editor because most...