New potato powered HISD laptops to 'make dollars and sense' at CVHS
HOUSTON — HISD has announced plans to adopt potato-powered laptops for the 2023-2024 school year to replace the current fleet of PowerUp devices all across the district. Citing budgetary constraints, the new spud computers are expected to decrease the lease price by 99.86% to $1.45 per pound of potatoes.
The current deployment of school laptops consists entirely of the HP ProBook x360 11 with models being powered by seventh, eighth and tenth generation Intel processors. The computers have access to the HISD Software Center, a repository of desktop apps that can be installed on the computers.
However, these laptops aren't inflation proof. HISD leases its laptops and must pay regular subscription fees to maintain access to the service. Prices for most products have risen, so HISD initially chose to cut costs by switching to Chromebooks before finally deciding on potatoes.
"We're actually very excited about the new potato initiative," Idaho Jones, HISD Chief Logistics Officer, said. "Traditional silicon-powered laptops have only seen marginal improvements in the past five years, while there have been massive developments in the tater world."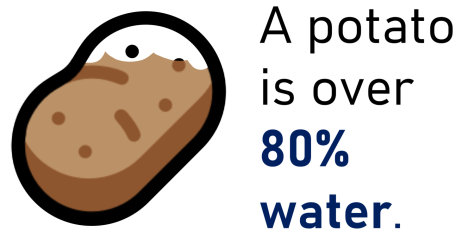 Indeed, the characteristic heat associated with modern processors is indicative of lost efficiency and energy. As potatoes are almost 80% water, an "integrated" liquid cooling effect is achieved, making all computers powered by spuds highly efficient.
"Honestly, the energy savings from the sheer efficiency of the root vegetable means that we're now way under budget," Jones said. "We'll probably even be able to take advantage of the existing supply chain infrastructure to source our potatoes."
Unlike Chromebooks, the potatoes are poised to run Windows, keeping all the functionality and software the current school laptops run. 
"I love how the potatoes will still offer support for the full Adobe Creative Cloud suite, various programming tools and Office 365," teacher Aardman Ramon said. "It's rare to see the photography, broadcast and computer science classes get the support they need, especially compared to theater."
The hardware would also be an upgrade to existing systems. One potato can last up to 40 days on a single charge. Boiling the potato for eight minutes can further increase the efficiency and flow of electrons, improving the battery capacity.
"I've always hated how the current laptops need to be charged every day," junior Cole Kharni said. "The 40 days of battery life is a game-changer; I'll probably only need to charge my laptop five times for the entire school year."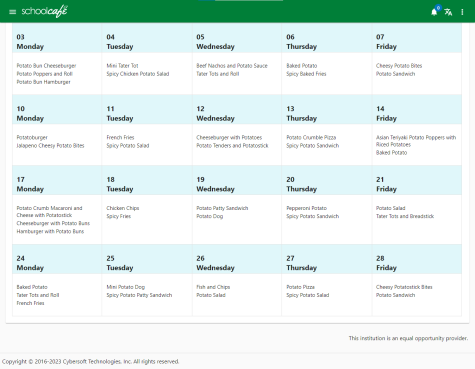 In addition to the technology, HISD has also unveiled a new potato-based menu to further capitalize on the cost savings associated with higher order capacity and economies of scale. 
"I believe Carnegie will be piloting the new potato menu on Monday," Ramon said. "I'm pretty excited — we might finally have good school laptops and good school lunch."
The collaboration with the cafeteria would also mean that potatoes can be boiled en masse to reap the efficiency increases from using a cooked potato instead of a raw one. 
"I've already seen the lunch staff ramping up and hauling in new equipment to prepare for the influx of spuds," Kharni said. "Although I'm worried that they're spending all this money on new equipment instead of reusing existing stuff."
HISD claims in a press release that the plan will be "economically sound" and that the benefits should "far outweigh any potential drawbacks."
"Everyone at Hattie Mae White [HISD's main office] has thought long and hard about the plan, and the board of trustees has inspected the proposal from every conceivable lens and perspective, including upside-down," Jones said. "It simply makes dollars and sense for all of us."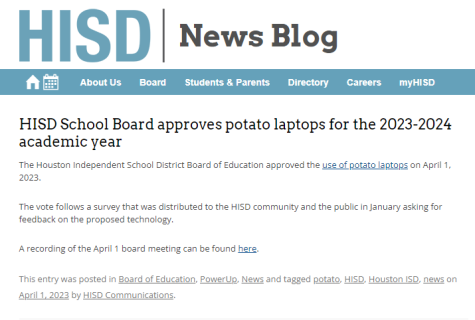 Some industry advocates, such as the National Potato Council and the Potato Association of America, have raised concerns about possible supply shortages and the risk of overworking farmers.
In a prepared statement, the groups said, "We are thrilled to have one of the largest school districts in the nation supporting our product. However, we are gravely concerned for the health and wellbeing of our farmers — and their potatoes."
In an effort to combat the chance of a supply chain crisis and potato inflation, HISD is reportedly planning to use other plants known to have a similar effect.
"The word on the street is that the district is actually going to use plantains and lemons in addition to the potatoes," Ramon said. "Not only would it benefit the agriculture industries, but it would also allow students to customize their laptops."
Still, the district is confident that it made the right move for students in switching to potatoes.
"Fundamentally, we'll do what we think is best for the students. And if that means adopting a brighter, spuddier future, then we'll do it to ensure that every student gets the quality education we think they deserve," Jones said.
This story is satire and is not to be treated as fact. Not all elements may be factually accurate.
Leave a Comment
About the Contributor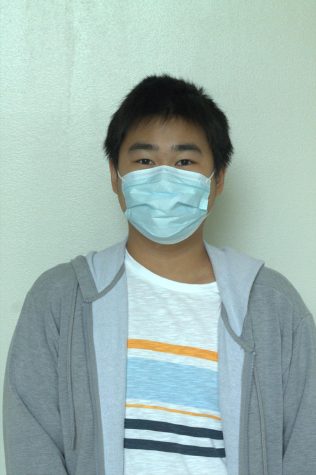 Jerry Fan, Copy Editor
Jerry Fan is a sophomore at CVHS. He really enjoys science, even challenging subjects, especially at Carnegie! He is currently taking AP Chemistry and...