CVHS students organize walkout amid TEA takeover
CVHS students participated in an admin-approved district-wide walkout to protest the TEA takeover on April 6.  The walkout, which took place during lunch, comes as a response to the TEA takeover, which was due to multiple low ratings of schools in HISD. With this takeover, the elected board of officials will be replaced with state-appointed officials. This change has sparked controversy within all of HISD, leading to the walkouts that occurred in 30 HISD schools.
The walkout that took place in CVHS was organized by Carnegie Community Voices for Public Education (CCVPE), a club that was created to educate students at CVHS and all throughout HISD about situations happening around the community. The walkout was created with the help of its parent organization, Community Voices for Public Education.
"This idea originated from Community Voices. However, they only suggested that we did it, they were asking us if we wanted to do it. We [had] direct communication with coordinators, and we have communication between student leaders from the other schools, and we just all kind of motivated each other to actually go on," Layla Chowdhury, a cabinet member of CCVPE, said.
One of the other main components to the walkout was approval from CVHS administration. The cabinet members worked with the school administration to create a walkout that was supported by both sides. Dr. Haney and Ms. Bohenick, both teachers at CVHS, helped supervise the walkout.
Not everyone was onboard with the administration's approval though. Some students questioned why the club bothered with administrative approval when the very idea of a walkout is strictly not that. Sophomore Noelle Garcia shares her disapproval of Thursday's walkout.
"It was admin approved and during lunch, and was thus not disruptive," Garcia said. 
Most concerns regarded the nature of the protest. Although it was city-wide and many schools participated, it lacked the disruption of a protest. 
"It won't even garner a bat of an eye from [the] TEA," Garcia said.
Although some of the students resent the idea of admin approval, the cabinet still stands by it.
"Students can't just randomly walk out of school, and it's important to have admin support. If we can't work directly with the administration, then how are other students going to be motivated to join our effort?" Chowdhury said. "And second of all, we are advocating in favor of the admins. We are lucky to have the programs that we have; however, if the state gets controlled, because now the state has control, they can shut down our school."
The student body didn't stop their criticism there. A handful of students took to social media to express their thoughts on what they thought was a "ridiculous" walkout.
"We had some negative reactions on the posts, and there I know there [were] some negative comments. There were some people trying to make fun [of us] and calling us liberals," Chowdhury said.
Even with all the negative comments, the walkout exceeded the participation expectations of the cabinet members.
"Personally, I thought it was only going to be student leaders and the members of our club, but we ended up having about 50 to 60 people from Carnegie, and I was amazed," Chowdhury said. "We had students giving speeches in front of the school. People were being vocal, and I was in the front of the line leading the protests. And I could hear my voice dying, but people [were] still going with the chants. I was shocked."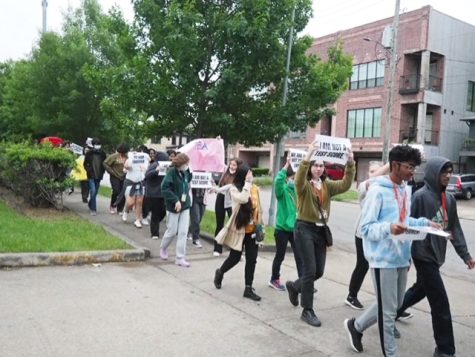 CVHS students were not the only ones on the scene, though. Multiple news outlets came, whether it was to video record for a news segment or to interview participants for their newspaper.
"We had three or four new channels come up, and we actually also got interviewed. I got interviewed by the Houston Chronicle, and then some of the other cabinet members got interviewed by KHOU and ABC," Chowdhury said. "They were very respectful. They were just videotaping us; they were really nice and supportive. And it was almost like they weren't there." 
Although some feel that the end goal of the walkout, to overturn the TEA decision, is yet to feel accomplished, they do feel that they have helped open people's eyes to what has been happening.
CCVPE says they are in the process of planning another walkout soon. They also plan to speak at monthly HISD board meetings.
View Comments (3)
About the Contributors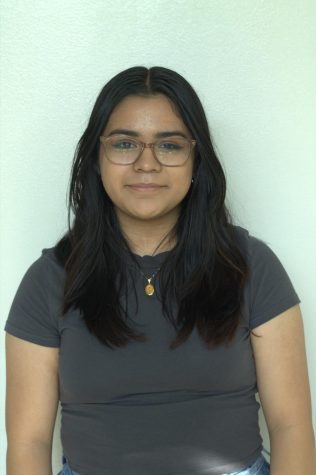 Adrianna Guadalupe, Staff Writer
Sophomore that has an unhealthy obsession with fictional jpop idols and the color pink. If they aren't playing with Beyblades or baking then they're probably...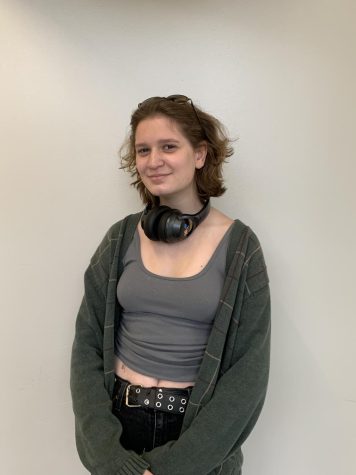 Ava Manchac, Staff Writer
Ava is a sophomore at Carnegie Vanguard High School. They are a part-time theatre nerd who is always wearing their dead grandpa's sweater. Lover of Batman,...