Jojo Rabbit: Unexpected Humanity
Thor: Ragnarok director Taika Waititi's new film, Jojo Rabbit, is a masterpiece. There is no better word to describe the near-perfect, seamless mesh of laugh-out-loud comedy, tear-jerking tragedy, and heartwarming family drama that is Jojo Rabbit. Set in Nazi Germany during late World War 2, Jojo Rabbit serves as a satirical criticism not just of Nazism, but of blind faith and obedience to an ideology in general. It asks us to look at our fellow humans for who they are, not for what chromatids happen to be in their cells, or what uniform they happen to be wearing. It shows us the true, malleable nature of childhood innocence, and how easily it can be taken away, or restored.
In the film, the eponymous young Hitler Youth member and Nazi acolyte Jojo Betzler (Roman Griffin Davis) comes to tolerate and eventually love the Jewish girl (Thomasin McKenzie) his mother (Scarlett Johansson) has been hiding, despite the protests of his imaginary friend Adolf Hitler (Taika Waititi) and the urging of every belief Jojo imagines himself to hold. At first glance, one might have concerns about performance integrity in a film whose lead is a ten-year-old child actor starring in his first role, but those doubts are quickly dispelled as the true depth of Davis's acting aptitude is revealed from the very first scene in the film.
The film is simultaneously ridiculous and grounded in reality. The screenplay itself is an absurdist comedy straight out of Monty Python's Flying Circus, but its execution permits it to glide gently within the realm of believability, making it easy for the viewer to become invested in the story. This is not to say, however, that the film lacks emotional themes. By nature of its premise (a portrayal, albeit satirical, of Nazi Germany) Jojo Rabbit has tragic moments, but these never overshadow (and sometimes even blend with) the more comedic aspects of the film. Waititi maneuvers a fantastic screenplay through all of its thematic twists and turns like a champion rally driver.
The cinematography is reminiscent of Wes Anderson's style, and is creative enough that no shot ever feels bland or uninspired. The lighting looks perfectly natural, as if the crew waited for the sun to reach the perfect position in the sky before filming. Even indoors, ambient light sources are always well established and don't feel confusing or forced.
A movie of this caliber is uncommon, even within the context of the particularly good year for film that has been 2019. I cannot recommend Jojo Rabbit enough. This is not a movie for a certain type of person, this is a movie for everybody. I give this film a strong ten out of ten and highly recommend it.
Leave a Comment
About the Contributor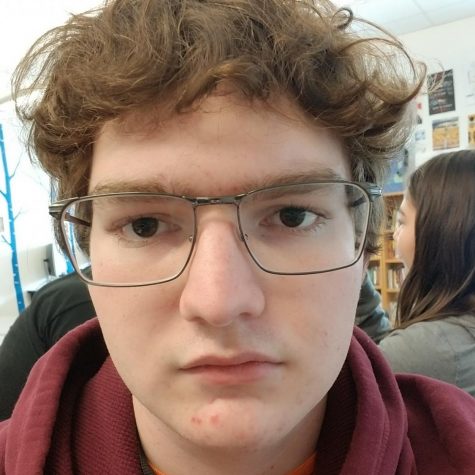 David Bonnen, Staff Writer
I am a sophomore who enjoys reading and studying history, writing short stories and film making.

Instagram: @davideb29

Twitter: @DebPolymath