Robotic Teams' Road to Worlds
For the past 3 years, Carnegie's robotics team has qualified for the annual VEX Robotics World Championship and this year was no different. Over 30 countries consisting of over 160 teams will meet in Louisville, Kentucky in April for the world championship. Of these 160 teams, Carnegie's robotics team makes up 4 of them, DiscoBots Artemis (285A), DiscoBots Rogue (285R), DiscoBots X (285X), and DiscoBots Zephyr (285Z). 
285A is composed of Monish Civunigunta, Mateo Ortega, Aditya Prasad, Edouard Oudinot, Cheryl Li, and Ankush Girotra with Jonathan Turck as their leader. 285R is composed of Howard Cai, Spencer Nguyen, Kohdai Fujimoto, Paul Goza, Tietchan Dang, Elijah Miranda, Eugene Ko, Dan Bizman, Ronnie Rauch, David Rauch, and Sam Wirth with Rahul Menon as their leader. 285X is composed of Ruth Liu, Samuel Lim, Lazo Attar, Nicholas McIntosh, Kartikeya Gullapalli, Gowtham Kadiyala, Srikar Siripuram, Amir Tahanan, Jalen Evans Moore, and Priya Kulkarni with Akhil Mandalapu as their leader. 285Z is composed of Ammaar Khatlani, Tegh Thind, David Guan, Jason Gao, Alex Nguyen, Ekin Tiu, Eddie Rodriguez, Evelyn Fung, Hugh Coleman, Joshua Okolo, Prahlad Bhat, Tanish Madan, Vivian Pang, Adam Nichamoff, Andrew Jung, Shelby Yang, Anjini Patel, Diego Acosta and William Nguyen with Jared Yang as their leader.
The road to qualifying for worlds for the team finished on Saturday, February 22, 2020. The team arrived at Clear Lake High School. 
"This meet [was] the last meet before Worlds and is essentially the roadblock to Worlds. It's the end of the line for most teams that don't qualify for Worlds until next season. Qualifying for Worlds means that our school has one of the best robotics teams in and to us, that is everything," said vice president Samuel Lim.
Each team started off by perfecting their software. The qualification matches took up the first half of the meet. During these matches, the teams played against ten other teams and were later ranked based on their performance. In the qualification matches, the first 15 seconds is called an autonomous period. The robots move based on the software the teams wrote and the driver controllers are disabled. After the 15 seconds are over, the controllers are enabled for the next minute and 45 seconds. The team that scores more points in those two minutes wins. 
Following the qualification matches came the alliance section. In order of rank from the previous qualification matches, each team gets to pick a partner to play with. The higher ranked teams get to pick their ideal partner before the lower-ranked teams. Carnegie's teams ended up picking each other because they were all ranked at the top. Using these newly formed alliances, the teams once again battled against each other. This time, however, the match was structured like a standard elimination bracket. The teams played 2v2 matches that went from quarter-finals to semi-finals to finals. All of the teams from Carnegie made it to semi-finals, three made it to finals.
Team 285Z was a tournament semifinalist, robot skills champion, and received the Think Award. Team 285X was a tournament finalist and received the Design Award. Team 285R was a tournament finalist and received the Amaze Award. Team 285A was the tournament champion.
The team was ecstatic about making it to Worlds. Senior Ruth Liu, who has been on the robotics team for two years recalls herself screaming in excitement when she found out that her team made it to worlds. 
"I screamed 'oh my god' and the judges looked at me. It was embarrassing but I was really happy we had made it to Worlds. It's my last year on this team and I just want to make the most out of it," Liu said.
For club president Ankush Girotra, qualifying for Worlds means carrying on the tradition of making it to Kentucky every year and accomplishing something that the Carnegie robotics team has never done. 
"Two years ago, I dreamed that all four 285 teams would be in the finals and I woke up and thought that would be really cool. On Saturday, that happened," Girotra said. 
However, qualifying for Worlds has not been a smooth ride for the entire team. Throughout the season, they have faced many issues from building the robot to balancing all their schedules to beating out competitors For senior Akhil Mandalapu, who is the leader for 285X, the road to worlds has been a rough ride.
"[Making it to Worlds] has been very hard. [My team] has lost pretty much every competition except for finals. It's been very tough trying to balance out senior year and robotics at the same time. Additionally, my team is composed of mainly sophomores and a few seniors. It's hard balancing our different schedules out because the sophomores have such a drastically different schedule in comparison to the seniors," Mandalapu said.
In comparison to Akhil, Rahul Menon, the leader for 285R has found this year easier in comparison to last year.
"The road two worlds this year has been very different from last year for my team because last year we only barely scratched our way through, but this year, it's been a lot easier. Some of the hardships we faced were mostly just in designing a robot and competing with other teams. We have only gone to five competitions this year, but we did win four of them. We're doing a lot better this year than we have in previous years," Menon said.
Another hardship that the team faced this season was not being able to access the robotics room on campus. Previously, the room had been a computer lab. However, due to the addition of new teachers, the robotics team got moved and ended up there. For about 5 weeks, administrators closed the room in order to repaint the walls and remove the desks and computers. As a result, the team had to relocate to Lamar High School for a period of time.
"We didn't have access to our room for a while because it was getting redone so we had to move all our equipment to Lamar. It definitely made working harder because not everyone could find a ride to Lamar after school, we couldn't build during lunch, and we couldn't meet as often. Those all took a toll on how fast we could build the robots took a little longer," Girotra said.
The robotics team spends a lot of time together outside of school hours. They meet on Tuesdays and Fridays after school and many of them spend lunch building their robots. After spending all this time together, the team has undoubtedly developed special bonds with each other.
"We spend a lot of time together from just after school meetings to Worlds. Over time, we've gotten to know each other really well. Normally, people tend to associate with people in their own grade but in robotics, we're all friends with each other. We share a bunch of inside jokes with each other and we're like a small family," Lim said.
Heading into Worlds, team members are excited about various things. Member Lazo Attar is most excited about meeting new people and forming alliances with members of different countries.
"It was really fun meeting new people last year and finding out how they enjoy robotics. I'm really excited to see how different teams designed their robots this year and the different cultures I'll be exposed to," Attar said.
Leave a Comment
About the Contributor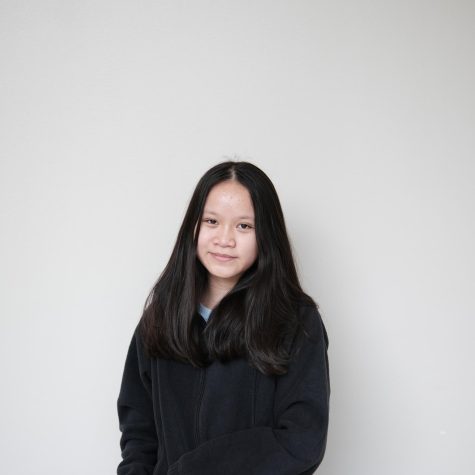 Hilary Nguyen, Opinion Editor
I'm a senior who loves reading, taking naps, and the Oxford comma.