For the love of soccer: Junior Camille Marlin shares what it takes to compete in U.S. Club Soccer
If you've seen junior Camille Marlin around campus, then you know, she is always ready to play soccer. Marlin is a midfielder for the elite club Houston Dash Academy 04 girls soccer team, which plays competitively nationwide. The club identifies top talent among soccer players from a young age and develops them in competitive environments so that they have the opportunity to be seen by U.S. Soccer National Team scouts as well as college coaches and scouts during games.
For Marlin, this path started at the age of 4 when she started playing in a local recreational league. Her constant competition with her twin brother William drove her to play. He played, so she had to play. Marlin started becoming more serious about soccer at the age of 7.
"Once a competitive league began, I started right away. I had to stop playing other sports to focus on just soccer. I watched the U.S. Women's National Team on YouTube, played hours a day with the ball, and just studied the game as much as I could," says Marlin.
With success comes hard, long days of work. Marlin practices four days a week with her club, she has hardcore fitness on Tuesday, and sometimes she goes out on her own every opportunity that she gets. She also sometimes travel outside of Houston for either tournaments or league games and is part of college show cases where college scouts go to watch her team play. Over time Marlin has learned how to balance her tight schedule, waking up early for school to sleeping late after a long evening of training and homework.
"I have thought about this before, during the all nighters I have spent doing homework, thinking how much easier life would be if I didn't get home at 10 o'clock every night sore and tired. But I wouldn't have it any other way. I love what I get to do, even when it's fitness day," says Marlin.
For Marlin, soccer is a way of life.
"I wouldn't say soccer is just a hobby, it truly surrounds my life and it's all I do. It's not just an obligation. I am committed to going to practice everyday and giving it my all for myself and my team. I do it because I want to, not because I have to," Marlin says.
As a competitive player, Marlin has learned to rise from her defeats and come back even stronger the next time she confronts them.
"When I was about 11 years old, we were in the finals, and we were tied and had gotten scored on in the last minute. It was such a hard pill to swallow, seeing the other team win. But I learned a lot from that game," Marlin says.
For Marlin, she forgets all her worries and problems when she steps in the field.
"Freedom- that's the best word to describe how I feel when I play. I forget about all my problems and just enjoy what I love to do best, and that, is with a ball at my feet" says Marlin.
The joy that soccer has brought to Marlin's life occurs on and off the field.
"Soccer has created so many opportunities for me. I have made lifelong friends and memories that I wouldn't trade for in the world. It has taught me so many lessons on hardships and how to continue to grow despite obstacles. It has given me a safe place to forget my worries when school or just life in general, has been hard," says Marlin.
Despite all the positive experiences Marlin has received playing soccer, she is advocating for greater equality for non-white, women, and LGBTQ soccer players.
"There have been multiple women of color who I play with who have told me their experiences with coaches who have been racist. They won't play them, purposefully or are rude to them, and just make the game unbearable, same with the LGBTQ+ community. At the professional level, there are many women who are open about these issues, but I feel there is still work that needs to be done in the younger levels to really include everyone because soccer is the world's game and everyone should be included," Marlin says.
Marlin's long term goal is to play for the USWNT (United States Women's National Team) and to play in the D1 league in college. Her advice for young soccer player?
"For me, I think being good on the ball is super important, knowing when to pass, dribble, and shoot all with the right execution. Your first touch is also super important, it controls your next play, move, shot. The best advice I could give would be to trust the process. I have gone through countless lows in soccer and you just have to remember what you are working towards. Another thing would be to control the controlable, meaning, you can only focus on yourself and what you do, not what others do. Next, is to not compare yourself to others, everyone has a different road than you do, and all grief is caused by comparison. Finally, as cheesy as it sounds, just have fun. Sometimes we get so worked up and stressed we forget why we started in the first place. Just have fun. Take in every moment and be grateful for having the ability to do what you love."
View Comments (1)
About the Writer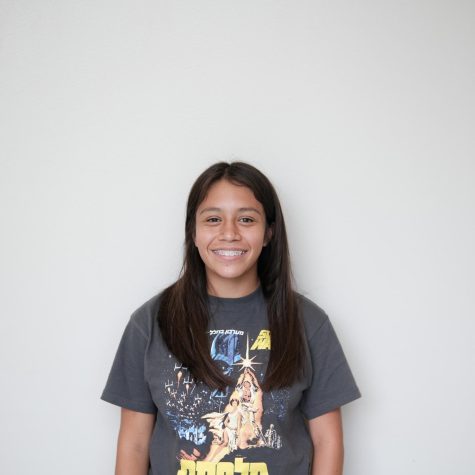 Abigail Nunez, Staff Writer
Abigail Nunez, has two older brothers and a best friend named Esperanza. She has always had a thing for sports , and now plays with the u17 National Salvadorian...