Baking Chocolate Chip Cookie Recipe with Andres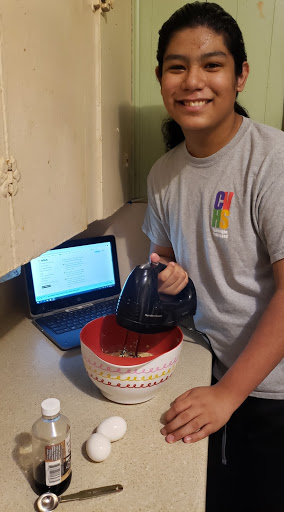 One of my most memorable moments when I was younger was that each time my grandmother came for Christmas, I would tell her that we should make Santa some cookies and she would always agree. So every Christmas Eve, right before I went to bed, my grandmother and I would bake chocolate chip cookies for Santa. After that I would put the cookie on a table next to the Christmas tree and pour some milk on a glass of milk for him.
This is a treat that every little kid and adult wants. Just in case you wanted to make some, you are in the right place!
I baked these cookies myself with a little help from my mom. I selected this delicacy because everyone loves cookies, and also because it is one of the most memorable types of food for me. These chocolate chip cookies are circular bundles of deliciousness of sweet, chewy, and buttery lumps of joy. And through each bite you get a sudden pop of chocolaty goodness. To start off we are going to need these ingredients to make these cookies:
2½ sticks of butter

1 c. of brown sugar

½ c. of granulated sugar

2 tsp. vanilla extract

2 eggs

2¾ c. all purpose flour

1 tsp. baking soda

¾ tsp. salt

2 c. semisweet chocolate chips
The chef's name is Candace Braun Davison. She writes, edits and produces lifestyle content that ranges from celebrity features to DIYs. This is the website where I got the recipe.
Now, on with the baking:
Preheat the oven to 375 degrees and line a baking sheet with parchment paper.
Using an electric mixer, beat the butter and both sugars until light and fluffy, about 2 minutes. Slowly add the vanilla extract and the eggs.
In a separate bowl, mix together the flour, baking soda and salt. After that, stir it into the butter-sugars mixture. After that, add the chocolate chips and stir it a little.
Roll dough into 1 inch balls, placing them about 2 inches apart on the prepared baking sheets. Finally, bake the cookies at 375 degrees for 10-12 minutes, or until lightly golden.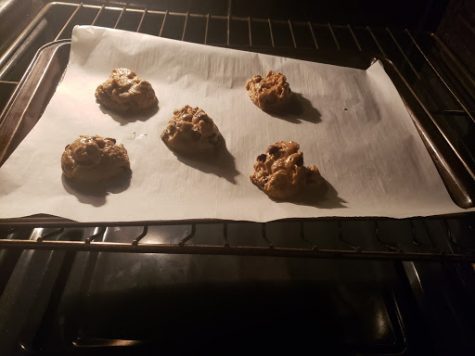 To this cookie recipe I'd give it a thumbs up and a 9/10 star because the cookies came out pretty well. I think the time has to be 8 minutes approximately, instead of 10 to 12 minutes. But other than that the recipe is fine and this was worth it.
Leave a Comment
About the Photographer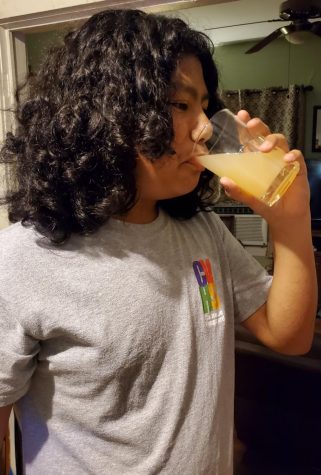 Andres Pargas, Staff Writer
Hello! Im a sophmore and i really love animals and playing video games.