Boys' basketball team dribbles to the top
As Jailan Routt saw the bulky guys in the opposing AAU basketball team cheer for their winning point, he knew that it was over. The first half of the game was done and the opposing team was 20 points ahead. As he looked over at the crowd, he saw his younger team member's mom. "Can y'all beat them?" she asked. The rivals roared with laughter. Confident to prove them wrong, Routt nodded his head. "Yes, we can do it."  With determination, Routt and his four teammates raised their energy and won the game. Although the smell of sweat was in the air, the only thing that Routt and his team could feel was the triumphant victory.
Just like most elementary school kids, Routt started playing basketball in the school gym. As a fifth-grader, Routt loved the collaborative environment that basketball provided. However, he took a long break from the sport in middle school and used the time to try out a variety of sports. Ranging from swimming to baseball, Routt tried almost every sport that was available to a middle school student. Missing the indoor and collaborative sport, Routt joined the basketball team as a high-school freshman.
The first basketball game of the high-school career is something that many, including Routt, look forward to. However, it did not start the way that Routt intended it to.
"They were just a bunch of tall bulky guys that walked into our school. We started playing with limited practices, and the rival team was aggressive. They knew what they were doing and they blew us up. It was really embarrassing because up until then, Carnegie Vanguard had been undefeated. Everybody was really excited and came for the 'big game', but after the defeat, no one was showing up for the future games. It was really bad," Routt says.
According to Routt, the experience was mentally exhausting to the teammates. Nonetheless, the excruciating defeat didn't stop Routt. Looking up to his favorite basketball players like Kobe Bryant and Stephen Curry, he started practicing what the elite players preach.
"Their hustle and determination to the game have inspired me. It definitely shows you that in order to get where you want to, you have to work really hard," Routt said.
Along with celebrity mentors, basketball coaches also inspire Routt to work harder and improve as a basketball player.
"I like the basketball coaches. They're really passionate about the game and they genuinely care if you do well. Our first coach, Coach Streams, did a really great job of fostering better team chemistry as he didn't play favorites. A coach like this really builds great team chemistry that eventually comes out in the games," Routt says.
Routt continues by discussing how team chemistry is one of his main goals as the team's co-captain, working with Donovan Snell. Team collaboration did not come easy after their coach left which caused some students to take the power and run with it. 
"I feel that it was mainly due to them feeling like they were captain and coach. However, this just pushed me to work hard and become a leader that tries to help as much as possible throughout the team," Routt says.
Teamwork goes beyond the court as well. Carnegie Vanguard's vigorous pace is hard to keep up with. However, Routt and Snell don't allow teammates to lag behind. In hopes of getting teammates to do equally well in sports and academics, the co-captains try to find ways to tutor teammates.
"One kid is a junior and he was really worried that he wouldn't be able to play because he was behind in classes, and so I started to set up tutoring sessions for him. Another kid asked me for help, and I don't have a problem helping them study outside of basketball. I feel like just being someone they can count on is part of my role as a captain," Routt says.
On the contrary, the boys' basketball team has encountered many obstacles, such as the lack of funding and space to practice. As CVHS uses the multipurpose cafeteria as a gym, basketball court, volleyball court, and classroom, the team is unable to find time to use the indoor court to their benefit. This lack of resources has also inhibited the club from taking measures to become a University Interscholastic League (UIL) sport. As a club, they are limited to high schools in the district whereas in UIL they can potentially play at a state or national level. 
"In freshman year, I really wanted the club to be UIL, but after being defeated by the charter school, I understood that we aren't there yet because we don't have the same resources (as other schools). Carnegie is a small school, and we don't have that much space. We have many sports and they all want to use the gym; there's a major space issue. Most good coaches are $75 per class, and we don't have that, " Routt says.
He also played a role in forming the girls' basketball team with co-captains Celeste Ndayishima and Nicole Santiuste. The girls' basketball team was recently formed with help from manager Aminah Aziz in 2019, however, COVID became an obstacle for their formation.
"I've known Celeste and Nicole since middle school and when I saw their table at the club fair, I went ahead and signed up. They were kind of lost and I told them that I can help y'all out. I mean settling the girls' team should be done as there are so many girls that can dribble and shoot. We want our whole team to look good," Routt says.
Overall, collaboration and determination play a huge role in the boys' basketball team and it carries outside of the basketball court as well. In the post-quarantine world, the team is ready to jump back into another round of basketball and is confident about their success.
"Mark my words: we will go undefeated this year," Routt says.
View Comments (2)
About the Contributor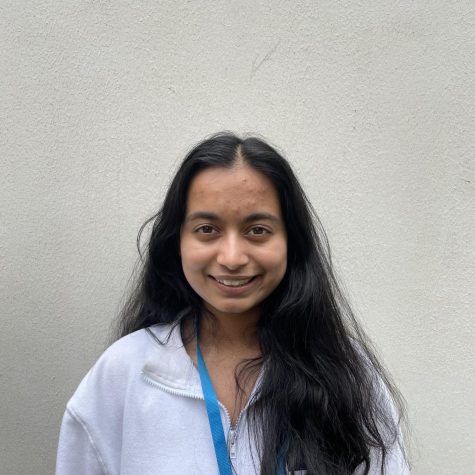 Ankitha Lavi, Staff Writer
Hi! My name is Ankitha Lavi and I am a senior at CVHS. I love playing the piano and am a huge music enthusiast.