Get your boba fix at Kung Fu Tea near CVHS
The first time I ever tried boba was an eye-opening experience. Like whenever you find something really cool or nice that you really enjoy and you just don't want to stop getting it or seeing it. 
I remember I was in the third grade and that my first boba drink was a strawberry slush, with boba, of course. It hurt to hold because it was freezing cold. The consistency was thick and you could still feel the ice chunks in the drink, adding a nice cold crunchy texture to the drink.The boba was cold and I may or may not have swallowed it the first time because I didn't know it was chewable? I did end up choking. Looking back, it was funny. The strawberry flavor was strong and very apparent, though it was strawberry it didn't taste like a fresh strawberry, but more like strawberry ice cream with a bunch of vanilla extract. But I'm not gonna lie and say I didn't enjoy the sweetness of the drink. 
The shop I went to was called Tapioca Tea House. They had so many flavors to choose from like Citrus Chamomile Green TeaPress and Almond Coffee. We went so much that now it is way too many times to count. The shop also wasn't like you walk in order, they give you a drink and you leave. It was more like a hangout; a cafe. They had lounge chairs, couches, and tables. They had games like jenga and monopoly. I never touched them because I'm a germaphobe. 
Starting middle school I never had the chance to enjoy boba as much because it was too far from my school, but whenever we had the chance, on weekends, I would ask my mom if we could pass by a boba shop, and we would usually go. 
Last year, I went out with a few friends and they found a small boba shop that was fairly close to Carnegie: Kung Fu Tea, located on Yoakum Boulevard. Although, recently, I found out it wasn't really just a small boba shop. 
Kung Fu Tea was founded on April 30, 2010 in Queens, New York, by Micheal Jiang; a Co-Founder, Allen Wang; Co-Founder, Ray; Co-Founder, and Sean; The Tea Master. On their 8th year anniversary they discovered what is known as National Bubble Tea day.
This year, at a volleyball game, I saw one of my friends walking around with a large cup of boba, and I then remembered the "little" shop existed. I mentioned it to my friend Tina, and we went. 
When we arrived, the menu was full of different options to choose from; teas, slushes, punch, and even seasonal specials! 
I definitely had a hard time picking but I went for a strawberry milk slush, my usual at a boba shop, and she got honey oolong milk tea. She let me have a taste and it tasted like vanilla ice cream with honey smothered all over it. The warm chewy dark brown colored boba and the cold milky drink was just like eating a cold sweet ice cream on a hot summer day. 
I recently went again and I got a taro milk tea. The flat pieces of ice in the tea allowed a crunch to the sugary sweet drink and the boba's warm chewiness texture allowing there to be an explosion of flavor in my mouth. It tasted just like animal crackers bringing back tons of memories of my animal cracker obsession when I was 5.
But boba is not the only thing that Kung Fu Tea offers. They sell sweets such as cakes and macarons and even other brand canned drinks. 
I got two macarons, one strawberry, as expected, and a seasonal flavor, pumpkin!
I was very iffy about getting a pumpkin tasting macaron when I don't even like the bitter taste of pumpkin. But, I am so glad I did because the taste of a pumpkin macaron is just like the smell of an autumn candle from bath and body works. As if they stole the candle and transformed it into a treat. 
The strawberry macaron tasted absolutely unrealistic, as if it was completely artificial. Not sure if you've ever watched strawberry shortcake or smelled the kids products like the lip glosses and chapsticks they make, but it tasted exactly the same. 
The prices for large drinks, which is considered the regular, was $5.45, and the macarons $2.50. Which I honestly thought was pretty cheap for boba.
To be completely honest, it felt like I was a kid. Again.
The boba overall was amazing, and the treats were even better. I definitely recommend going if you ever want to get boba, your place to go is Kung Fu Tea.
View Comments(1)
About the Contributor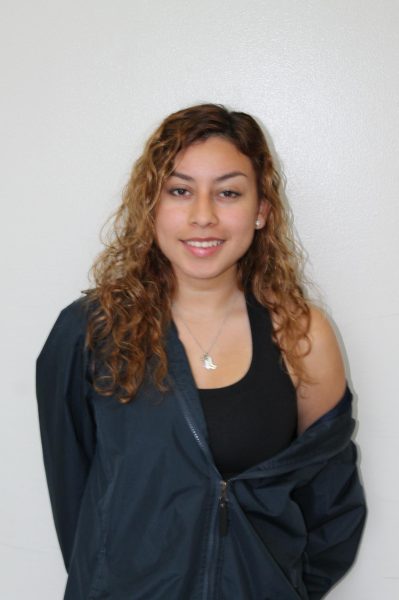 Roxell Bonilla, Sports Editor
Roxell is a junior at CVHS. She loves sports of all kinds, especially soccer and volleyball, and even runs some sports clubs here at Carnegie. She also...