Spooky- Houston Phobia Haunted Houses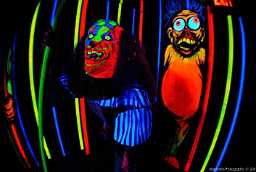 I was nine years old when I first heard of the Phobia Haunted Houses. I had an image of it being terrifying and cursed to the point where it gave me nightmares every single night non-stop. When I got into middle school, my
I was nine years old when I first heard of the Phobia Haunted Houses. The image of the terrifying and cursed house haunted my nightmares every single night. However as I got older, my fear became a target of intrigue. In middle school, my friends would always talk about the lifelike attractions at Phobia Haunted House. Naturally, I had to look into it myself. When I first opened their website my first reactions were 'Wow, it looks so outstanding and realistic to just be a haunted house.'
For those unfamiliar with the petrifying and marvelous haunted house, the Phobia Haunted Houses, was first established in 1996 by Phylo Darke at Highway 59 and Kirby Drive before moving to the U.S. Highway 290, where it operated for 14 years. His terrifying creation was inspired by horror tv shows such as the American Horror Story and Black Mirror. However, unlike most haunted houses, he wanted to give attendees a fully immersive experience. His goal was to make attractions as life-like as possible. 
Longing for my first experience at the Phobia Haunted House, at age 14, I begged and begged my parents and finally after days of anticipation, they finally gave me a big fat yes. They knew I was capable enough to handle the big scare show. I quickly ran to my room and gathered my makeup utensils, clothes, and other items I would need for that day. 
Finally, the day had arrived. My parents and I all dressed up, and although not an outstanding choice, I went with a hobo thinking it was cool. When we had arrived, the first thing that caught my attention was the sign, a giant poster with a big "WARNING" written on it in big bold letters. That's when I started reading the Warning poster, and to my surprise, they had stringent rules for the people to follow. One of which was "No Video or Photography. " That's when I realized that I wasn't going to be able to document my first experience in a haunted house. Although understandable, it left me a little disappointed.
Photo courtesy of Phobia Haunted House
Nevertheless, my parents and I entered the ginormous spook show. Standing before the doors, I felt an ominous feeling creep in. I knew it was going to be a night to remember. The beginning of the haunted house started off okay enough. It was dark inside and not many people jumped out at us. Tricking me into believing the rest of the haunted house would be as easy. But boy was I wrong. People soon began jumping out of nowhere and scaring the booboo out of me. The tight hallways and pitch black surroundings compounded my fear. Unfortunately, I couldn't hide behind my parents. I was constantly on my toes, my heart was racing, and my sweat was dripping off my face as I tried to anticipate the jump scares. Every scare made me feel as if I was going to pass away.
Although only 15-20 minutes long, the experience left me longing for more. The haunted house blurred the lines between real life and fiction. I would definitely rate it a 10/10 :). 
Don't forget to visit https://www.darke.com/index.html# for more information!
Leave a Comment