The student debt crisis impacts college choices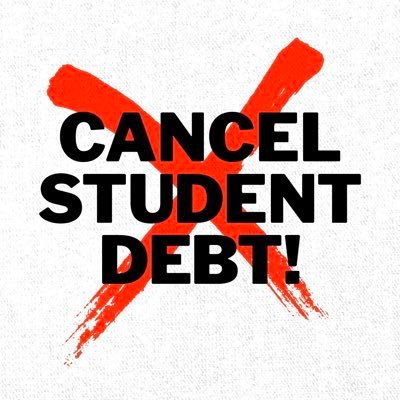 Biden's administration announced a series of new student loan relief plans to cancel a minimum of $10,000 of student debt per person. Due to the COVID-19 pandemic, there has been a pause in student debt until August 31st, 2022.
In 1957, Congress passed the National Defense Education Act, which allowed federally funded student loan and scholarship programs. With more high school students applying to college, the amount of collective student debt has reached over $1.6 trillion as of 2021. 
"I knew from the beginning that there wouldn't be money for me to go to college, and I would have to do it myself. So I got a job when I turned 16 and I have worked ever since," said Nurse Kara Nguyen. 
In 2015, Debt Collective, a student-led organization demanded the renegotiation and abolition of debts, access to publicly-funded goods such as education, healthcare, housing, and anti-racist economic policies. With debt strikes, Debt Collective has managed to remove over $2 billion in student debt to date and allowed the possibility of tuition-free colleges.
"If student debt was removed, I would be ecstatic. If there was still a system to help other students [with debt] it would be better. If there was a program to pay a certain amount of money, it would go straight to future students," said Wraparound Specialist Karla Sanchez.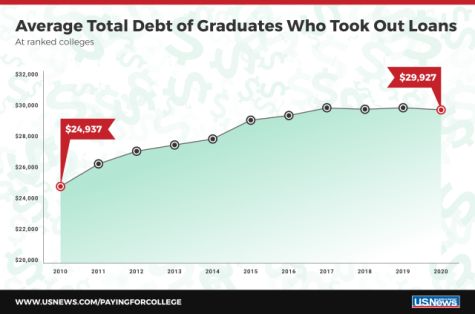 College graduates typically earn 80% more than those with a high school diploma, but a college education costs around $21,950 for in-state students at public universities, $38,330 for out-of-state students at public universities and $49,870 at private non-profit universities. 
"I specifically chose not to do the Pre-Med program because the tuition for Pre-Med programs is much higher than that of biochemistry," said Senior Disha Bhattacharya. "I had assumed there were a couple of colleges, mostly Ivy leagues, where if they didn't give me a certain amount of scholarship, even if I got in, I would not go." 
Anyone that isn't a white man struggles to pay off student debt more because of the wage gap between gender and ethnicity. It is estimated that around 30% of student loan borrowers are late or have stopped making payments six years after graduation. 
"The lowest I could pay was $300 a month, and $300 is almost like a car note. If you're paying for a car or you're paying rent, it adds up. That's been a struggle, and then the struggle of saving money that kind of doesn't help if you have to pay your student loans," Sanchez said.
Sanchez attended the University of Downtown (UHD) and had a bachelor's major in science and social sciences with a minor in physical sciences. Her tuition cost $30,000 for the four years. With sacrifices, she managed to decrease her debt to $10,000, Sanchez was able to pay most of her debt while she was in school. 
"I had to look for a car that was affordable. I couldn't get my dream car, a Jeep Wrangler, but I got a Corolla and I was able to pay that off," said Sanchez. "Because I was able to pay my car off as fast my credit rate went up."
It is shown that only 50% of millennials are able to surpass their parents' lifestyles, which is almost a 15% decrease from the late 1930s. This inability to surpass their parents' is due to the increase in student debt. According to CollegeBoard, the cost of college at public colleges is 213% more than in the 1980s. 
"So when I was getting in my car, I had to get my dad to cosign the car with me," said Sanchez. "As a young adult when you graduate you kind of want to do things on your own but I had to make that call and say, "Dad, can you help me?"
Even with scholarships and financial aid, College has become so expensive. Debt relief will allow people to get an education while still being able to afford basic necessities.
"It took me 10 years. Because I was working. I was working because I didn't want to have $300,000 in debt," explained Sanchez. "One of my friends was about $300,000 [in debt] because he took a lot of personal loans because he has a double major and to pay for rooms, his apartment, his car, which helps, but when you graduate, you have to pay all of that."
View Comments (3)
About the Contributors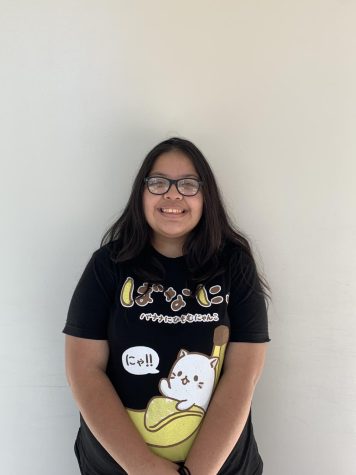 Judith Carrizales, News Editor
Judith Carrizales is a junior at CVHS. She participated as a member of the Film, Riot, and WISE clubs. Her favorite subjects are Journalism (of course!)...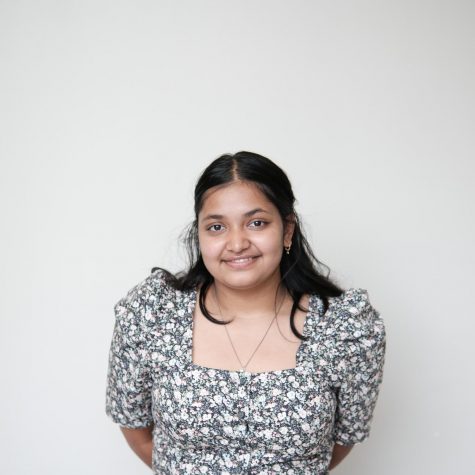 Rugveda Patil, Staff Writer
I am currently a junior. I like making art and playing sports with my friends.