Your choice of sweet and savory at Coco Crepes & Coffee
We walked up towards the porch of the Coco Crepes & Coffee, located on University Boulevard in Rice Village, on a sunny Thursday afternoon. As we walked in, we were greeted by the homestyle wooden interior, the warm incense of freshly baked croissants, and the scent of brewing coffee with hints of cinnamon. To the left of the entrance was a life-sized teddy bear, which seemed to be greeting us with its comforting embrace. We immediately maintained a liking for the folksy yet modern style.

Despite this classy interior, we came to a consensus that at first glance, there was nothing particularly special about Coco Crepes. It was no different, aesthetically, from a Starbucks or even a Native Coffee, popular competitors that are also walking distance from CVHS. It's a common spot for many students to occupy off-campus hours or after school, and it has consistently been in partnership with the CVHS competitive dance team for fundraisers. So, I guess our mission regarding this was to find out just why Coco Crepes & Coffee was such a popular spot in the midtown community. 

Firstly, it's not particularly cheap. Looking at the menu, we saw that a single crepe ranged from about $10 to $13, which is already higher than the average price of a crepe, which usually ranges from $4 to $9. This may seem to be a good price range for international food, but for a high school student's pocket, it wouldn't justify why people would go there. The crepes had to be extraordinary.

In order to get a full rounded experience, we ordered two crepes: one sweet crepe and one savory crepe, which were conveniently separated into different sections on the menu. For the sweet crepe, we ordered the Nutella crepe and were given the option to add toppings to it. We added strawberries and almonds to it to maximize the flavors without it being too overwhelming for our taste buds.

For the savory crepe, we ordered an avocado and chicken crepe. A simple dish. We felt we couldn't go wrong with chicken. Unlike the sweet crepe, we didn't have the option of customizing the savory crepe.

After we handed over the menus to the waiter behind the translucent counter, we walked over to the end of the café where the kitchen could be seen, where our crepes were actually being made.

Watching this process definitely answered one of our questions about the appeal that this place had. It was objectively impressive to be able to watch our orders being made with such skill and precision, despite the chefs implementing such nonchalance to their hot plates. The process was also particularly quick: as soon as the batter was poured onto the hot, circular, stone stove, in under 5 minutes both of the thin pancakes were already solidifying into delicate sheets, prepared to be garnished. That was done in under 5 minutes too.

@cococrepesrice on instagram

You would think that with such a short waiting time and such quick preparation for the crepes, the visuals of the crepes would be no more than satisfactory. However, once they were plated in front of us, we couldn't help but gawk at the edible art in front of us. The sweet, svelte dish was folded over in triangular shapes, customary for a crepe. The Nutella crepe was filled with evenly coated Nutella spread, weighted down by thinly sliced, vivid strawberries. And mounted on top was an aesthetically pleasing line of strawberries with sprinkles of shaved almonds, adding to its delicacy.

The chicken and avocado crepe was folded in contrast to the Nutella crepe, almost like a flattened burrito. It was cut in half evenly at a luxuriously diagonal angle and was then drizzled over with an orange honey mustard-esque condiment, shielded by romaine and red leaf lettuce. 

@cococrepesrice on instagram

When we actually tasted the crepes, we found that the two of us had very different opinions on the crepes. Acquired tastes could have a hand in the fact that one of us liked the savory crepe and didn't like the sweet crepe, while the other liked the sweet crepe, but disliked the savory one. This experience actually helped us to conclude that Dia favors sweet, while Chia favors savory, so we decided to review this from these conflicting perspectives in order to give unbiased reviews and insight on each type of crepe.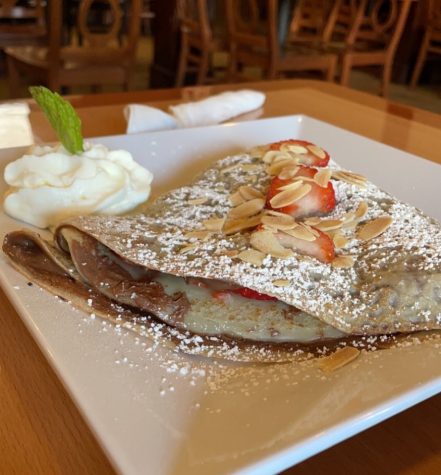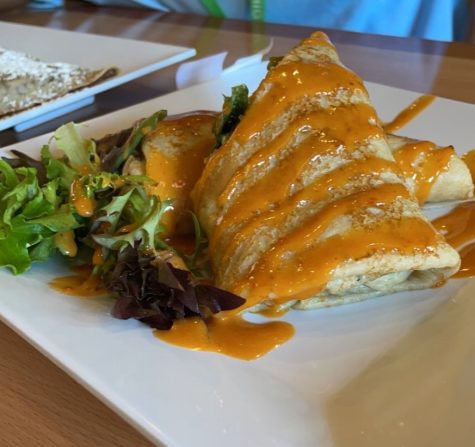 Dia's (Sweet) Perspective
Personally, I preferred the sweet Nutella crepe over the savory chicken and avocado one. In my opinion, crepes should be eaten as a dessert, not as a panini. The flavorful orange sauce on top of the savory crepe was enticing; however, the content inside took over the taste of the entire thing. My taste buds did not anticipate the zucchini and avocado flavor to fire up inside of my mouth. I felt like I was eating a panini or salad instead of a well-deserved crepe. 
The Nutella crepe, on the other hand, was like a chef's kiss. The neat and evenly spread Nutella with a pleasant strawberry on every bite had perfectly drizzled powdered sugar on top. The whipped cream off to the side added the perfect amount of saccharin for every mouthful. As the flavors melted in my mouth, I kept longing for more. This thirst for more was only ever felt from the sweet crepe, but never the savory crepe. I stand by my opinion that crepes should be a dessert, not a panini.
Chia's (Savory) Perspective
When it came to the taste, I thoroughly enjoyed the savory chicken and avocado crepe. The crepe was perfectly balanced with the mildness of the muted avocado and white chicken. The distinct taste of zucchini also lingered around my mouth with each bite. In contrast, the orange drizzle over the crepe added a nice contrast of slight spice and a uniquely citrus aftertaste—kind of like a spicy, candied mustard. The mildly spicy touch with the deadened flavor of the creamy avocado tasted like a breezy afternoon picnic meal. It was a safe dish that wouldn't risk offending your taste buds. 
As for the sweet Nutella crepe, I couldn't give it the same worship. Within the first ten minutes that we were served the crepe, I didn't have much of a problem with the taste. It was exactly how I anticipated, and I can appreciate the simple Nutella flavor complemented by the sublime, fruity strawberries. But as I continued to indulge, the crepe began to feel overly saturated in my mouth. It looked and tasted really soggy, and the moisture of the strawberries didn't help. Even the familiar taste of the Nutella chocolate couldn't divert this unappealing palate. I couldn't help but believe perhaps 'desserts should not be wet'. Though it wasn't entirely bad, I stand that crepes taste much better savory than sweet. 
Overall, we would say that the restaurant is an 8/10 for many reasons. Firstly, they have a good selection of food with a variety of options. The menu ranges from beverages, soups and salads to paninis, crepes and waffles. These flavorsome foods are mouthwatering and preferred by both those with a sweet tooth and those with a preference for savory food. Along with this array of selections, Coco's is honestly a great place for students to study. They offer a good Wi-Fi connection and a homestyle ambience there. Conveniently located for CVHS students, there is a chain about two to four minutes away by car, practical for students to go to after school to catch a quick bite or even during off campus lunch. We would highly recommend this café as it is a perfect place for students, and we would certainly go there again ourselves.
View Comments(1)
About the Contributors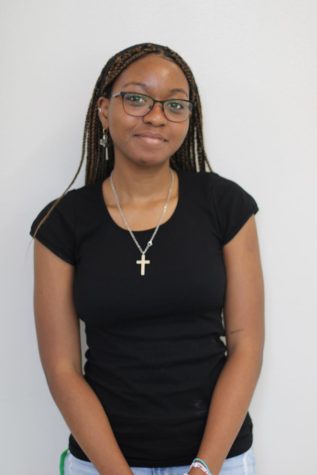 Chiamaka Uwalaka, Staff Writer
Chiamaka has one of the most welcoming and sunshine-filled smiles you will ever come across. She, like most teenagers, is still trying to figure out the...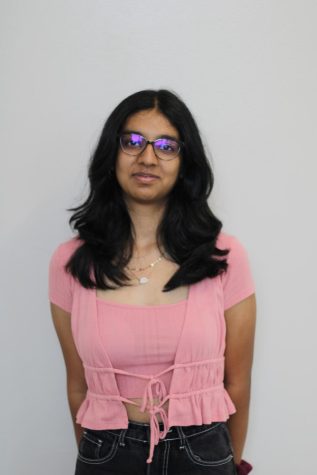 Dia Vaswani, Staff Writer
Dia is a junior at Carnegie. She enjoys reading rom-coms, standalones, and anything by John Green. Dia also comes from a rich cultural background, and...