Isabela Guerrero and Mario Lopez capture beautiful shots of city pride for "Eye on Houston"
A picture can be worth a thousand words, and in "Eye On Houston", it does exactly that. "Eye on Houston: High School Documentary Photography", created by the Museum Fine Arts Houston, selects photographs from schools all over HISD that they feel represent what Houston is to be displayed at a gallery.
Among students from all over HISD, four are here at CVHS, two being juniors Isabella Guerrero and Mario Lopez.
The beginning of this opportunity started with CVHS English and photography teacher Rachel Bohenick, who announced the opportunity to the students in her photography classes. While this prompted many students to try their hand at the competition, these two students approached it in a way that was wholly unique.
Junior and second-time "Eye On Houston" participant Isabela Guerrero submitted multiple photographs, ranging from landscapes to building-focused photographs. But the one which stood out to her the most was one where she felt the Houston pride truly shine through, at the Astros World Series championship parade.
"It is titled Astros Victory…I think it just symbolizes the way that the city of Houston can come together in times of celebration," said Guerrero.
A perfect shot was crucial for this and for that reason Guerrero took practice shots on her Canon DSLR in order to get the perfect settings. Guerrero wanted a product that truly caused its viewer to understand Houston pride.
"I feel like I was able to capture the moment…everyone was cheering. The trophy was being hoisted. So of course the whole crowd just went wild," said Guerrero.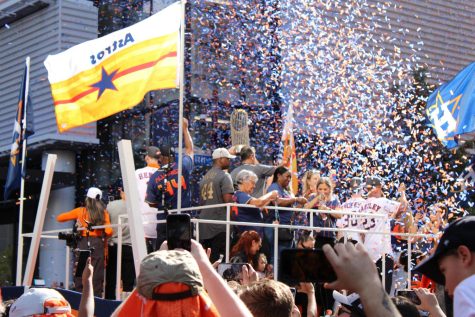 Guerrero's biggest inspiration is Henri Cartier Benson. He was a photographer in the 1960s who mostly did candid photography. The way Benson framed his shots to have the perfect balance between the subject and the environment around them inspires Guerrero in her own photographs.
Like her inspiration, Guerrro leans towards more candid shots. She says that these types of photographs can tell more of a story than others, especially in the Houston scene
"The Houston area and seeing how unique it is, just the stories that you can see while just taking walks downtown is what inspired me to take candid photos," said Guerrero.
Unlike Guerrero, Carnegie junior Mario Lopez found his winning photo through vibrant, bright colors rather than candid shots.
Lopez submitted a wide range of photos that were mostly landscape-focused, each incredibly unique and colorful in its own right.
"Most of my images have these colors and are kinda…more emphasized," said Lopez.
Even with bright-colored photographs, Lopez still makes sure to set up the shot in what he feels best captures his photography style.
"It's definitely a kind of a style where the main object is not too focused on. It's mainly where the landscape and everything around in the background, just connects throughout the whole image," said Lopez.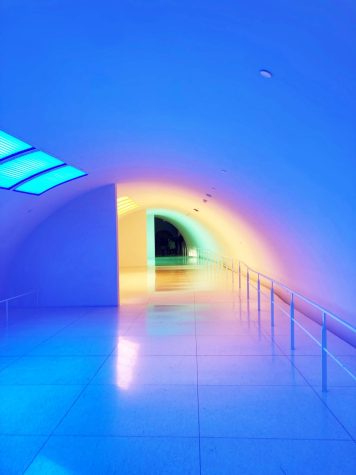 Although photography is still new to Lopez, he always had a love for it, even taking some inspiration from his friends.
"I have some friends that do photography. Seeing their artwork and their photographs just makes me want to do something," said Lopez.
Between all the photos Lopez took, each one conveys a different sense of Houston life. Most notable is his photograph titled "Colors of the Park" which displays the park near his house where he usually plays soccer with his brothers or his friends, an overall feel-good place for him.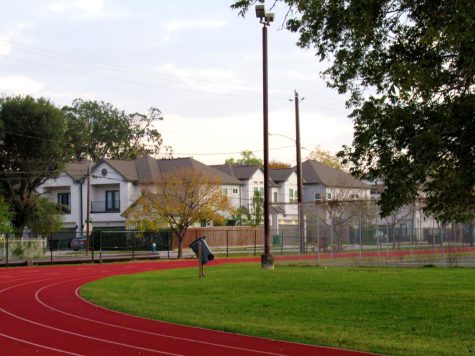 But whether he's taking a photo of Mount Albert, showcasing the beauty of the world around us, or taking a photo capturing daily student life at Carnegie, there's one thing he makes sure to do.
"Definitely have to get a good angle on what you want to take a picture of, and then make sure there's nothing in the background that kind of destroys the whole thing," said Lopez.
Instead of receiving an email confirming he was chosen to participate in the exhibit, the news actually came from Bohenick during class. After finding out there was one emotion he felt all around.
"I was happy," said Lopez.
Showing Houston unity, whether that would be through neighborhood photographs or through celebratory photographs, was a large inspiration for these two "Eye On Houston" winners. They both have unique talents and drives, yet their passions ultimately culminated into the same goal. However, how they got there varied greatly, and both shared advice to any fresh photographers looking to go down the same path as them.
"Never be scared to submit any images. A lot of times you see images that you might not think are good, but they're actually really good to other people. Just never be scared of different things," said Lopez.
"Just take pictures of your passion. You don't need to take pictures of just one thing in specific, it can be as many things as you want," said Guerrero.
View Comments(1)
About the Contributor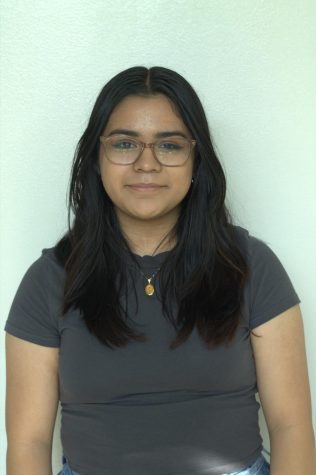 Adrianna Guadalupe, Staff Writer
Sophomore that has an unhealthy obsession with fictional jpop idols and the color pink. If they aren't playing with Beyblades or baking then they're probably...