Carnegie Theatre Company's FAUST: A Stunning Revival
Carnegie Theatre Company revives the medieval European myth of Faust with a fresh adaptation and sleek production to retell this classic tale. The play is running November 8 to 9 and 15 to 16. 
The Tragical History of Doctor Faustus by British author Christopher Marlowe was arguably the first published version of the story in 1604, half a century after the death of Johann Georg Faust, the muse of this tale. Written in verse, Marlowe's text gained widespread popularity in England. Johann Wolfgang von Goethe followed suit with a German translation and adaptation, Faust, spanning over five-hundred pages and making its world premiere in the early 19th century. However, the second part of Goethe's Faust–a story beyond Faust's reality–was published posthumously, and it was not until 1938 in Switzerland that Goethe's Faust was performed in its unabridged, full version for the first time.
In this new adaptation by Carnegie Theatre Company, Faust–remaining true to Fausts prior–is a tragically dissatisfied scholar who gives his soul to the Devil, Mephistopheles, in exchange for life's pleasures in the form of divine, all-knowing creativity and intellectual discovery. His pursuit of omniscience morphs into a different trajectory when a beautiful woman, Gretchen (Natalie Tiede), catches his eye. Mephistopheles propels Faust into a joyride of seduction, hedonism, and violence that attempts to replenish his soul once more. 
The prologue of this production is an utterly unique segue into an hour and a half of pure intensity. Fate decides which actor plays Faust every performance; senior Trey Pokorny and sophomore Jacovia Young will simultaneously strike a match during the prologue of the production. The actor whose match dies first will play Faust. The champion with the prolonged flame will play Mephistopheles. 
Faust, excellently portrayed by Pokorny, is a deprived and discontented scholar and practicing surgeon whose vice is shooting cocaine in between his toes before operating on patients. Though irritable, unforgiving, and callous in nature, the audience cannot help but sympathize with his genuine emptiness and yearning for unadulterated fulfillment. We cannot help but see ourselves in this lost soul. 
Mephistopheles is a menacing yet impish, sadistic yet stoic Devil figure, portrayed by Young. Her looming presence and wickedly graceful mannerisms forebode that something drastic, something horrifying will soon be orchestrated by her hands. She is the mastermind behind the rise and fall of Faust, and her conversations with Cardinal, played by sophomore Brooke J. Ferrell, explore the redeeming merits and tragic downfalls of humankind. 
The ensemble, comprised of Hell's demons doing Mephistopheles' bidding, was clad in sleek, head-to-toe black leather and moved across stage inhumanely, thus giving the production a sense of grotesque beauty. Entities of evil, the heightened moments in which they drag Valentin (senior John Hawes) into hell and Gretchen into her own insanity were perfectly chilling. 
The set was minimalistically beautiful. The most stunning yet simple element of the set was the floor of water. One to two inches of water filled the space and though actors caused quite a bit of splashing about, the water as a design choice was effective to what the liminal space of Faust's mind was. A neutral color palette with both cool and warm greys, the set in its barrenness and simplicity reflected the ambiguity of the story's setting. We flit from the real world to the spiritual world and from the mind of Faust to the depths of Hell itself. Such design choices from the towering latex walls to the magically disappearing stairs established the versatility needed for this perpetually changing world. Selective, seductive lighting designed by Emma Perch illuminated the magic of the set.
Leave a Comment
About the Contributor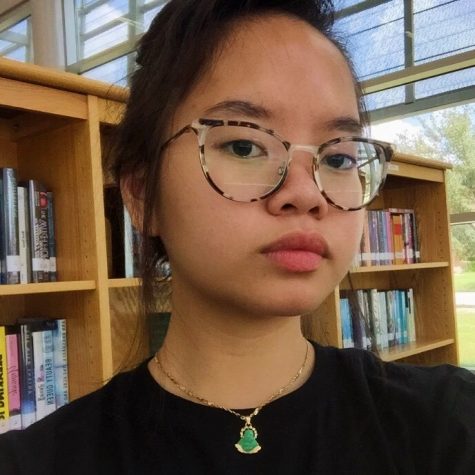 Annie Nguyen, Staff Writer
I am a senior who LOVES dance parties. And peace and quiet.

Instagram: @amourannie