"My Universe"- collaboration by Coldplay, BTS proves that music transcends language
Drowsiness and exhaustion flashed across my face as the mundane day had finally winded down to its end. As a junior in high school, stress and unrest arrive in copious amounts, relentless towards anyone in its path. However, if I were to define a remedy, at least temporarily, to this common issue youth face, music is one of the essential media that allows students to escape and find emotional relation through the lyrics or artists themselves. The magic shop that opens for me to relieve such negativity and recharge my energy would be found in lively artists like Coldplay and BTS. 
The British pop-rock group Coldplay and seven-piece Korean band BTS have remarkably proven that music transcends language through their new collaborative single, "My Universe". The harmonious marriage of each band's boundless talents painted their music sheets with bright colors, rather than the usual treble clefs. Blends of English and Korean lyrics within the single have not only opened a gateway for Asian musicians to be recognized seriously in the western music industry but also touches the hearts of fans worldwide; the song transmits a message of unity through genuine love and connection during a time where the world is separated by a never-ending pandemic.
Active since 1996, the British pop-rock group Coldplay has built a notable standpoint in the music industry through their incorporation of critical themes, such as love and war, in their discography一topping it with distinctive emotive vocals from Chris Martin, the lead singer. Eastward, seven South Korean members debuted as BTS (Bangtan Sonyeondan) in 2013 and have exponentially gained millions of fans worldwide through their songs tackling depression, individualism, and self-love一catering to majority of young audiences as they find refuge in these artists.
Brimming with pressure, Chris Martin was only given two days in South Korea to record the collaboration with BTS due to COVID-19 regulations. After BTS had covered "Fix You" during their MTV Unplugged performance in late February 2021, it initiated reciprocated admiration between the two groups. With special permission from the South Korean government, Chris Martin flew to Seoul later that year in April to finally record with BTS after they had personally reached out to him for a collaboration. Despite their cultural and lingual differences, laughter and joyfulness were shared between the artists as they worked together on the single; their compatible dynamic illuminated in the making-of documentary uploaded on BTS' YouTube channel, Bangtan TV. Released on September 24, 2021, the playful atmosphere had translated into the single itself, where Martin and BTS had composed the song with the thought of them as "representatives of Earth coming together to build a new universe".
Coldplay
An overload of sensory and vivid colors cascades and ruptures from the instrumental's layers of playful, distinctive synths, twangy guitar riffs, talkbox voice effects, and a collection of harmonies between the BTS vocalists with Chris Martin during the choruses. Utter airy-ness and joy engulf me as though I were relieved of my worldly responsibilities while digesting this song. The pop single uniquely includes the blend of Korean and English in the lyrics, which is rarely seen in the Western music industry. "I fly to you every night, forgetting that it's just a dream. I meet you with a smile, never-ending forever, baby," was sung by Jungkook, one of the main vocalists in BTS. In this line, his transitions between Korean and English were seamless; once a barrier, Jungkook made the contrasting languages a blend. The emotions that were embedded in his voice carried the message of love fluidly to where translations were not necessary to interpret the beauty of the song. "And they said that we can't be together, because we come from different sides," were lyrics that confronted the idea that connection could not exist without sharing the same backgrounds and identities. BTS and Coldplay challenge this concept purely through their collaboration itself. Released 5 days later, the music video visualized the unseen aura of the song, both BTS and Coldplay making an appearance in space, surrounded by vibrant colors, futuristic planets, and dancing aliens. The ensemble of the two bands garnered a recipe of happiness, with no surprise, reflecting the type of artists they strive to be for their fans一ones of genuine artistry. Their message of love transcending all borders created a universe where unity between differing cultures was not a fictional concept, rather a necessary reality.
Coldplay
After the release of "My Universe", the song was immediately successful一almost scaringly so. The collaboration debuted at No. 1 on Billboard's Hot 100, which was the first placement to be held by two co-billed lead groups, along with a flurry of streams on all music platforms. Although the success was evident, the importance of the song's release held deeper roots. One may think that BTS' reach in the US through their large fan base would reserve them a place in the western industry, however, the stigmas that the K-pop genre carries causes them to be overlooked as 'real' artists. Whether because of differing languages, cultures, or musical styles, groups like BTS receive prejudice due to ignorance and unfamiliarity. Although sad to admit, Coldplay一an artist that is recognized in the western industry一collaborating with BTS was the stepping stone that gave the Korean group a much-needed platform to be heard and represented accurately. In a music industry where artists are not rightfully recognized unless they abide by the standards of the West, it further expands the barrier where POC audiences find themselves without a voice in music. With the release of "My Universe", BTS held a voice for the voiceless, breaking such boundaries between music and language. Perhaps the western music industry isn't ready for non-English talents like BTS, however, one thing is certain: BTS does not need their stamp of approval to back their success.
"I think it's very special to me that the most popular artist in the world speaks Korean and is like a group of brothers not from the West. And it just feels very hopeful to me in terms of thinking of the world as one family," Martin concludes.
View Comments (2)
About the Contributor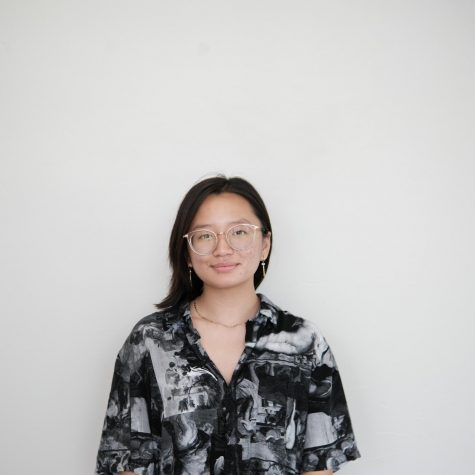 Nina Nguyen, Staff Writer
My name is Nina and I am a Junior at CVHS! My favorite things to do in my free time are listen to music (any genre you can name) and binge watch movies...