Tasting viral Tik Tok dish: Emily Mariko Salmon Bowl
 Throughout my life, I have eaten many different types of foods with many different types of flavors. Overall, I was content with my food choices. That is until one day I went on Tik Tok. Salmon.. with rice… with seaweed… And mayo??? This is the first thing that popped up on my "for you page". It left me incredibly confused. My first thought was "gross!" But as I continued scrolling through my phone, I saw it more and more with each swipe. How could such a variety of foods become so viral? I was intrigued and wanted to try it myself. 

As an athlete, I love to eat! I love it so much that it comes to a close second with my passion for soccer, so getting to review this food choice was something I was really looking forward to! Would it be savory? Would it be sweet? How should I prepare for it? I had to devise the perfect plan in order to make the most mouth watering and appetizing salmon bowl. To do so, I had to dive into research. 

I scrolled through Tik Tok searching for Emily Mariko, a famous tiktoker and influencer displaying recipes on her media platforms. Finding many different twists of the original recipe, many who substituted fish with other meats, or rice with quinoa, and then I saw the original video. I scrolled through the comments on her page with each one being somewhat similar: "This is seriously so good!" "It looks so easy!" "I'm so trying this when I get home!"

Via TikTok: feelgoodfoodie

The process was fairly easy, I cooked the salmon then chopped it up into little tiny pieces then placed white rice on top. I then placed an ice cube in the rice then put it in the microwave. Once that was heated up, I then spread soy sauce all over the mixture, continuing with mayo. After that was mixed, I chopped up avocado then placed that on the side of the dish. Then sprinkled some seasoning and wrapped it up with some seaweed. And holy moly! For my first bite I was not expecting that! It was delectable, mouth-watering, and tasted like heaven in a dish! 

Out of all the foods I have eaten, the Salmon Rice Bowl has got to be one of my favorite dishes I've ever had. It is one of the easiest dishes to make. I would definitely recommend this to a friend or anyone who is looking for a healthy yet easy and quick dish to eat. 
Leave a Comment
About the Contributor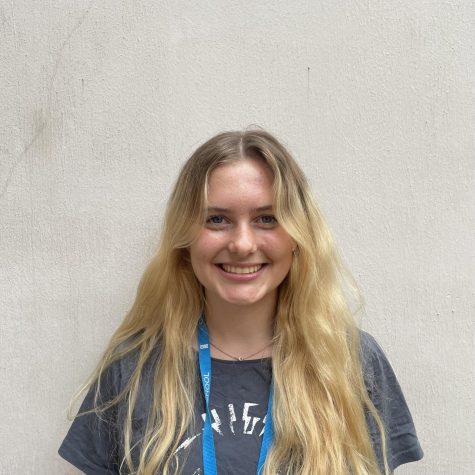 Camille Marlin, Staff Writer
Hi! My name is Camille and I am a senior at Carnegie Vanguard High School. I am a soccer player for the Houston Dash Girl's Academy, when I am not on the...