The Flick: A Closer Look
How Carnegie Theatre Co. manipulates space under limited time.
Audience members walked into the fine arts building last weekend expecting a two-hour run of Carnegie Theatre Company's stage production of The Flick–what they did not anticipate was sitting down and facing the very audience they were supposed to be in. They did not anticipate watching the empty seats of the house. Audiences were confronted by the ordinary, bleak world of The Flick by Annie Baker: an indie cinema in which three underpaid employees navigate the awkwardness of life with the successes–and failures–of personal connection. And Carnegie Theatre Company has been toiling since summer of 2019 to reimagine a pre-existing space.
How did a bunch of high school students turn this corner of the school into a run-d0wn movie theater? The process of creation begins and ends with the stage and production manager who govern the rate at which things are being done. Kaveh Shafiei, stage manager, and Alivia Arizaga, production manager, knew exactly what challenges the company would face even before construction.
"We had to work around the inverted setup. For example, lighting needed to refocus lights to point in the other way–" (the process of refocusing lights is a tedious and meticulous one) "–and another challenge we wanted to tackle was to capture that retro, vintage feel"  Shafiei said.
Carnegie Theatre Company is accustomed to beautifying spaces and creating worlds out of thin air, "mining reality out of the fantastical", as one alumni notably described. Not mimicking the boring real world and decaying spaces that already exist. 
Transforming the booth in the house into a typical cinema projection booth required installing multiple new features: painted fabric that replicates a cinema's faded walls, complex wooden frames for the fabric, plexiglass for a projection booth window, foam half-walls, and a 35-millimeter projector itself.
Exactly what kind of challenges did the builders and painters and crafters meet up until the very last day before September 13th when The Flick opened? Ellie Carlin, scenic charge and Carnegie Vanguard junior, answers this weighted question with honesty and openness.
"The most challenging thing was probably trying to be three places at once. We couldn't do everything in the house so we would have to work outside and it was hard for me to make sure things were going correctly because I couldn't see both things that were happening" Carlin said.
This comment is the epitome of set construction in the theatre; builders so often have to imagine the world as different components–that have to be finished and onstage at the same time. Multitasking is second nature to Carnegie Theatre Company, yes, but as Ms. Carlin states, it can be an ordeal juggling multiple projects in the same space at the same time. 
Despite this, the scenic department was not alone in their endeavor; as soon as other technical departments became idle in their own projects, it was off to help scenic.
"I collaborated with every single department because they all really came through and helped me out" Carlin said.
And every technical department, at one point or another, received a paint roller in their hand and were pointed to the amphitheater. Sound, lighting, props, costumes–every technical crew member of Carnegie Theatre Company collaborated with one another to ensure the timely success of fabricating the run-down cinema. 
The fabric walls, wooden frames, plexiglass, projector, and every other necessary component of the show was ready to be on display by Friday, September 13th when The Flick opened. The house was packed; tickets had completely sold out. And the audience entered the theater to sit down facing a completely unfamiliar space that very well required the hands and minds of at least twenty-five students.
Visit carnegietheatre.com to view more student work.
Leave a Comment
About the Contributor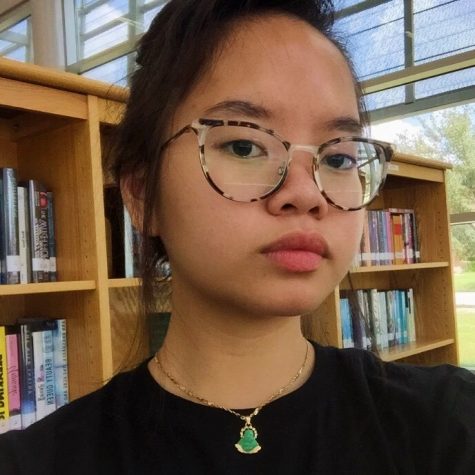 Annie Nguyen, Staff Writer
I am a senior who LOVES dance parties. And peace and quiet.

Instagram: @amourannie