TV Show Review: All of Us Are Dead teaches all of us a lesson
Spoiler Alert for All of Us Are Dead Season 1
As high school students, it often feels like we are fighting for our lives: drowning in swarms of homework, juggling extracurriculars, sacrificing a healthy sleep schedule for a better grade on an exam, all while trying to maintain our social life and sanity. Of course, this fight for our life is only metaphorical. At Hyosan High School, though, this fight has shifted from a metaphor to reality. For characters like Cheong-san, On-jo, and Su-hyeok, gone are the days of worrying about an upcoming test or an anticipated athletic outing. Their lives are instead marked by fighting their old friends who have been reanimated as monstrous zombies. In the Korean Netflix original series All of Us Are Dead, the traditional zombie fantasy is reimagined to fit a high school setting.
All of Us Are Dead debuted on January 28, 2022. Show creators Lee JQ, Chun Sung-il, and Kim Nam-Su based the series off of Joo Dong-Naver Geun's web-comic, Now at Our School, which was completed in 2011. The show creators have clearly been inspired by other zombie tales as well, including another Korean Film "Train to Busan", which the characters of the show even reference. All of Us Are Dead has received critical acclaim and reached high levels of popularity, peaking at number 1 on Netflix's top 10. 
Although there is a familiar formula for stories involving zombies, All of Us Are Dead sets itself apart in a multitude of ways, from the origin of the outbreak to its handling of characters and themes. In All of Us Are Dead, the outbreak begins with Byeong-Chan, a science teacher with a son that attends the same school he teaches at. His son, Lee Jin-Su, is relentlessly bullied by his classmates and Byeong-Chan conducts scientific experiments to help his son fight for survival after a suicide attempt. Unknowingly, a virus is created in the son's body, which turns him into a zombie and effectively makes Hyosan High School ground zero for this iteration of a zombie outbreak.
Pandemonium soon breaks out at Hyosan High School. In a horrifying and prolonged sequence, we see a normal high school swiftly transform into a living graveyard with hordes of zombies roaming the school grounds. It is heartbreaking to see the young teenagers be forced to kill their former companions; their old classmates have been reduced to rotting corpses whose only desire is to eat human flesh. It is here where the show shines as it begins to explore the complexities of human nature, tackling several moral dilemmas and questions that we as the audience begin to ask ourselves. How do we manage to stay hopeful, even in the darkest of times? At what point do humans give up trying to survive? What defines our humanity?
All of Us Are Dead explores potential answers to these questions and dilemmas through the rich development of its characters and their relationships as they navigate through the zombie-infested South Korea. The characters question whether the country values children or adults more; adults have more wisdom while children like them have more hope and it raises the debate of what is more important to have in apocalyptic situations like these. In All of Us Are Dead, it seems the answer is hope. 
The main characters of All of Us Are Dead certainly validate the sentiment that children cling to hopefulness more so than adults. Even in the direst situations, characters do not lose their optimistic outlook on life and manage to continue fighting no matter what occurs, being driven by their connections to each other. Over the course of the show, we see several pre-existing friendships strengthen while also seeing new bonds form. These bonds, whether it be a romantic bond or a platonic bond, are often what allows the characters to retain their hopefulness and it simultaneously exemplifies the importance of relationships in defining our humanity in a modern sense.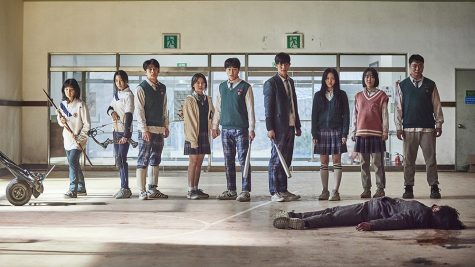 Platonic, and especially romantic bonds, serve to build up the plot. Cheong-san has an unrequited crush on his childhood friend On-jo while On-jo has feelings for the jock Su-hyeok, who falls for the intelligent and quiet Nam-ra. These love triangles and webs may feel all too juvenile to take place in an apocalyptic setting, but these relationships are what drive the characters to behave and survive the way that they do. Even when humanity is at its lowest, there are aspects of humanity that will never cease to exist: the moments of laughter with friends, the hesitance of confessing your feelings with someone, the desire to be liked by others. It is due to all of these tiny, mundane things that the characters keep on pushing. It is these tiny, mundane things that the characters want to create a future for. It is these tiny, mundane things that make these characters (and us) human. 
Of course, All of Us Are Dead also captures the worst of humanity: the deceit, the disregard for others, the jealousy. Characters like Na-yeon commit heinous deeds that drive the characters apart and the series also explores how even in a world filled with flesh-eating zombified creatures, humans can be the biggest threat to existence.   
In its 12 episode run, All of Us Are Dead manages to lure the audience with plot twists, revelations, and emotional moments that keep the plot progressing throughout. The show is not without its flaws as it does sometimes feel exhausting or too familiar for fans of other zombie dramas like The Walking Dead. There are also a few notable inconsistencies, confusing scenes, and minor plot holes. For example, the aforementioned origin story of the virus was difficult to comprehend at times as there was a lack of concrete details. 
However, through the fascinating perspective on survival, the commentary on human nature, and its co-existence as both a zombie drama and a coming-of-age series, All of Us Are Dead is likely to connect to many different age groups and audiences. As teenagers  (and perhaps the primary target audience), the connection and lessons being portrayed are even more clear. We must set aside more time for our friendships and leisure, never spending too much time stressing about our class rank or how we can extend our resume. We must remember to not fixate on climbing the illusory ladder to the top. We must ensure that we do not lose sight of our humanity and become what we fear the most: a zombified shell of our former selves. 
All of Us Are Dead is currently available on Netflix only. Whether you are a high-school student who actively relates to the personal struggles of the characters or you are a zombie enthusiast seeking to add to your internal catalog, All of Us Are Dead may be the show for you to binge next. If you approach the show with the same level of hope and optimism that the teenagers in All of Us Are Dead so desperately cling to, the show will likely tug at your heartstrings and create a memorable viewing experience. 
View Comments (2)
About the Contributor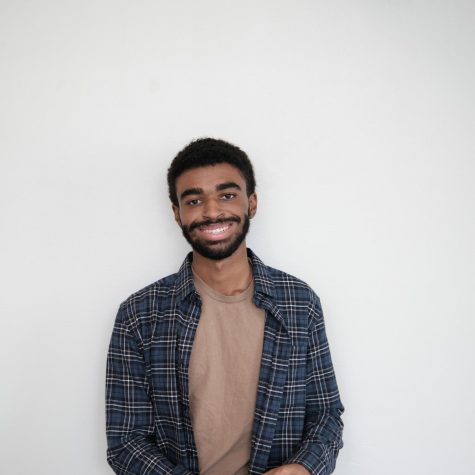 Jahrel Noble, Entertainment Editor
Hello! My name is Jahrel and I'm a Senior at CVHS. Some things I enjoy are traveling, writing, and playing with my two dogs.