Marvin Johnson, Jesse Gee, Peter Jackson, and Ethan Ngo win March Madness
The crowds winning pick of CVHS 2022 March Madness were sophomores Marvin Johnson, Jesse Gee, and seniors Peter Jackson, and Ethan Ngo carried pressure on their backs, knowing they would be in the books of Carnegie history.
March Madness has been a school tradition since 2013. Teams were formed based on friendships, and rivalries were formed based on which team believed they would win. 
The four are all close friends, and their bonds only grew stronger after being together on a team, sharing memories, and strengthening their relationships on and off the court. 
"We really had that team chemistry from the season, all four of us. My team really clutched up, I was injured for the first half of it," said Jackson "I feel like the team chemistry really carried, because no matter who we played, we just swept right through them."
The team had previously met and won a basketball championship this past season. MVP, Peter Jackson, being their highest scorer on the team, Hot shooter, Ethan Ngo, and Hustler of the Year, Marvin Johnson, names given by their coach, Coach Vee, were all starters for the Carnegie Vanguard's Boys' Basketball Team. 
"I feel like there are not another three people at the school that can really beat us," said Jackson.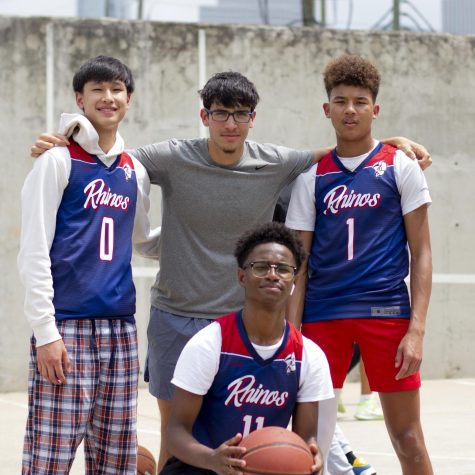 As the final game began, the ball went into the court, being passed from one player to the other. On high alert, Johnson jumped to retrieve the rebound and sprinted to the 3-point line to make a shot. Checking from half-court, Johnson passed to Jackson, who attempted a deep 3-pointer, missing slightly. The rebound fell into the hands of the opposing team resulting in constant passes in an attempt to throw Team 2 off. The opposing team attempted a lay-up, which was blocked by Jackson. Ngo retrieved the rebound and jogged to the 3-point line to take a shot. As the opposing team argued with the referee over what they believed was a foul, Ngo made a 3 to end the game. Leaving the score 4-0, ending in 53 seconds, the fastest game in the whole tournament.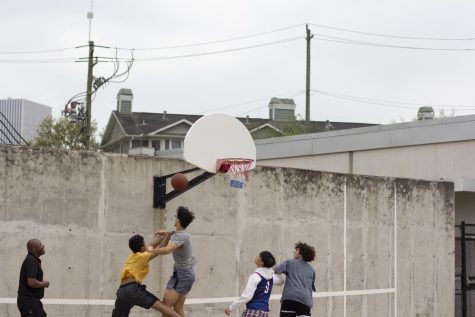 Proving their strength, they dominated every team that stepped on the court. They were all confident in their abilities to go big and go home. In only their second game, Ngo carried the team toward victory scoring 5 of the 6 points in a tough match.
Their highest scorers, Marvin Johnson and Ethan Ngo, both scored 9 points through the entire tournament, playing to their best abilities.
During their third game, Johnson created isolation, separating himself from his defenders from everyone else on the court, attacking the paint with a spin move, splitting two of the opposing team players, and finishing with a right-handed lay-up. Proving to be one of the flashiest and most memorable highlights of the tournament.
"It felt really good to walk on a court. To play with no stripes on your back, to play with no restraints or anything to worry about. It felt good to play for yourself, for your team, and for your friends," said Gee.
But their strong commitment to the sport wasn't the only reason they won. 
Jackson, injured through half of the tournament, and Ngo, who got injured halfway, both pushed to their best abilities to prove that no obstacles could stand in their way. Johnson and Gee, knowing their injured teammates couldn't do much, decided to take the responsibility of keeping their team in the clouds, no matter the fight. 
"Even though two of our main starters on the team were injured, Marvin and I, pushed our way through the first few rounds, and then we made sure that at the end, we got them to get what they worked for," said Gee.
No one had their doubts upon their win, even Referee Juan Garner, Assistant Principal at Carnegie Vanguard, knew that they were a strong team from the beginning. 
"I've seen them play on the basketball club team. They had three of the four core players on the basketball team. Peter, Marvin, and Ethan, those three were your most substantial players on the club team. And you know, have three of them on one team, the team is going to win," said Garner
Though all the spotlight and hard work goes to Team 2, Team 9 worked just as hard until the end. Juniors Garvin Johnson, Ahman Taylor, and Faris Vehra, all fought fiercely in their rematch against Team 2. Both teams strong in offense and defense had a hard battle, but everyone knew there could only be one winner.
"We knew what we needed to do. This is our second time playing as a team. So, we knew a little bit about them, and what happened before. So we knew the next thing we had to do was at least make some adjustments when it came to defense and who we were guarding. And as well as help defense because obviously, in basketball, if you have a weak link, you just gotta you got to like help defense is going to be your best friend for playing good D." said Johnson.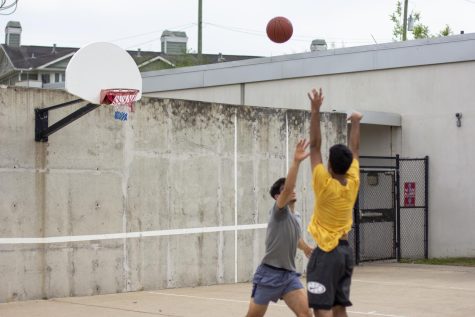 Brothers Marvin Johnson and Garvin Johnson continued their tradition of friendly competition through both games played against each other, which many crowd members were psyched for. Their love for the sport turned their brotherly love into rivalry for a race to the top. 
Ahman Taylor, Junior and next year's Carnegie's Boys Basketball Team Captain and another player on Team 9, stated that he will continue to work hard in order to improve not only for himself, but as well for the team, and future basketball team. 
But their loss was not something Team 9 took to heart. They took it as a learning experience, to grow and prosper in order to get better. 
"Of course we thought we could win. Every team should believe that too. Otherwise, there's no point in playing if you don't have any confidence, right?" said Vehra, "As much as I wanted to win, anything can happen."
The order of games was determined by a bracket, a winner's bracket, and a loser's bracket. It may seem confusing, but to make it simpler, it was a double elimination. This was to ensure that all teams at least played two games. The winner's from the winner's and loser's bracket went head to head in the final match.
Team 2 was the winner from the winning bracket. Team 9 was the winner from the losers bracket. If Team 2 would have lost the final game, both teams would have had to have a tie breaker as they would have been 1 to 1 in losses.
Leave a Comment
About the Contributor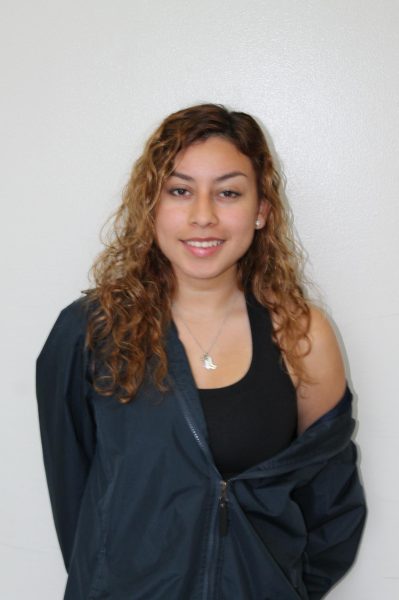 Roxell Bonilla, Sports Editor
Roxell is a junior at CVHS. She loves sports of all kinds, especially soccer and volleyball, and even runs some sports clubs here at Carnegie. She also...