CVHS Boys Volleyball Club returns after two years
CVHS Boy's Volleyball Club has come back after two years. This year, the volleyball team has given the opportunity for male students to join and represent Carnegie Vanguard High School. Although the club isn't an official team, the club's goal is to make it an official team to join UIL in the future. 
CVHS senior and Captain of the Boy's Club Volleyball team Adam Guajardo first played for the Houston Stars Club volleyball since September and has been playing volleyball since August 2021.
When asked about why HISD fails to provide schools with a men's volleyball program, Guajardo stated, "Men's volleyball is not extremely popular by the district; however, I believe it has the potential to be extremely popular if it had support as a UIL sport."
Gender stereotypes that volleyball is a predominantly female sport impacts the sport's popularity among men.
"A lot of people believe that men's volleyball is a bit girly, boring, and slow. However, once you start getting into a much higher level of competition and play, you realize that it is fast paced, hard hitting, and very technical. I believe it is less popular than women's volleyball because it doesn't have as much backing and support. If it had support, I believe it could be on par, if not more popular than women's volleyball, and have the potential to be much faster-paced and have bigger plays," said Guajardo. 
Junior player Daven Bofil shared his experience of the volleyball team's engagement with students of building up teamwork and unity.
"One way we approach building teamwork and unity is by us helping each other up and being a group of people that work together. For example, we do warmups with one another, stretch in a circle, and to build unity, even in small instances, we complement one another and come together to announce things like a water break"1,2,3 " water!" said Bofil.  
Bofil showed excitement after CVHS boys volleyball team came back. Bofil was encouraged to join after being manager of the girl's volleyball team from his middle school.
"As for past experiences, I was just a volleyball manager for my middle school's girls team, and from there I learned how to play. Everything all started in middle school when I was about 13 to 14 years old. After a couple of years of not being able to play on a team, I was very excited to find out that Carnegie was going to have the guys volleyball team back!" Bofil said. 
Bofil praised his teammates' skills but feels there are some skills he still needs to work on. 
"I have not played for any other team besides our school's team.  Personally, I would say I got the gist of it, but still I have plenty to learn. The other members are skilled in their positions and have a lot of potential when they get on the court. Due to our skills, I believe that we can do a great job on our next upcoming volleyball games," said Bofil. 
Bofil echoes Guarjado's wishes for the sport to gain popularity among male students. 
"The guys volleyball team is not as popular from what I know in terms of the Houston area. I ask around with friends from different schools  and there don't seem to be as many boy's volleyball high school teams that are 'official official.'  Some people think its  a soft sport or a girl sport but in reality, I think it's hardcore. Over my time playing, I've seen that it can get aggressive," said Bofil. 
"My strategy is to be a moral support when I'm off the court and to defend to the best of my ability. I'm actually decent at it, and it doesn't require me to be up and close with the opposing team. Probably would say this is one of the best  positions they gave me," Bofil said.
Leave a Comment
About the Contributor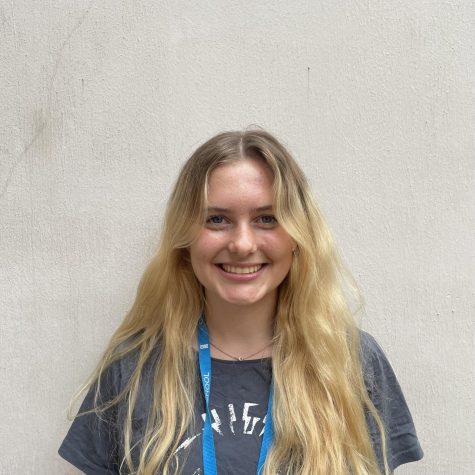 Camille Marlin, Staff Writer
Hi! My name is Camille and I am a senior at Carnegie Vanguard High School. I am a soccer player for the Houston Dash Girl's Academy, when I am not on the...