The Sip You've Dreamed About
Almost every student after school wants to lounge nearby. Maybe to get a bite to eat? The majority of Carnegie students know about Barnaby's, but what about the small cafes nearby?  As you go into downtown you see various little cafes and nooks, but there's one that stuck out to me most. Nourish.
Nourish Juice Bar is a community cafe, which opened in the summer of 2015.  The owner, Jessica Huffman, is focused on having a natural yet elegant aesthetic approach to the locale. Ms. Huffman is dedicated to having her establishment be all organic and eco-friendly.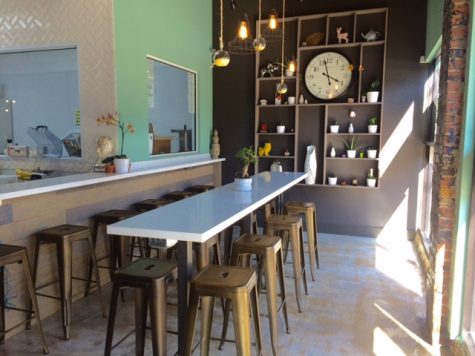 Nourish Juice Bar on 1000 W Gray St # 200, is only an 8-minute walking distance if you go through W Gray St, but 10 minutes if you choose to go through Peden St. By car it is only 2 minutes. They serve with only the most natural ingredients and they also make their own kinds of milk.  You can take the pre-packed beverages or order and dine there. They serve a variety of victuals. In specific green juices, fruit and root juices, "next level" smoothies, house-made almond milk, power bowls, and nut milk lattes. There are also add-ons and shots, such as organic maca powder, fresh goji berries, wheatgrass, and turmeric. The complements range from $.50 to $2.50. 
When I visited Nourish Juice Bar, I ordered a  "Nana's Roses" smoothie, small size, for the price of $7.99.  Nana's Roses consisted of organic homemade almond milk, rosewater, organic chia, bananas, strawberries, and dates. It was thick and dense, a slush consistency. The sugary yet tangy strawberry flavor was sharp, but the banana seemed to lessen its sweetness so it could be perfectly aptly. The finishing almond milk enrichment calmed the taste buds with its smooth, nutty delicacy. The sensation afterwards was the most exquisite part of the smoothie. It left your tongue feeling as if a bed of honey-dipped roses lay across it.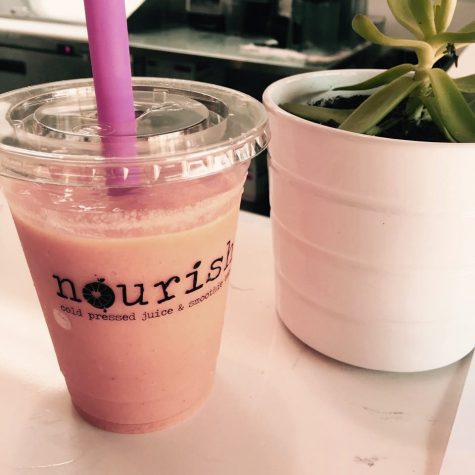 The size of the cup was roughly small, but the denseness of the smoothie made it seem as if the smoothie kept refilling itself. The size of the cup was definitely not worth $7.99 but the quality and taste of the smoothie itself made up for it. It was like heaven in plastic. I rate Nourish Juice Bar a 4 out of 5 stars.
Nourish Juice Bar is located at 1000 W Gray St #200, Houston, TX 77019 and their menu can be found on www.nourishjb.com.
Leave a Comment
About the Contributor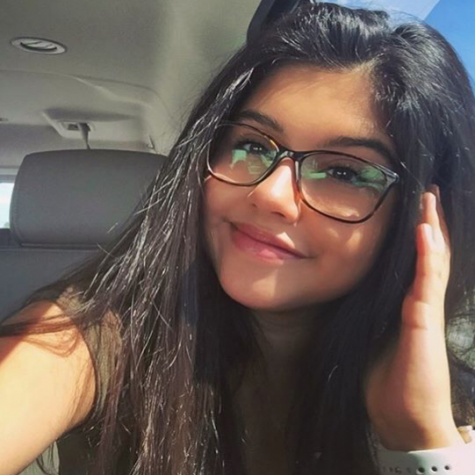 Sharon Vera, Staff Writer
I am a freshman that can play guitar and I learned to ride a motorcycle when I was little. I have a strong ethnic background.

Instagram: @sharon.i.vera