Biscotti and Butterscotch On Your Way To School
There's a chance you pass by Blonde Biscotti daily to and from CVHS. Tucked into the corner of West Gray and Columbus Street, the coffee shop opens its doors as early as 7am until 5pm Tuesday through Friday and 8am to 5pm on weekends.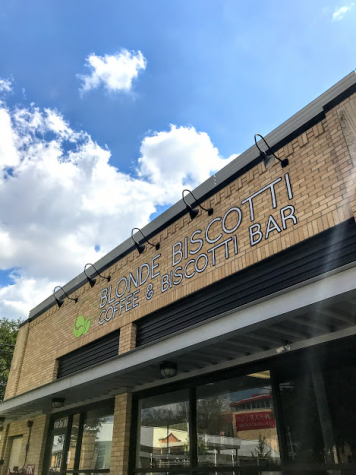 Take a step inside, and take in the airy atmosphere greeting you with the aroma of brewing coffee as sunlight streams through the panoramic windows. A comfortable quiet hangs in the air as café-goers clack away at their laptops, others observe the streetlife, or a few enjoy light conversation over coffee. Their snack menu is compelling enough to make the stop. Their signature coffees, and a display case chock full of homemade biscotti will have your face pressed against the glass like a nail in a room full of magnets, Blonde Biscotti is the perfect place to kindly kick you over a busy day's drudgeries.
Biscotti brings to mind the dry and crunchy biscuits native to the Tuscan countryside. Meaning "twice baked," these Italian masterpieces are typically made with nuts, raisins, figs, or other variations of adding to their dough. Blonde Biscotti on West Gray has just the treat. Although they have committed to the modern trend of keeping their biscotti soft-baked, traditionalists will want to stick around. Their chocolate chip biscotti features a golden crust beholding a classic dough clustered with flecks of authentic Guittard chocolate. At first bite, crumbly biscuit packed with chocolate punches will bombard your tastebuds with delight. The homespun dough and the creaminess of melting chocolate create a texture that will magically entrance you with every bite.
As surreal as fresh biscotti gets, it would be a monstrosity to consider enjoying one in the absence of a beverage. Blonde Biscotti's Butterscotch Latte is the thunder to this baked lightning that will leave you struck by awe. While typical latte flavors include caramel, vanilla, and hazelnut, the combination of coffee and butterscotch is a foreign flavor duo. The unique pairing, however, gives classic lattes an unforgettable flair. Butterscotch differs from caramel in that it's made with brown sugar and a high portion of butter, rather than granulated white sugar and a low portion of butter in caramel. The significant use of butter gives butterscotch its signature salty edge that slices through the subtleness of coffee; the everyday sweetness of caramel simply can't replicate.
It's expected that the elements of biscotti and butterscotch latte enjoyed together would result in a sickening sweetness, and it came as a pleasant surprise when their sugary components balanced one another out. Like plunging into cool water on a warm summer day, they complemented each other perfectly.
The only issue found is their cash free policy, which is understandable for safety purposes, but inconvenient for the plethora of hungry students known for keeping cash. 
With its heavenly menu and spirited ambiance, Blonde Biscotti has set itself apart from the clog of cafes clustered across Midtown. Their easing environment and uniquely delectable coffee and pastry guarantee the mental revival of a Carnegie student's dream. 
Blonde Biscotti is located on 1000 W Gray St suite 100, Houston, TX 77019, www.blondebiscotti.com
Leave a Comment