A game plan to get the most for your money at the all you can eat True Sushi
Growing up eating Vietnamese and Ugandan food was a bliss. Day after day we would eat pho (Vietnamese beef noodle soup) and samosa (fried triangles filled with meat), but it was never enough. We needed sushi. We both had small tastes of sushi when our families wanted to try something new and hit the local sushi shop, but it was never enough. One roll of sushi was usually $12 and feeding a family of 4 would rack up our bill, so we never really had sushi often. But we needed sushi.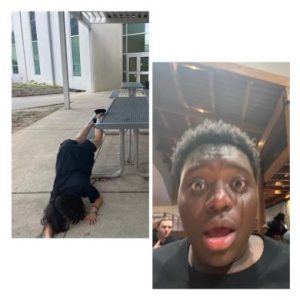 As 17-year-old high school students, our only form of income is through mowing lawns and pet sitting. We can only order so much sushi before our wallets run dry, and the amount was never enough to wet our appetite. We were as greedy as Gargamel and his need for Smurfs. Then, we found the holy grail. True Sushi's "all you can eat" option. For the same cost as our 7 sad sushi rolls. We needed to make this pilgrimage. 
True Sushi is a 20-minute drive away from CVHS, which is a stretch of a ride, but it's worth it when going to dinner with a group of friends after a long day of school. The restaurant has a normal dining option and an "all you can eat" option which ranges from $30-$35, depending if you go on the weekday or weekend. 
Like most sushi restaurants, the interior design at True Sushi follows a basic yet effective formula. Minimal and geometric with dim lighting, the occasional splash of green in the form of a small bonsai sprout (usually made of plastic) and wood everything. Not to say it didn't work on us; we are a prime example of their target audience. Adding that there's just enough lighting to take pictures for Instagram, and for a restaurant without the hobnobbing clientele of River Oaks, the ambience at True Sushi is quite good. As soon as we walked in, we were greeted with smiles and were guided to our seats by the humble owner of the restaurant.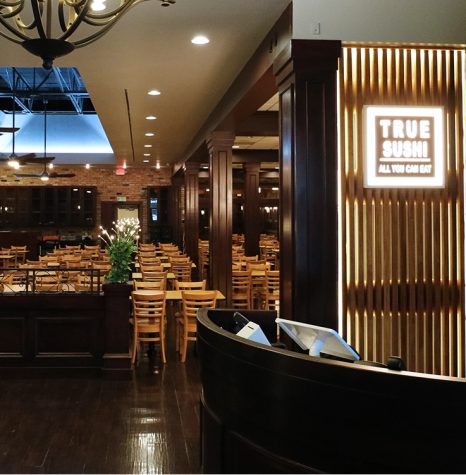 First, we needed to devise a game plan. A problem that most people face when going to an all you can eat buffet is splurging on what looks and sounds appealing. These meals are usually for flashy photos, but it can make you full very quickly. Before you know it, you just spent $35 on a few pretty rolls and some cute photos for the 'gram. 
This is where our game plan came in. This restaurant doesn't allow any wasted food, or else you have to pay a fee (we would rather trade a kidney than pay this fee).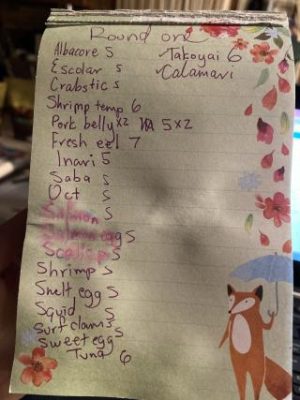 Step 1: We had to skip on big rolls since rice is known for filling you up fast. 
Step 2: We had to target their nigiri: raw sliced seafood that topped over small pieces of rice. Nigiri is worth more, so it was a top priority to consume, and it's probably tasty, too, right? Right? (Foreshadowing our journey.) 
Step 3: After we consumed nigiri, we planned to indulge on anything else since we, in theory, would get our money's worth. 
"But what do I know what will be good and what will be bad?" We reviewed everything on their nigiri menu and broke down our top picks and our "must avoids" in this review. 
As we settled in, we were greeted with a small trough in which we could add as much wasabi, soy sauce and ginger as our hearts desired, a clipboard, and two glasses of ice-cold water.
If you choose to indulge in True Sushi's "all you can eat" option, you are presented with a list of their victuals, accompanied with a small chart with boxes to check off which dishes you'd like for the first, second and third round of food. We scanned the menu for what to try first, sent it back and held our breath.
And thus, the feast began.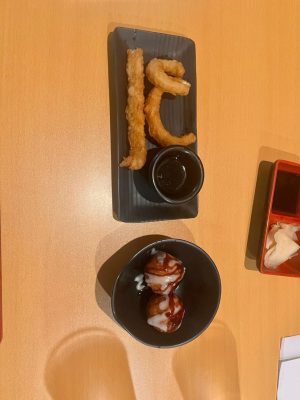 First, appetizers.
Calamari is one of the most difficult foods to pull off because squid is one of the easiest foods to mess up. Overcook it by seconds, it turns rubbery. Undercook it and your patrons will be unpleasantly surprised to a mouthful of slime. Here, we'll say we were split. True Sushi decided to take on this dish by coating it in tempura instead of the more traditional semolina, and we applaud them for it. Although squid is usually trashed for being chewy or flavorless, the crispy tempura seemed to almost melt after each ever so satisfying crunchy bite hit our tongues. We rated it a 9/10.
The takoyaki (a cooked pancake ball filled with octopus) melted in our mouths. The adorable presentation deceived us. Each order contained 2 balls, and they were so small it was like it was made for fairies to feast on. Drizzled in Kewpie Mayo and teriyaki sauce, one of us (Joseph), was far too eager to dive into the little balls of happiness, but we ended up with a mouthful of lava instead. While this experience soured our feeling of the takoyaki, the takoyaki's soft exterior peeled away to reveal a mouthwatering, belly warming filling of rice and green onion. When cooled, the texture was a fluffy, salty bread that just rolls around your mouth like a sheep trying to find its cloud to sleep on. Best paired with soy sauce (and some patience), we were left very pleased. It even deserved seconds (and thirds and fourths). It is something that is just great to eat while talking with your friend that doesn't overwhelm your taste buds. When hot, we rate it a 4/10, but when it is cooled down to a steamy temperature, we rate it a 9/10.
Finally, a classic, gyoza. You can't go wrong with it. Once we bit through the plush layer of flaky dumpling, our mouths collided with generous heaps of meat, dripping with flavor. 
We can almost taste it now.
Gyozaaaaaaaaaaaaaa.
We digress. Onto the star of the show, sushi.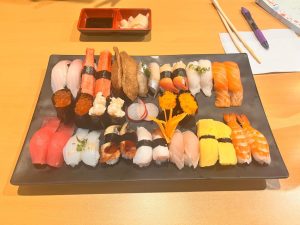 By now, most sushi loving Americans think of the California or Crunchy Roll when someone mentions it, but their recipes, ingredients and taste (and thus quality) vary wildly based on a variety of factors, many of which are tied to the cost of the sushi. And as much as we love a good crunchy roll, they've gained an unsavory (see what we did there) reputation for being deeply westernized and inauthentic. So for this review, we opted to go for a more authentic choice: nigiri. A delicious and classic option that allows us to see if cost equals quality. 
Our favorite from what we ordered had to be the tuna. This piece breathed umami and life into our taste buds. Ok, ok, we know, totally basic. But basic doesn't mean bad. Yes, we are boring middle-aged women who wanted to try something snazzier than Karen's tuna salads, but it is an original classic for a reason. The taste was fresh, like a flower after a drizzle in the fields, and as we bit into the nigiri, the fattiness was so calming, the same feeling when you eat a salad, and you start exclaiming how delicious and healthy this was as well. The feeling of killing two birds with one stone rang prominent. We rated it a nice 8/10. Among honorable mentions would have to be the crab and salmon. Two more simple yet beautiful selections. 
Another pleasant but expected experience was had with the tamago (sweet egg sushi). The egg may not have been glistening with butter, but it was plump and light with the occasional burst of treacly sweetness. It felt like waking up on a Sunday morning to be greeted with eggs on the kitchen table. Tame enough to start your day but delightful enough for you to be at peace and consider getting back into bed.
As much as it hurts for us to say, the rest of the nigiri didn't necessarily live up to our expectations. Mid platter, we found a heartbreakingly familiar pattern: we'd eat a piece without sauce and taste nothing but fish and rice, nothing distinctive, just fish. It was very fresh like the fish just came out of the water, so much so that it felt like we were eating solid water. God forbid we put a sliver of ginger and soy sauce and the sushi would be completely drowned out, leaving us with a mouthful of soy, wasabi and ginger instead of sushi.
Going down the ladder, we find mackerel sushi (saba).  These two were prototypes for the other less appetizing bits of sushi. With the mackerel, the undoubted nail in the coffin was the unbearable aura of fish that seemed to erupt in our mouths once we chewed on it. If the word fishy was a taste, it would be the mackerel. The moment we placed it into our mouths, we smelled it. How do you smell something from your mouth? We do not know since this is a review and not a scientific research paper. We would just suggest skipping over mackerel if you ever had the chance to order it. With the bland pieces of fish, there was at least the welcome lightness of nigiri, but the overwhelming taste of mackerel almost made the texture heavy on the tongue, a very disappointing piece indeed.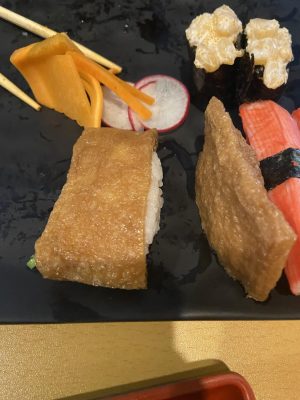 However, the absolute worst piece of nigiri was truly an ordeal to eat. The award for worst piece of nigiri was the tofu skin (inari) sushi (shown left). Its presentation alone was the thing of nightmares. The skin, the entire non rice part of the sushi, was limp, an almost sickly shade of beige, withered, miserable and unpleasant to the eye in every way imaginable. 
"
Why God, why.
— Joseph Mutagaya
But just when we thought things couldn't get worse with the inari, we ate it.
Allow these pictures to illustrate the graveness of our mistake.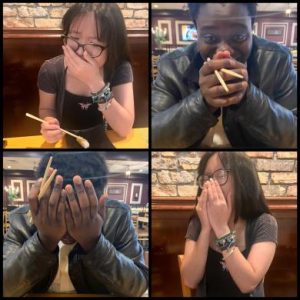 Upon consumption, the tofu (which appeared dry to us) gave us an unpleasant surprise, gushing sweet and somehow sour liquid with an aftertaste as foul as the initial one in our mouths. This was the beginning of the nine levels of Hell. We couldn't bear to swallow, so we kept chewing until all the cold, heartless flavor was gone. Just when we thought we had made it out of the woods, we felt the inari. The syrupy tofu juice absorbed, all that was left was the mercilessly dry, lifeless and crumbly sponge. It was just cardboard that we had to swallow, since being wasteful was not scheduled on this review. We could feel the pores of the tofu flesh almost grating our tongues as we choked it down, desperate to make it out of this nigiri tasting alive.
Satiated (and a little traumatized), we made our way out of the restaurant with an interesting story to tell.
Just kidding. You really thought we'd leave that place without dessert? Yeah, we were bursting by the seams, but there's always room for dessert.
Always.
For dessert, we selected the "True Style Toast Ice Cream- Best of the Best!!!" It was certainly a soothing show closer: vanilla ice cream and chocolate syrup on French toast, a symphony of sucrose that induced childhood memories of milkshakes and ice cream sundaes. Nothing less, nothing more.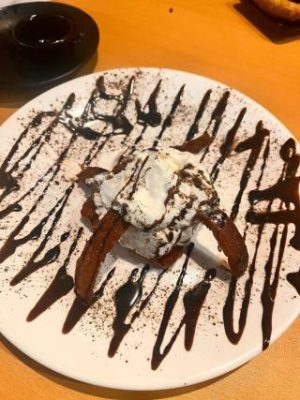 So, to close.
There were ups, there were downs, we cried, we laughed, but overall, our experience with True Sushi wasn't terrible. We spent 89 dollars (plus tip) for about 175 dollars' worth of food. For high school students, that's an amazing deal. All in all, we'd recommend True Sushi if you're looking for a good meal, a peaceful ambience and a good time with friends. It's affordable, serves decent quality sushi and incredible appetizers and comes with five-star service. 
At the end of the day, we came home with our tummies full and warm, satisfied knowing that we had just consumed an entire school, maybe an entire district, of fish. We might not need sushi for another few days, but we will soon need to be replenished.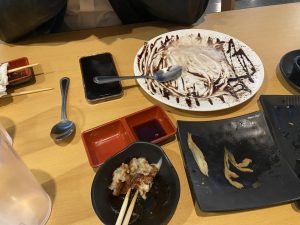 View Comments(1)
About the Contributors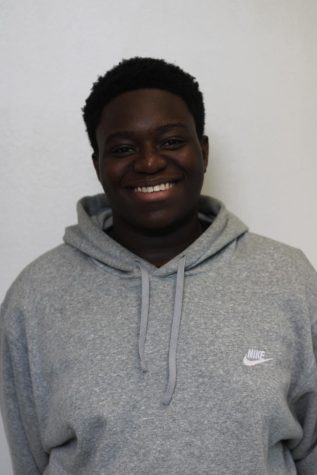 Joseph Mutagaya, Sports Editor
Joseph Mutagaya is a current junior at Carnegie. He's an enjoyer of the colder seasons and a fan of neutral tones, like beige and cream. He holds a deep...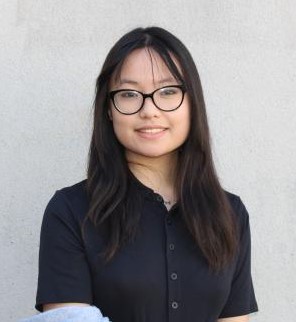 My-Tran Vo, Staff Writer
When My-Tran Vo isn't testing out a new knife by cutting a salami stick for a midday snack, she's out taking care of the stray cats she feeds. She...