When Masks are Nowhere to be Found
My aunt, Duyen Tran, is a salesperson at High Fashion Fabrics and since March 23, the business has shut down because of COVID-19. WIth no money coming in, she forms ways to help her family.
Since before the pandemic emerged, sales have been solely for the purpose of sewing clothes. But now, the business is shut down, leaving many unemployed and unable to make money. As the crisis worsens, precautionary measures are enacted by officials to ensure public safety.
"Before, a lot of people came in to buy fabric, anything they wanted to make clothes," said Tran.
Because of this pandemic, she noted that shortages in supplies create major issues as the coronavirus blankets the U.S. One item is the face mask, which covers most of society and daily life today. As orders in masks surge in large industries, like Amazon, there is no doubt that companies still struggle to produce them in times of demand. Many companies, also including Amazon, have restricted N95 mask sales to the public. Hospitals are pleading for masks to be donated, but demand can sometimes fail to be fulfilled. Due to the shortage of masks, Tran has begun to make masks for her family to keep them safe.
"I sew masks for myself and my family to help stop the spread of viruses. I don't see anyone selling them so I make my own," said Tran.
Tran made her own masks from the materials she bought from the store or previously had.
"I used cotton and elastic bands. I bought them recently from the store, but most of my materials came from the materials I already owned," said Tran.
Tran wasn't the only one who came up with this idea. She noted that elastic bands were bought in the masses. Numerous people have been doing similar acts, instead of relying on companies to distribute masks for them. As a result, there has been a shortage of elastic bands.
"All elastic bands were gone, but there was a lot of fabric left," said Tran
Tran gave a new perspective on how families react to immense changes in society during daily life. From wearing masks, purchasing supplies, and staying at home during a lockdown, many people still know how to create something positive in times of negativity.
Leave a Comment
About the Contributor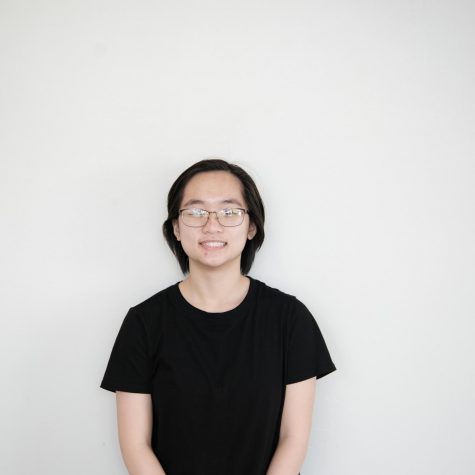 Vivian Huynh, Editor-in-Chief, News Editor
Hi! I'm a senior and like martial arts and drawing.