My orbit: what COVID-19 means for an immunocompromised household
Cesar Rodriguez was one of the first people sent home from work not long after the first COVID-19 cases began to infiltrate Harris County. Not only has he worked at the MD Anderson Cancer Center for the past 20 years, but he is now one of their cancer patients. As the pandemic of the century takes form, Rodriguez is preparing for more than one battle.
"It's one of those things that you sort of expect but you don't believe is gonna happen because it's so new, so surreal," said Rodriguez, regarding being sent home.
Starting in late February, American citizens witnessed an explosive growth of COVID-19 cases across the country, with Texas clipping the top 10 states with the most cases. CDC Statistics from April 8, 2020 show that there are 8262 reported cases within the defined areas of the state, with the total for the U.S. at a peak of 395,011 cases.
Groups of people at higher risk for the illness include those of any age who have serious, pre-existing medical conditions. Those who are undergoing cancer treatment are especially vulnerable, because  their systems are clinically referred to as immunocompromised. The condition lowers your body's natural defenses to any type of potential infection, whether it be viral, fungal, or bacterial.
"My situation was a little more touchy, which means that my immune system is down. So I had to go home before all of my colleagues and I'm old school, I always have the impression that I should be at work rather than working remotely. Working remotely has always been kind of like a foreign concept to me, so I felt awful," said Rodriguez.
Rodriguez is a clinical oncology system analyst at MD Anderson 1MC. He was diagnosed with colon cancer in January of 2019, which later recurred in January of 2020. 
The Family's Point of View
For my brother, my mom, and I, we have to take precautions just as if we were the ones at high risk. If any of us end up testing positive for COVID-19, it's not going to be long before it reaches my dad, because we're all under the same roof. We're all realizing how much we rely on social interaction now that we're suddenly trying so hard to avoid it. We have tried to be meticulous in limiting outside contact; taping our mailbox shut, and setting up what my mom likes to call a "decontamination station" for incoming goods. In addition, MD Anderson issued novel precautions that limit the presence of family members to accompany a patient into treatment or surgery, which means that we'll be doing a lot of waiting at home.
Despite some recent schedule shuffling from the hospital's period of reorganization post-quarantine, Cesar Rodriguez-as well as the rest of the MD Anderson patients- will continue to follow their itineraries. A 2018 statistical analysis showed that M.D. Anderson has over 141.6K patients.
As a patient and a PharmD, Rodriguez understands the delicate balance between continuing regular work and being cognizant of COVID-19 prevention guidelines that healthcare facilities and doctors need to maintain.
"MD Anderson treatment is for life. Most of our treatments are to extend life, and we save people's lives all the time through chemotherapy, so those treatments have not stopped. But we have to shuffle them. You have regular patients, you've got studies being open, you have upgrades to the system that need to be done. So, it's been challenging keeping those things straight," he said.
Despite the turn of events, Rodriguez has a positive outlook on the life to come. As a family, we're in the middle of a building process, which is gradually adjusting to support him while he travels from home to hospital. It has been a frightening and frustrating process, but we know how to keep the days spirited.
"Yesterday, we were talking about how we will gain so much weight staying at home, and we downloaded an app to make each other gain 20 pounds. And it was all that laughter that helps. You know, what I learned is how much we underestimate the power of comedy and laughter in our lives. Laughter is very, very important, because after that, I felt so good. You know, when you laugh, there are different chemicals in your body that are released, and you just feel a lot better. It brings hope," said Rodriguez.
Leave a Comment
About the Writer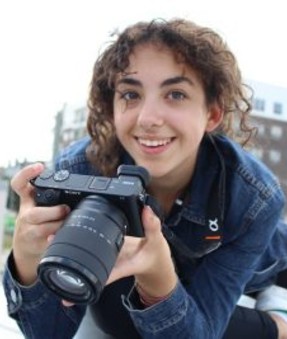 Gabi Rodriguez, Editor In-Chief
Hi! I'm a junior, and I'm really passionate about listening to people's stories.