"The Perfect Remix" Live- How a Father and Son Work to Beat the Instagram Algorithm
Among the many things our society has lost because of COVID-19–including the ability for some to go to work, and black lives at a disproportionate rate–one aspect of life we have had to improvise is a way to entertain ourselves while stuck at home. In the face of this, we look to DJs and other entertainers to reach us via the most accessible medium: social media. Since none of us can go out, a more viable option is having a party of our own, without the risk of contracting the virus that has caused international panic. Last Saturday, DJ T-Brown, and his son DJ T-Breezy  came to Instagram live, providing good music and a good time for all that viewed. 
Entertainment is the main way people that are suffering from cabin fever prevent a The Shining-like occurrence. Once Netflix and attempting to interact with our family members become less and less interesting, we have a hole in our heart that only superficial, yet entertaining tasks can fill. The introduction of social media into our daily routine has created a fruitful opportunity for those that can share their business over these platforms. DJs and artists can increase their audience greatly, provide a public service, and practice their craft from the comfort of their own home. 
This particular live performance from the DJ duo was themed "The Perfect Remix". One obstacle many DJs have been facing while trying to share their sets is Instagram and Facebook's copyright laws. These platforms will not allow users to post or share copyrighted material, which includes the songs that DJs play. Instagram and Facebook have developed algorithms to suss out those that might be infringing on others' property. This algorithm will delete a user's post and could possibly restrict their account, keeping them from posting or going live again. A few DJs have been victim to the copyright law enforcement, and have been trying to figure out ways to combat this. This is where "The Perfect Remix" comes into play.
DJs T-Brown and T-Breezy concocted a method for getting around this algorithm. They do this by creating remixes and mash-ups. They start by downloading the acapella version (just the vocal track of a song, without the music behind it) of one song, and the instrumental version (only music, no vocals) of another. These songs must have similar BPMs (beats per minute),  so that they match in a way that is pleasing to the ear. T-Brown and T-Breezy then mix the two tracks, so that the vocals of one song and the beat of another song play simultaneously, creating completely new music. This is known as a mash-up remix. Because the new song is not copyrighted, they are free to play as many remixes as they like, flying under the radar of the platform's algorithm. 
The lengths at which these entertainers went to provide a good time for their audience was apparent. Their energy while performing was electric. It was impossible to sit still during the live, I could always find myself bobbing my head at the least, or busting out dancing when my song came on. As I was watching, I could feel the familiarity between father and son, with a slight competition aspect to it. The live was an all around success, except for when they were cut off after an hour because of Instagram's live rules. 
While essential workers and first responders should be respected and honored during this time, I have an appreciation for those that are trying to keep life somewhat similar to before COVID-19. DJs T-Brown and T-Breezy did an amazing job keeping the people entertained on a Saturday night.
You can find DJ T-Brown (father) and DJ T-Breezy (son) on social media with their respective @'s: @LFLS_Production on Instagram and @lflsproduction on Facebook, and @djtbreezylfls on Instagram.
Leave a Comment
About the Contributor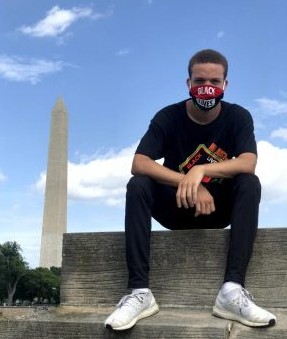 Ashton Brown, Staff Writer
Hey y'all! I'm Ash, and I'm a staff writer for Upstream News. It's a great way for me to stay updated and connected with the school and the world. ...