Lot by Bryan Washington: A Portrait of Houston
*Full disclosure: the book 'Lot: Stories' has somewhat frequent mention of substance abuse, sex and foul language*
Living in a city of nearly two and a half million people, it's easy to lose sight of it all- to forget the fact that each and every one of us lives our own impossibly intricate life, to forget the  millions of connections we share with one another. Houston native Bryan Washington's collection of short stories, 'Lot', brings this truth back in focus. In his stories, which are heart shattering, gut wrenching and soul lifting all at once, Washington paints a portrait of a Houston many of us don't often see, or at least one we don't acknowledge. He writes of familiar places, the light rail that runs from Midtown to the Galleria, the basketball courts at Peggy Park, Montrose's iconic 'Disco Kroger' (which just this month shuttered its doors). Washington writes into permanence the vibrance, the culture and significance of these places-as well as the people who give them life.
What Washington does so well, what makes Lot special, is the way he writes multi-faceted Houston in all the glory of its grime- Washington focuses on  those dark corners that are too often overlooked, or more often ignored. The main story which the collection follows highlights the life of a closeted mixed race teenager who's name is only revealed at the end. He's an East Ender who is watching his family and neighborhood slowly fall apart, watching the people around him drop dead or fly the coop. Washington delicately, lovingly weaves together the story of the project dwellers, the immigrants, the prostitutes, the athletes, the homeless. Washington tells all of their stories, and by doing this tells our story, in a way we've never heard it.
"Most night's we'd hit the Heights, or we'd dance with the gays in Montrose. We'd take shots downtown. We'd strut through the Galleria. No matter where we went, everyone thought we were supposed to be there."
One aspect of Lot that makes it so easy to read and relatable is the youthful vernacular Washington  implements. From the teenager slinging drugs down Waugh to the one who won't give up on his pregnant girlfriend,  Lot's characters think, speak, and act just like us, no matter how far removed they may feel at first. Lot is written for us,  and in our language too.  
Yet, while all of this is true, if Washington is to paint a truthful picture of our city, a real picture, there's one thing he can't not mention: gentrification. And similarly to the persistence of it's reality, it appears often throughout Washington's stories. 
"But after the storm, they pushed the rest of us out, too: if you couldn't afford to rebuild, then you had to go. If you couldn't afford to leave, and you couldn't afford to fix your life, then what you had to do was watch the neighborhood grow further away from you."
 'The storm' in question is Harvey; this is  how real, how fresh Washington's stories are. They are so rooted in reality, our truths so tightly woven into them that it's startling, distressing, and yet so rewarding to read. Across the 222 pages of Washington's debut work bleeds the soul of a city, the stories and cries of its' inhabitants. Across the 222 pages and 13 stories which make Lot, we find each other, but just as important we find ourselves. It is Washington's raw, unadulterated telling of our city that enchants us, and it is Washington's raw and unadulterated telling that breaks us- just to build us up again. For these reasons (and more, which I will leave to you to find) I sincerely hope you give Lot a try- you'll discover something new about Houston- I promise.
"Your eyes will show you what they want to, or whatever they think you should see. They'll show you a happy family when all you have is bodies in a room. They'll show you a man worth walking out on your whole f—— life for, a man who will leave you with three kids and a half-rotting lot, but because your eyes are your eyes and you know what you know, you won't see the train until it finally hits you."
Leave a Comment
About the Contributor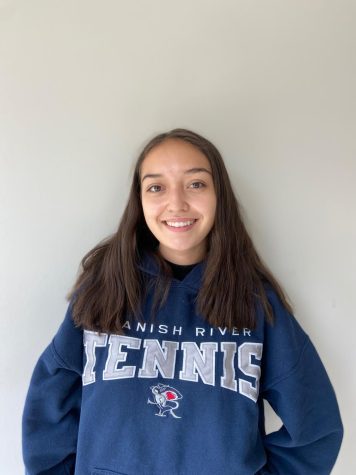 Sofia Hegstrom, Contributing Writer
Howdy! My name is Sofia Hegstrom and I am a senior who loves to read.