Common Bond's Sweet Lies
An exposé on Houston's favorite "bistro and bakery."
I'm not a morning person. I relish my sleep more than anything. Never would you find me up early on the weekends, but on moonlit Sunday mornings at age eight, my eyes would be wide open, my ears tuned to hear my father's keys jingle in his hand. He was going to Common Bond. I would throw off my blankets and run to the door, shoes in hand, ready to go. We weaved through the houses and made our way to the blue and white haven of Common Bond. My favorite thing to order was a chocolate croissant and a hot chocolate. 
Now that I'm older, I can't be bothered to get up early enough, or to go outside. Common Bond was a special occasion. Recently, however, I found my chance. I hadn't been in a few years. I was ecstatic. I ordered a butter croissant and a chai latte. It was… not what I remember. The tea was just hot water, and the croissant was nothing special. In fact, the emptiness of my mouth overpowered the flavor of both. I could eat a napkin and not be able to differentiate the taste. 
Common Bond was opened in 2014 by Brad and Kathy Sanders in Montrose before being bought by George Joseph in 2016. Now with 11 locations around the city, it's a hub for busy breakfasts, lunches and dinners.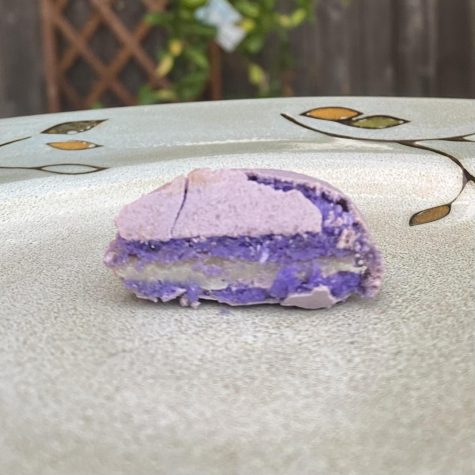 Personally, one of my favorite pastries is the macaron. Macarons are little cookie things with filling between two wafer-like cookies. When people suggested the lavender macaron, or "the purple one," I was ecstatic. In looks, the little thing was uniform, a perfect purple circle, a slight dome, filling consistent all the way through. However, in taste, all uniformity was lost. The cookie crumbled, definitely, although it was less cookie and more wet cardboard dissolving in my mouth.
With the first taste, there was a hint of lavender. Then nothing. It was like a Froot Loop. An expensive Froot Loop. Under the brittle cookie shell was a soft spongy flavor akin to most other macarons, but this macaron was lacking. It was less of a sponge and more of a burlap texture. And the filling? Barely there. A squirm of paste with little to no flavoring of the so-called white chocolate. Just… nothing. 6/10 for the slightly sweet flavoring reminiscent of my favorite breakfast cereal.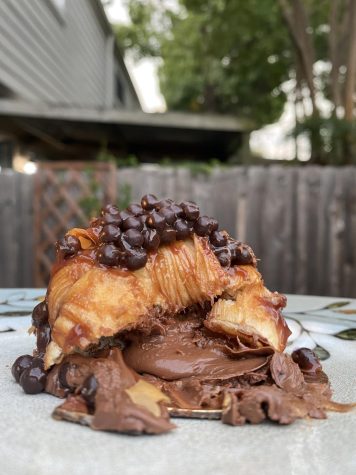 The Nutella croissant! A sweet hazelnut spread tucked inside a savory buttery pastry. Really just a more distinguished chocolate croissant. I remember eating this on New Year's Eve, a flavor combo fit to reminisce on the past year and look to the future. On the outside, a simple muffin glazed over with caramel, with chocolate pearls sprinkled on top. On the inside, an ooze of Nutella.
My careful cross section took my fingers to tear it apart. I kind of mutilated it. It toppled over on itself. At first bite, it was a harmony of caramel-soaked bread and, obviously, Nutella. The chocolate pearls allowed a little crunchy texture with the smooth mix. With the croissant texture underneath, it feels a little like a chocolate cupcake wrapper, although with this absolutely decadent flavoring, I can look past it. The caramel slightly overpowers the Nutella. Why is there even caramel on it? People are buying a Nutella croissant for the Nutella, not for whatever the sticky glaze that just distracts from the main attraction. 7/10.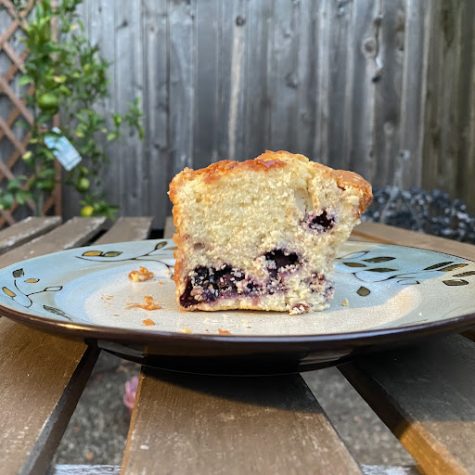 Blueberry muffins have been a staple breakfast in my family for years. To be a perfect blueberry muffin, there must be blueberries. Sadly, Common Bond did not follow through with this. From the outside, blue spots bleed through the cake, an illusion. The top had the same sort of crystallized sugar glaze. Maybe solidified caramel? The cross section did not look promising.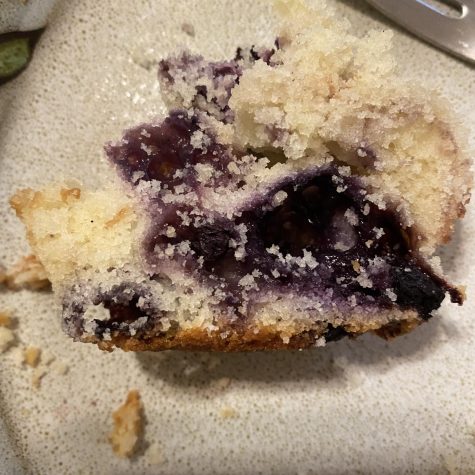 There were hardly any blueberries—in fact, there weren't any! There were just hollow blue holes. A deception. Those deceitful Common Bond bakers were probably laughing in their silly little hats. While lying, the muffin was dense and spongy and sweet, there was a slight crackle of the sugared top. I could look past the lack of blueberries on my fork for this absolutely magnificent pastry. Crumbly, yet packed together deliciously.
One bite went wrong, however. Be careful what you wish for, as I had wished and prayed for blueberries but have never regretted something more. There were no blueberries, just blue bread. Wet bread. A slightly fruity flavor, but overwhelmingly nothing. What's the deal? The bread shouldn't be juicy, the blueberries should. It would've been a perfect 10, but the whole notion of blueberries brought it down. 7/10.
We all know what a croissant is—it needs no introduction. Its paper-like exoskeleton is like origami tucked around the buttery dough. Although I make it sound fancy, it's really just bread. That's all there is to it. I'm going to go back to the napkin thought: it genuinely does just taste and feel like a napkin in your mouth! Maybe it's just how croissants are and maybe it isn't Common Bond's fault. I'm just a kid, what do I know? The flaky skin peeled off, so I ate that first. Nothing sensational. Just… bland. Maybe that's why they have so many flavors. The original is so boring. Nothing sensational. 5/10.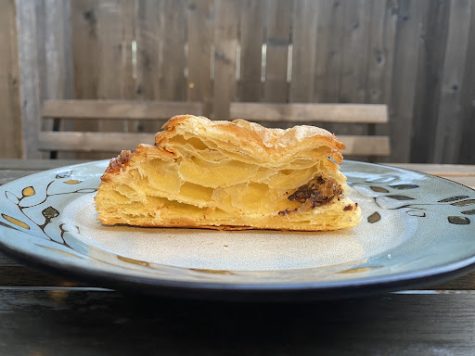 Back where it all began, the chocolate croissant. I think I was allured by the word "chocolate." Same critiques as the butter croissant on the texture side, although ironically, the chocolate croissant had more butter was a bit more defined. Less so a napkin and more so a paper towel.
The flavor, shockingly, was worse. There was no chocolate. Genuinely. No. Chocolate. Did I just get the bad batch of the day? There was a slight squiggle of chocolate, and then nothing! I am cursing the French. It was dry and bitter and made a desert of my mouth. 4/10. Do better. 
Common Bond may be a great spot to relax, but their pastries don't live up to the raving reviews of CVHS students. Skip out on Common Bond and save your money next time. Or don't…
View Comments (1)
About the Contributor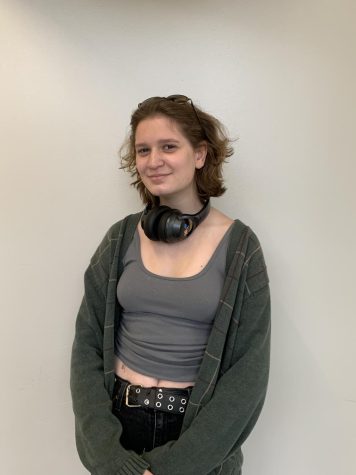 Ava Manchac, Staff Writer
Ava is a sophomore at Carnegie Vanguard High School. They are a part-time theatre nerd who is always wearing their dead grandpa's sweater. Lover of Batman,...